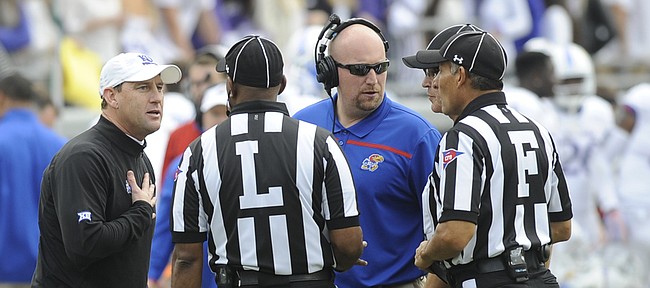 It's one of the great mysteries of our time, ranking right up there with the location of Jimmy Hoffa's corpse, the success of unwatchable reality shows and a giraffe only needing 30 minutes of sleep per day.
Why does Kansas compete way better against TCU than vs. any other Big 12 school? It defies explanation.
It's not as if the Horned Frogs are a lower-division team. They are 28-20 in conference games since joining the Big 12. Kansas is 3-45 over the same period. Yet, when they meet, it's usually difficult to tell which school is the nationally ranked one.
TCU has won all five of its conference games with Kansas, but by an average margin of just seven points.
David Beaty's teams have lost to TCU by scores of 23-17 and 24-23. Every other school has beaten Beaty's Jayhawks by 31 points or greater at least once.
What accounts for the difference?
"Man, I really don't (know)," Beaty said. "I mean, I don't understand why you would play better against one team than any of the others. But we have in the past. That doesn't mean that you're going to this time. You've still got to go earn that, right? They're one of the best teams in the country. So we better have everything ready to go and hitting on all cylinders."
The oddsmakers don't think it will last and have made the Horned Frogs (6-0, ranked No. 4) 37-1/2-point favorites for Saturday night's 7 p.m. kickoff in Fort Worth.
TCU has been a big favorite against Kansas in the past and narrowly escaped with a victory.
"I do think that the fact that a lot of our guys hail from that area, which gives them the potential to be recruited by them, right, some of which don't get recruited by them," Beaty said. "I'm sure there is a natural chip on people's shoulders."
What else?
"The other thing is they're playing in front of their family a lot when we go there. There is something about that," Beaty said. "Whether it's a free meal or whatever you're going to get after the game, sometimes it's just a hug and seeing your mom, your dad, your sister and brother. There is just a pride factor when the name's on the back of that jersey and they're sitting in the stands. It makes a little bit of a difference, I think."
Red-shirt junior defensive tackle Daniel Wise, recruited by Iowa State and Missouri, is from the Dallas area.
"I was not recruited by TCU, so I guess there's a chip on my shoulder," said Wise, who has been coached by four different defensive line coaches in four years at KU. "Being a kid from Texas and you get overlooked by Texas schools, so that plays a role I guess."
Quarterback Carter Stanley said he thinks that's a factor and listed another.
"The last two years I've been able to look at them and, just personnel-wise, we have very similar bodies for the most part, more fast teams than bigger-built teams," Stanley said. "We base our schemes off of speed and tempo, offensively and defensively."
Kansas will face a highly motivated TCU squad because it wants to show a prime-time, national audience it merits its No. 4 ranking. Horned Frogs coach Gary Patterson can use the fact that KU has scored just 11 fewer points in losing to TCU the past three years combined to ensure his players don't take the Jayhawks lightly. Every game is an opportunity to impress the committee that selects the four schools that will participate in the national-title playoff. The more points the Horned Frogs score each week, the more dominant they'll look to the committee.
Nothing about the way this matchup has gone down the past few seasons makes sense on paper, so it's conceivable Kansas will make a game of it, even though the Jayhawks were outscored, 110-19, the past two weeks.
In 2014, the year TCU finished No. 3 in the final poll, the Frogs beat KU, under interim head coach Clint Bowen, 34-30. Nobody predicted that. In 2015, TCU was seventh in the final poll and Kansas went 0-12, yet the Horned Frogs won by just six points.
A look at the rest of the Big 12 members' average margins vs. KU in the past five-plus seasons, starting with TCU's first season (also Charlie Weis' first at KU), makes the Horned Frogs' seven-point average advantage all the more puzzling: Texas (+17 points), Iowa State (+18), Oklahoma State (+24), Texas Tech (+24), West Virginia (+26), Kansas State (+30), Oklahoma (+41), Baylor (+44).
Seeing whether this mystery continues or Kansas continues its slide into oblivion is a reason to tune in.