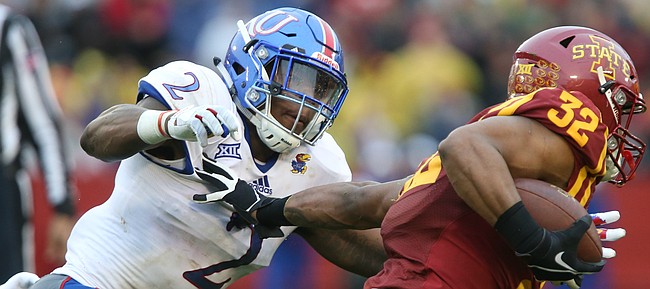 The statement on its own defies logic, but here it is: the Kansas football team's defense surrendered five touchdowns and a field goal Saturday at Iowa State and played better than it had in any other game during the first half of the season.
It's a relative assertion, for sure, given the Jayhawks' calamitous defensive results through much of what currently stands as a five-game losing streak. Even so, holding the Cyclones to 318 total yards of offense and forcing nine punts allowed KU defenders and coaches to at least take a little pride in some obvious improvements.
Head coach David Beaty, who has at times this year criticized the most crippling defensive blunders following defeats, said the Kansas defense "by far" had its best showing to date.
"The thing about it, we give up 45 points. I look up at one point it's (24-0) and we'd given up 123 yards," Beaty said. "I stepped in the huddle with our guys and I told them, I said, 'Look, I know what the scoreboard says. But you're playing good defense. Just keep playing, man. We just can't give up big plays.'"
Photo Gallery
Kansas football v. Iowa State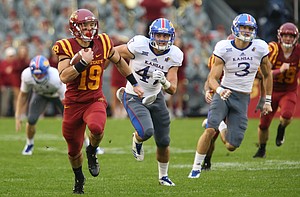 View a gallery of images from Saturday's game between the Jayhawks and Cyclones at Jack Trice Stadium in Ames, Iowa.
Maybe it was the wet field conditions at Jack Trice Stadium. Perhaps having game footage with which to study and prepare before facing walk-on quarterback Kyle Kempt made things a little easier on the Jayhawks (1-5 overall, 0-3 Big 12). Whatever the case, the defense certainly wasn't to blame for the loss.
Only two Big 12 teams on Saturday totaled fewer yards than ISU's 318: Kansas (106) and Kansas State (216). The rest of the conference totals fell somewhere between 387 and 747.
"It just goes back to the very beginning. Joe (Dineen, junior linebacker) did a nice job of taking over the huddle. We gave up 318 yards to a really, really good offensive football team," Beaty said of ISU, which now averages 400.5 yards a game, 68th in FBS.
While Dineen's 16 total tackles and two tackles for loss played a key part in limiting the impact made by the Big 12's fifth-best rusher, running back David Montgomery (3.2 yards per carry, 68 rushing yards), the KU secondary also consistently took away the threat of receiver Allen Lazard (three catches, 40 yards, on four targets).
Even standout linebacker/quarterback Joel Lanning was limited to 34 rushing yards on eight carries.
"We put pressure on them early. Eventually they needed some help, and we weren't able to complement them on the offensive side," Beaty said of a pitiful 106-yard no-show for the Jayhawks in the 45-0 shutout.
Even when ISU (4-2, 2-1) scored, it did so in short-field situations, with four touchdown drives of 35 or fewer yards and none longer than 56. The Kansas defense, though so often on the field with ISU possessing the ball for 36:50, forced seven three-and-outs.
Such positives were difficult to find for the Kansas defense in prior weeks, when it allowed an average of 569.5 yards against FBS opponents.
"Yeah, we can feel it," junior defensive end Dorance Armstrong Jr. said of at least one week of genuine enhancement on that side of the ball, "with the three-and-outs that we got, that's just what we usually do — that's how we played last year. Since we started that's what we've been trying to do: get back to how we were playing last year, and do even better. I feel like we're actually on the page of taking another step forward."
After KU made three sacks — by Daniel Wise, Josh Ehambe and Isaiah Bean — and nine tackles for loss at ISU, junior tackle Wise said, putting the result aside, the defensive players felt positive for a change.
"This game was very encouraging for our defense. Guys, we certainly should build confidence off this game, especially after the last game, Texas Tech," Wise said. "We're just going to keep building from here."
None of KU's defensive leaders seemed interested in singing the unit's praises following a lopsided loss— even if they performed better for coordinator Clint Bowen than they had since 2016.
"Defensively, yeah," Dineen replied, when asked if it was the best the group had played. "But there's still so much growth that we can have. … I mean, 45 points, no matter what happens through the course of a game, it's our job to keep them out of the end zone, and we didn't do a good enough job of that. But I am proud of the way we came out and played in the first half."
Six of Iowa State's first eight possessions traveled no farther than 14 yards.
The Jayhawks will need a similar defensive start — and some serious help on offense and special teams — this coming Saturday at TCU (6-0, 3-0).
The Big 12 announced Sunday the game will air on FOX, at 7 p.m.
---
More news and notes from Kansas vs. Iowa State