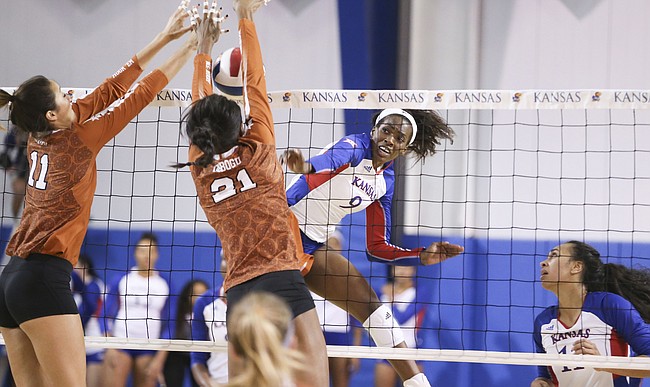 It's always better to win than lose. It feels better. Your supporters head home happy. Your confidence soars. It always beats losing. Always.
But some losses are bigger deals than others. For example, it would have been a bigger deal had Kansas lost to Texas in Horejsi last season than losing in five sets Wednesday night.
Here's why: KU needed to get that first Big 12 title out of the way, needed to prove it can beat Texas in a big match and in a long, grueling conference race. The Jayhawks defeated the Longhorns in Lawrence last season and hung on to win the Big 12 outright.
A case could be made that Kansas was so spent from the stress of preserving its lead in the standings that it never quite regained its mojo after exhaling after clinching. Winning that first conference title was huge, all right, but this year's goal is bigger than repeating as Big 12 champions, which would be a historic feat worth celebrating, but not the end game.
The NCAA Volleyball Final Four is in Sprint Center this December and getting there with a chance to play in front of a friendly crowd trumps all this season.
That doesn't ease the pain of a five-set loss — Texas won 21-25, 27-25, 18-25, 25-10, 18-16 — in which Kansas had a 16-15 lead in the fifth set, but it's the truth.
This wasn't a confidence-crushing loss. Far from it. Instead, it was a learning experience.
"Main thing is we learned how to play with each other and I think that was the best we played together all year," said senior Madison Rigdon, who came out on fire in the fifth set.
Kansas coach Ray Bechard said he was disappointed, but he also expressed plenty of pride in his players. The disappointment stemmed from a failure to finish off the second and fifth sets, which went to extra points, and he saw a lack of aggressiveness at the end of both sets. Tentative play, even in small doses, won't get the Jayhawks to Kansas City.
"Those things are fixable," Bechard said after his team's 19-match Big 12 winning streak ended. "Our team played extremely hard, played together, played with competitive confidence, competitive composure and competitive character."
It's difficult to finish ahead of Texas in the Big 12 race without defeating the Longhorns at home. Not impossible, but not likely.
The ultimate road does not lead to a trophy case on campus this time. It leads to Kansas City for what would be KU's second Final Four appearance in three seasons. Nothing that happened Wednesday night in front of another electric Horejsi crowd put any roadblocks in KU's path.
These Jayhawks are experienced, tough, talented, entertaining, and on this night, very much a team that plays together.