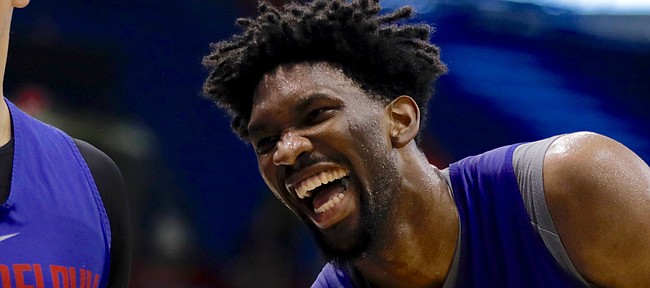 It had been three years, seven months and 18 days since he last played basketball in Allen Fieldhouse. So forgive former University of Kansas center Joel Embiid if he couldn't recollect the most specific details of his home finale as a Jayhawk, while visiting the venue he loves Thursday afternoon with the rest of his Philadelphia 76ers teammates.
"When was my last game here? Was it Oklahoma?" Embiid recalled correctly, while addressing a swarm of media members following Sixers practice. "Yup. I remember that. It was a pretty good game. It went to — did we go to overtime? Nah. I had a pretty good game, Wiggs (KU teammate and fellow NBA lottery pick Andrew Wiggins) had a good game. It was a good win. Yeah, I remember that game."
Before the now 7-foot-2 basketball star from Cameroon suffered the first of his various well-documented injuries in early 2014, Embiid's 12-point, 13-rebound double-double on a Big Monday showcase helped the Jayhawks officially earn a share of the program's 10th consecutive Big 12 title.
Little did the big man, his teammates and coaches and those in attendance know at the time Embiid, due to a back injury, would only play one more game for Kansas.
Photo Gallery
Joel Embiid, Sixers practice at Allen Fieldhouse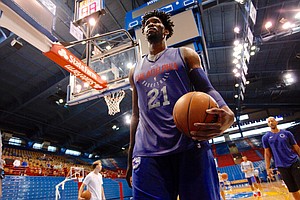 The day before Philadelphia's exhibition in Kansas City, Mo., the Sixers and former Kansas center Joel Embiid practiced at Allen Fieldhouse, where Embiid used to play for Bill Self's Jayhawks.
Stepping onto James Naismith Court once again inspired the 23-year-old to shed some light on what he described as a difficult decision to leave KU after one season and enter the NBA draft.
"When I was here, funny, I don't think anybody knows this story, but I actually decided to stay, because I loved this place so much. But I was kind of pushed to leave," Embiid shared, opting not to say who reminded him of the guaranteed millions awaiting him as a certain top-three pick. "But I love this place so much. Anytime I get a chance to come back I'm going to do that. But stepping on this floor, this is where it kind of all started for me, I think. Without me coming to this place I don't think I would be the third pick, or with the Philadelphia 76ers, so I'm really thankful."
Though further physical setbacks in his right foot forced Embiid to sit out two full NBA seasons, and his official rookie year of 2016-17 was cut short at 31 games due to a meniscus tear in his left knee, the Sixers just signed him this week to a five-year extension worth as much as $146.5 million. ESPN's Adrian Wojnarowski reported the unique contract protects Philadelphia financially should Embiid suffer a specific "catastrophic" injury in the years ahead.
Predictably, his current health and status came up during his return to campus, less than 24 hours after Embiid's enormous potential gleamed in his preseason debut in New York, where in just 14:45 of action the center put up 22 points, seven rebounds, three assists and one block versus Brooklyn.
Podcast episode
On this episode of the KU Sports Hour, hosted by KU basketball beat writer Matt Tait, the KUsports.com staff talks about Joel Embiid, Twitter followers and the U.S. missing out on the World Cup. Topics include: Joel Embiid's return to Lawrence and Kansas City (4:15-22:30), other NBA Jayhawks (22:30-30:35) and ...
"I feel great. I feel like we've got a lot of potential and we've got to learn how to play with each other," Embiid said as a fan inside the fieldhouse shouted toward him, "Trust the process," a one-time mantra of the downtrodden Sixers fan base adopted by the center and rebranded as his own.
"Trust it!" Embiid shouted back, before continuing. "We've got to learn how to play with each other and I think the sky's the limit."
The 76ers practiced on KU's home court in front of head coach Bill Self, numerous current Jayhawks and a contingent of fans the day before Embiid and company's preseason exhibition versus Miami, at Sprint Center in Kansas City, Mo.
Philadelphia head coach Brett Brown thought it would be "very appropriate" to prepare at the fieldhouse.
"This is my first time here, and I'm a son of a coach so I've been around the game my whole life, and the historic sort of perspective of this building along with Joel's history here made it kind of a no-brainer that we should drive 45 minutes down the road, since we're in this area, and experience the building and practice here," Brown said. "It was a great practice. I think the team appreciated and certainly respected where we are."
While Brown said Thursday afternoon he hadn't yet received any official word on Embiid's status for the exhibition, the big man in question seemed less dubious on the matter of taking the Sprint Center court Friday night (7:30 tipoff).
"Oh, yeah. Definitely," Embiid responded, when asked if he expected to play. "I'm playing. Definitely. I mean, I'm back in Kansas, of course I've got to play."
Asked what he missed most about KU and college in general, the gregarious big pointed to the program's culture.
"The fans are amazing over here. Playing in (front of) this crowd. I always tell my teammates — we've got some Duke teammates (Jahlil Okafor and J.J. Redick) that think they've got the best arena," Embiid shared. "But I always tell them, 'You've never been here.' Sixteen thousand people just cheering, like it's insane. You can't even hear."
The easiest man to spot on KU's campus Thursday said he planned to stay late and hang out with the Jayhawks after arriving early, instead of taking the team bus, so he could walk around and take in the views.
"I still have three more years. I'm definitely going to come back to finish school, so I just wanted to come and get the feel for it. I loved it," Embiid said.
The same affection characterized those who spotted the young face of the Sixers strolling the sidewalks near Naismith Drive. Their message to him?
"Trust the process," Embiid related.