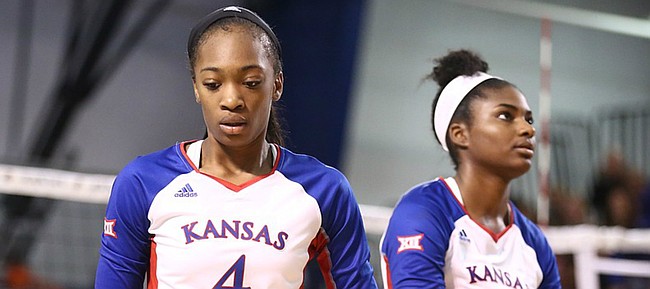 Kansas couldn't afford to let Texas off the hook.
After taking the first set, the Jayhawks were in position to steal the second. They'd let a late four-point lead slip through their hands but held a crucial set point with a chance to take total control of the match against the No. 5 Longhorns.
Instead...
"Got a little tentative in key moments," said KU coach Ray Bechard after the No. 9 Jayhawks' five-set loss to the Longhorns (21-25, 27-25, 18-25, 25-10, 18-16) on Wednesday. "We had our opportunities."
The Jayhawks had several chances — in that point, set and match — to take advantage. Their inability to do so ultimately cost them.
In the second set, the Longhorns gifted the Jayhawks eight points on service errors. KU only managed to hit .082 and struggled to close down the stretch.
"I think we definitely could've capitalized," said sophomore libero Allie Nelson.
Photo Gallery
Kansas volleyball v. Texas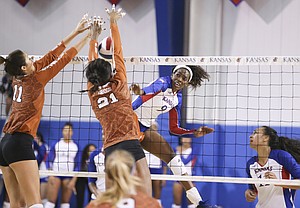 View a gallery of images from Wednesday night's match between the Jayhawks and Longhorns at Horejsi Center.
The fourth set wasn't nearly as close — Texas took it 25-10 — but the Jayhawks had plenty of fight left in them, battling far into the fifth.
After having their own chance to serve match point, the Jayhawks faced that very thing. Trailing 17-16, Jada Burse attempted a kill but the ball deflected back over the net, off her and out of bounds. The Longhorns' celebration was off and running, as they improved to 13-2 (5-0 Big 12) on the year.
"I thought we played hard for each other, but there were key moments where we could've done better on our side," said Madison Rigdon. "We let too many runs go."
The fifth set was representative of the entire match.
The Jayhawks (16-3, 5-1) didn't have their best stuff, but fought tooth and nail — and shin — to stick around.
In the third set, after an attempted kill by Rigdon stayed on the Kansas side of the net, senior Kelsie Payne lunged at the ball, keeping it alive only with her right shin as the rally continued. They Jayhawks won that point and took the set, 25-18.
Then in the fifth set, after falling behind 3-0, Rigdon started to take over. She tallied four kills in the next five points to tie the match, eventually doing so three more times in the evening.
"She's a stud. She's gonna go down swinging," Bechard said. "Certainly she wasn't tentative."
But even on a night when Rigdon (20 kills) shined and setter Ainise Havili (50 assists) shattered the program career assist record — "She does it all for us," Nelson said, "She makes me look good when it's not very good" — the Jayhawks never managed to put it all together.
They struggled with Texas' size and never really got into a good offensive rhythm until it was too late, hitting just .156 for the match.
That left them with somewhat of a bitter taste in their mouth, albeit one that showed with smiles after the initial sting had worn off.
Standing outside of the KU locker room, the trio of Nelson, Payne and Rigdon were upbeat as they noted that to keep the contest close without playing their best left them even hungrier, "starving," as one player put it, for a second chance in Austin.
"As long as we can learn something from it, then it's a valuable experience," said Payne. "We have a lot of season left to play."
More like this story on KUsports.com