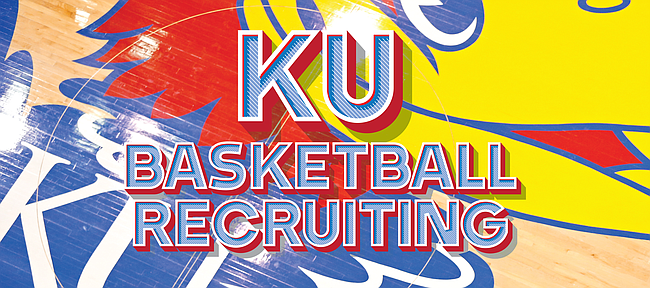 The Kansas men's basketball program is facing another big week on the recruiting trail, with one important decision potentially coming by Friday and another weekend visitor on the schedule.
Devon Dotson, a five-star point guard from Charlotte, who appears to be down to Kansas and Maryland, kicked off the week with a Tweet that set the whole thing up.
"Big week ahead," wrote Dotson, adding an emoji of an hourglass next to the words.
Dotson's father, Dana Dotson, said early last week that he thought his son's announcement could come "in a week or so." Asked this week if the younger Dotson had set a date for the big reveal, Dana Dotson told Matt Scott of 247 Sports site TheShiver.com, "I think he's close."
For what it's worth, 247's Crystal Ball rankings, which take predictions from recruiting analysts throughout their network, — both national and local guys — have Kansas listed as the heavy favorite to land Dotson. The Jayhawks currently have 76 percent of the picks and Maryland is second at 12 percent.
Landing Dotson, the No. 19-ranked player in the 2018 class according to 247 Sports, would be a big pick up for a Kansas that already has received commitments from two Top 30 big men in David McCormack and Silvio De Sousa.
Beyond the obvious boost of adding an elite lead guard to an already-impressive 2018 class, securing a commitment from Dotson would help the Jayhawks move past the sting of missing out on the key high school point guards they targeted in the 2017 class, with Top 20 prospects Trevon Duval (Duke), Collin Sexton (Alabama) and Trae Young (Oklahoma), among others, all electing to play their college basketball elsewhere.
The Jayhawks survived those misses when junior Devonte' Graham announced he would return to KU for his senior season, but, with Graham leaving after the upcoming season, and the potential for three other current Kansas guards to go with him, the priority of adding a point guard in the 2018 class is as high as it has been in a number of years.
Decision or no decision, good news or bad, the Kansas coaching staff this weekend will shift its focus to the arrival of 6-foot-5, 180-pound shooting guard Quentin Grimes, who will be in Lawrence for his official visit.
Grimes, the No. 11-ranked player in the 2018 class according to Rivals.com, already has made visits to Texas and Kentucky and plans to wrap up his official visits with a trip to Marquette on Oct. 20.
The KU coaching staff was in The Woodlands, Texas, for an in-home visit with Grimes and his family in early September, and Rivals.com analyst Eric Bossi wrote, before Grimes' visits, that Kansas appeared to be "the leaders headed into visits."
Grimes is expected to arrive in Lawrence on Friday.
Media Day stars
KU's Media Day in Lawrence is set for Friday and the Big 12 Conference will host its Media Day in Kansas City, Mo., on Oct. 24 at Sprint Center.
In short, basketball season has officially arrived.
While Friday's event at Allen Fieldhouse will feature each member of the current KU roster fielding dozens of questions from the media members, just three will be at Sprint Center with KU coach Bill Self later this month.
Those three will be: seniors Devonte' Graham and Svi Mykhailiuk and sophomore transfer Malik Newman.
Neither event is open to the public.
Here's a look at the rest of the scheduled Media Day representatives from each Big 12 school:
Baylor:
Manu Lecomte
Jo Lual-Acuil Jr.
Nuni Omot
Terry Maston
Iowa State:
Donovan Jackson
Nick Weiler-Babb
Solomon Young
Kansas State:
Dean Wade
Barry Brown
Kamau Stokes
Oklahoma:
Kameron McGusty
Rashard Odomes
Trae Young
Oklahoma State:
Jeffrey Carroll
Mitchell Solomon
TCU:
Vladimir Brodziansky
Ahmed Hamdy
Kenrich Williams
Texas:
Mohamed Bamba
Dylan Osetkowski
Andrew Jones
Texas Tech:
Keenan Evans
Justin Gray
Tommy Hamilton IV
Niem Stevenson
West Virginia:
Jevon Carter
Daxter Miles Jr.