Kylee Kopatich is generally very clean and courteous. She has a car, which she uses to chauffer her car-less teammates whenever they're in a pinch.
Sounds like a perfect roommate, huh?
"I watch way too much Netflix," Kopatich volunteers, sitting in one of the raised chairs that line Naismith Court inside Allen Fieldhouse.
"You watch TV in the shower," corrects an onlooking Bailey Helgren, her roommate and a freshman on the KU women's basketball team.
"Oh yeah, I watch 'Friends' in the shower," Kopatich says with complete confidence, the kind that makes you question whether or not you've actually been doing the wrong thing by watching it on an actual television. "There's like a little ledge, man."
Duh.
Putting aside her Netflix habits and iPhone, which is certain not to last far beyond the one-and-a-half years she's had it, it's here at KU women's basketball media day that Kopatich's growth is on full display.
Self-described as a formerly "wide-eyed, deer in headlights kind of person," Kopatich has grown into a leadership role on and off the court.
She's no longer the freshman forced to play probably too-many minutes and take probably too-many shots, and she's even more comfortable in a media setting, not only owning her own chair, but having no problem sliding into another of her teammates after most of the team has wandered off.
"I mean, kinda used to it by now," Kopatich says with a laugh. "I'm a junior now, which is scary."
Perhaps then, there's no better way to begin her story than framing it loosely in the words of her favorite "Friends" character, Chandler Bing.
When you think about all the time she's put in on the court — that court — could it be... any more fitting how things ended up?
* * *
If fans were allowed into a game at Allen Fieldhouse early enough, amongst the empty stands and eerie aura of the vacant venue they'd recognize a familiar noise: a ball bouncing off the hardwood and echoing throughout the gym as it clanks off the rim and drops through the net.
Without fail Kopatich is always first onto the floor. She floats around the band-side basket, knocking down shots with a manager, her trademark smile never leaving her face.
As time has gone on, she has added to that tradition. Nowadays, she ends with a few half-court shots. Upon actually making one, she imitates — sort of — LeBron James' trademark "silencer" celebration, despite listing Kobe Bryant as her favorite basketball player.
https://twitter.com/ChasenScott/status/806640972763435008
"That's definitely Kylee," former KU women's basketball player and graduate assistant Natalie Knight told the Journal-World. "She's the last one to leave the gym, the first one there. She's putting up extra shots on a daily basis."
It didn't take long for Knight to identify those traits in Kopatich. She also then deserves some of the credit for instilling them.
Here's the backstory.
Originally committed to K-State, Kopatich reopened her recruitment after the firing of coach Deb Patterson.
Less than two months later, she had found a new school. The decision wasn't that tough, especially considering most of the legwork was put in a few years before.
"Right when Natalie Knight committed here," Kopatich recalled. "I'm like, 'Kansas is looking pretty good.' "
Knight played for Kansas from 2011-15, starting 115 games and totalling 1,081 points in her four-year career.
Like Kopatich, Knight attended high school at Olathe South, though the two were never able to play together, with Knight being four grades ahead of Kopatich.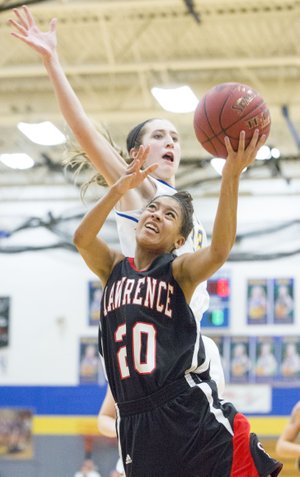 Kopatich first knew Knight's younger brother, Noah, before getting to know Natalie a little better later on. As she progressed as a player, Kopatich leaned on Knight for advice and was able to continue to do so after Knight joined the KU staff as a graduate assistant in her post-playing career.
"She was always my idol," Kopatich said. "We went to the same elementary school, middle school, high school. My high school coach is her high school coach. And we just — I followed her, she didn't really follow me."
Maybe not literally, but Knight was certainly aware of her.
Knight's first chance to watch Kopatich on the court was in Kopatich's junior year of high school. At that point, Kopatich was well established as a varsity player, eventually following in the footsteps of Knight as the 2014 Sunflower League player of the year and a McDonald's All-American nominee.
Back then, it wasn't any one skill that stood out to Knight. Kopatich was aggressive and ahead of her peers in how she played. She also carried herself the right way, Knight recalled, which was reflected in how her teammates responded to her on the court.
"You could just tell she was very, very passionate about the game," Knight said.
It's that passion that is driving her to hit her next mark.
* * *
The number itself wasn't clear, but there was no doubt as to what it represented.
Danielle McCray, another Olathe product who played for Kansas from 2006-10, knocked down 81 threes in her junior season, demolishing Angie Halbleib's previous single-season record (69) that was set more than a decade earlier.
McCray was on pace to break her own record as a senior until she went down with an ACL injury. Knight, who holds the fourth- and fifth-place spots on the all-time standings, came close to breaking it as well.
Now Kopatich has her eye on that very mark, even if she initially overshot it when trying to recall the exact number.
"That's the best part of my game and if I don't have a goal, it's kind of like I'm shooting it just 'cause," Kopatich said. "Now that I have a set goal, it's like, 'All right, now I can defeat this. I can beat this.' "
It's not her only one.
Kopatich hopes to be better on defense, an area coach Brandon Schneider stressed is important for her to show growth. She wants to be able to score from anywhere on the court and average more than 10 points per game, along with the team goals of finishing in the top half of the conference and making the NCAA tournament that were shared by teammate Chayla Cheadle.
Perhaps her biggest area of improvement, though, has come away from the court.
"Kylee's opened up a lot," Cheadle said. "Like when we're in the locker room she's like dancing and stuff. And she would have never done that when she first got here."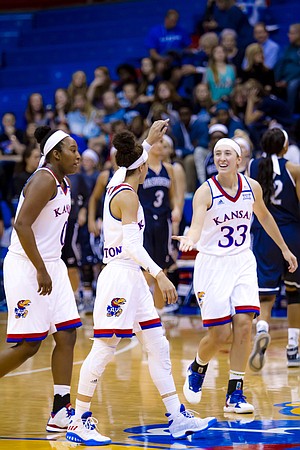 Just about everyone has seen the same thing.
Tyler Johnson, a third-year player on the team, notes Kopatich was never fazed by being thrown into games, but that she was "tentative" and "wouldn't really speak out" off the court as a freshman.
Contrast that with Helgren's 2017-18 view of Kopatich as a leader and someone the team relies on both on and off the court. It's easy to see the growth, even if it isn't all that surprising to those around the program.
"Everybody was being exposed to something new," Knight said of Kopatich's freshman year, which coincided with Schneider's first as head coach. "She caught on a lot faster than everybody else."
Kopatich somewhat downplays this area.
Keeping in mind that like Chandler, she is "like so sarcastic all the frickin' time," she denies there's any secret to her increased voice in practice other than to drink lots of water before it starts.
"Because I talk all the time," Kopatich jokes.
But even if it seems like it's out of her wheelhouse, the way she leads is true to form.
If players aren't making their times on conditioning drills, she'll call out words of encouragement. If things aren't working out in a game, she'll try and start a rally.
Kopatich won't just scream to hear her own voice — "I'm not that person," she says — but she will help anyone and everyone through their toughest moments. And that's what she hopes to continue to do as KU heads into its first exhibition game on October 29 against Emporia State.
"I've told Kylee each year she's been here. 'Kylee, when you first got here you were really shy. You were just trying to do what you could.'" said Cheadle. "But now, she's grown so much as a player and as a person on and off the court, and I'm just proud of her. So she needs to keep doing it and do even more."