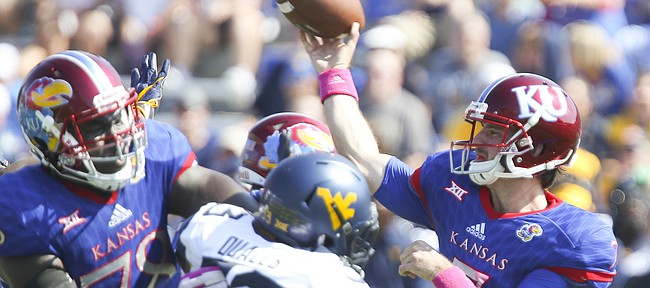 Publicly, Kansas football coach David Beaty doesn't want anyone to know which of his team's quarterbacks will start Saturday at Iowa State. Within the walls of Anderson Family Football Complex, the identity is no secret.
A day after stating he had no plan to announce whether Peyton Bender or Carter Stanley would start KU's next game, the third-year head coach clarified Tuesday at his weekly press conference no suspense on the matter exists for the quarterbacks.
The Jayhawks' published depth chart for the week listed Bender, who has started every game so far this season, ahead of Stanley, the starter to close 2016. However, Beaty said the circulated two-deep uses the previous game's starters.
"But I think maybe the best way for me to handle that, guys, is our guys and our team and our coaches all know what our plan's going to be at every position, including quarterback. We know what we're going to do already," Beaty explained. "I'm not going to share it publicly, obviously, because it gives us a little bit of an advantage."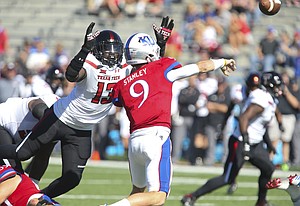 After Bender misfired on two possible touchdown passes from the Texas Tech four-yard line just before halftime this past Saturday, KU settled for a field goal and the starting QB watched the rest of the blowout loss from the sideline.
Bender said Tuesday he knows whether he will start Saturday at ISU (11 a.m., FOX Sports Net), "but I'm not allowed to say anything about that," he added. "The team knows. We've got the game plan in, so we'll be ready to go."
Asked whether he's careful not to tell anyone outside of the program such privileged information, Bender responded: "It's all in house, so none of that will get out."
Stanley, though requested for Tuesday's media session, couldn't attend due to a class conflict according to a KU official.
The redshirt sophomore said Saturday after taking all of the offensive snaps in the second half of a 65-19 loss he didn't think a renewed quarterback competition would impact either he or Bender negatively.
"I don't think it's going to change anything for me or Peyton," Stanley said. "I think we bring it every week in practice. I think we have to bounce back for sure, so it might be amplified, but I think we just have to do our normal thing and bring it every day in practice."
Podcast episode
On this episode of the KU Sports Hour, hosted by KU football beat writer Benton Smith, the KUsports.com staff discusses what may have already become another lost season for KU football. Topics include: KU's lack of progress in 2017 (open-14:40), the quarterback controversy (14:40-28:55), the program's recruiting failures (28:55-38:15), the ...
Beaty stated the players and staff all understand the plan at QB as it stands right now and said they're "excited" about it.
"We always have a competition at any and all positions. I know it's vogue to talk about the quarterback position and it may have its own separate entity and all that stuff, but it just isn't that way for us," KU's third-year head coach offered. "We don't look at it that way. We look at it as always competing to try to make each of us better. And those guys, they're roommates (Bender and Stanley), they're buddies, they're friends and they're both competitive. So we know what our plan is, I'm just not going to share it with you. Sorry."
Bender has passed for 1,373 yards, eight touchdowns and eight interceptions on the season. Stanley, who hadn't thrown a pass in a game this year prior to Saturday, is 11-for-19 for 110 yards, with an interception and no touchdowns.
Asked to assess the skill sets of both potential starters, Beaty described the biggest difference between them as "obvious," in terms of Stanley being a better runner.
"I'm not sure that Peyton couldn't run it a little bit better if he gets to a point where he makes his mind up to do it, but Carter obviously moves a little bit better," Beaty said. "He's probably a little bit better on the run with the ball and on the run throwing the ball he probably feels a little bit more comfortable even than Peyton does."
Coming off a five-catch day for 102 yards versus Tech, receiver Steven Sims Jr., who caught three Stanley passes and two from Bender, said the rest of the team is "comfortable" with either option.
"So whoever coach chooses we're not complaining," Sims said. "We're just going to go out there and try to win."