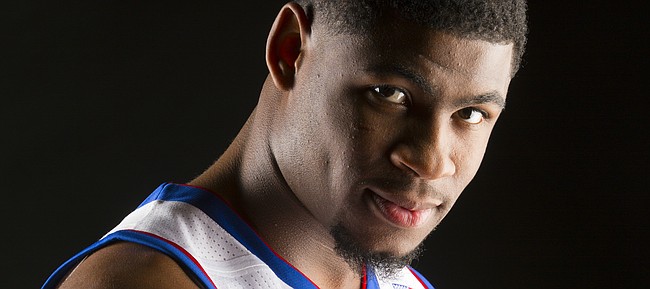 Before the 32-point explosion in Italy or his 19.3 points per game average in KU's four exhibition contests overseas, there was the waiting — long, painful, miserable, dead-end waiting.
This was not the kind of waiting that drives one crazy at the DMV or while sitting in traffic after a sporting event. Heck, it wasn't even the kind of waiting that comes when courting someone of the opposite sex and waiting for a reply to a text message that may never come.
Instead, this kind of waiting was the in-your-face, watch-while-everyone-else-is-having-fun-and-pretend-it-doesn't-bother-you waiting and Kansas guard Malik Newman became a pro at it.
"It felt like forever," Newman said this summer of his year away from basketball after transferring to KU from Mississippi State. "It feels like one of the longest things I've had to do; considering it (was only) a year, it felt way longer than a year."
But now that the year has passed and Newman, a once-prized prospect from Mississippi who many believed would be in the NBA long before now, is back on the court, you won't find many players enjoying it quite as much.
That was the case long before KU's trip to Italy. But getting to put on a Kansas uniform for real and running up and down against someone other than his teammates — even if they were just exhibition games — brought the thrill back to Newman's face and reminded him why he fell in love with basketball to begin with.
Sort of the poster child for transfers gone right, Newman said his year off helped him mature as a basketball player and a person.
"I kind of do feel older," he said. "But in a good way, not in a my-body-hurts kind of way. I just feel wiser. I'm more confident. I think I have probably the most confidence that I've ever had right now and the guys I have around me, they want me to succeed, I want them to succeed. I think everything's just clicking at the right time."
While moving from the shadows to the spotlight could be a daunting transition for most, doing it at Kansas, where the fan base is rabid about all things Kansas basketball year round, has helped Newman prepare for it. Even while he was sitting out and wearing street clothes to games, he still was a part of the conversation.
Fans knew he was working and waiting in the wings. Those who showed up to Allen Fieldhouse on game nights super early often saw him out there working with assistant coach Jerrance Howard as if he were preparing to play.
KU coach Bill Self, on more than a couple of occasions during his year off, talked about Newman's potential and set the bar high, expressing that he believed the Mississippi State transfer could, would and should play at an all-league level when his time came.
"(He's the) best prototypical, what you would consider a shooting guard, that we've had since we've been here," Self said during a recent radio appearance on KLWN.
During that same segment, Self elaborated on Newman's all-around game: "I like guys that are interchangeable, so when I look at Malik he's athletic enough to defend a one, he's big enough to defend a three, he can score off the catch but he can also go get it off the bounce. He's capable of putting up some numbers. I'm excited about him."
In order to live up to Self's lofty expectations for him, Newman is going to have to deliver on defense and in the huddle, as a set-up man and a scorer. And all of those aspects are areas Newman worked on during his year off.
"I can't just pinpoint one thing that I really grew in," he said of his year off. "I think my overall game (grew), just going against those guys (Devonte' Graham and Frank Mason in practice last season) each and every day."
While Newman now has made the shift from bench supporter to running mate, there's no denying that he is most excited about getting an opportunity to fill Mason's shoes and play alongside Graham in the Kansas backcourt.
"The brotherhood that me and him have built, he knows how I play, I know how he plays, just having an experienced guard back there with me has made a big difference," Newman said.