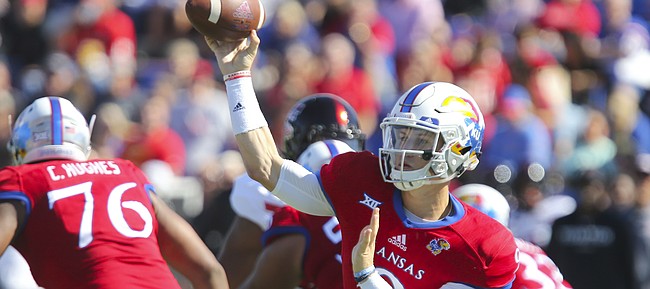 Now that the starting quarterback job is back in a state of flux on his Kansas football team, head coach David Beaty doesn't plan on naming a No. 1 QB ahead of the Jayhawks' upcoming trip to Iowa State.
Beaty waited the entirety of the offseason before officially awarding junior Peyton Bender the job on the day of KU's season opener the first week of September, and Bender has started every game since.
However, redshirt sophomore Carter Stanley featured prominently in the game plan for the first time this season on Saturday against Texas Tech. And when Bender didn't provide Kansas with the results asked of him much of the first half, Beaty and his staff played Stanley at QB the rest of the way.
Immediately after the loss, Beaty said he didn't know whether Bender would be back as the starter for the following game, at ISU (11 a.m., Saturday, FOX Sports Net). He stuck with that stance Monday on the Big 12 coaches media teleconference.
"You guys know me. I'm never going announce a starter," Beaty said. "I just don't do it. I don't think it gives us an advantage. I think it makes it a little tougher on the defense."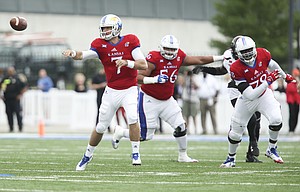 Bender, who watched the entire second half of a blowout loss from the sideline, went 12-for-24 through the air for 146 yards, with one touchdown and one interception.
Stanley, the starter in KU's final three games of 2016 but a bystander the majority of the first four games this year, while he also recovered from a break in his right throwing hand, completed 11 of 19 throws versus Texas Tech for 110 yards, with an interception and no touchdowns.
More mobile than Bender, Stanley also gained 19 yards rushing — though 14 yards lost via a sack, a negative run and lost fumble left him with a net running total of five yards.
"And, you know, from our standpoint we have two very, very capable quarterbacks that can help us," Beaty said.
Using both QBs didn't help KU (1-4 overall, 0-2 Big 12) much against the Red Raiders. But Iowa State (3-2, 1-1) implemented the strategy to great success in a marquee upset victory at Oklahoma, where Kyle Kempt did the majority of the passing (18-for-24, for 343 yards and three TDs) and linebacker Joel Lanning played the part of the part-time, run-threat QB.
"I'm not saying we're going to use that; I'm not saying we're not going to use it," Beaty said of sticking with the two-QB offensive game plan another week. "But there's some merit to being able to use both those guys, because both of them have very different skill sets that can give you an advantage."
On the year, Bender has completed 114 of 202 throws for 1,373 yards, with eight touchdowns and eight interceptions (most in the Big 12). Stanley didn't attempt a pass in a game until the loss to Texas Tech.
"It'll be no different from how we prepare each week," Beaty said of how he plans to handle the renewed QB competition. "All of our guys know they're only as good as their next snap and that comes from a positive point of view, not a negative point of view. It's all about competition each and every day, getting yourself ready to play."