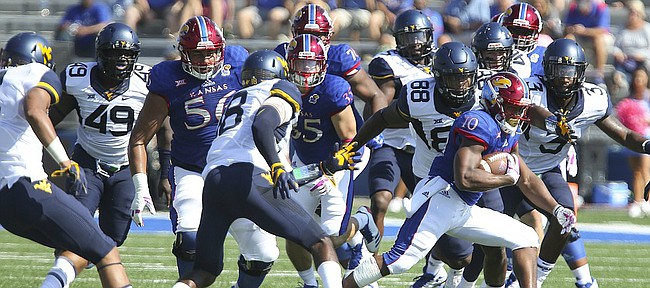 Doug Meacham's coaching career included stops as an offensive coordinator or co-coordinator at six other college football programs before he arrived at Kansas.
As a play-caller, the Jayhawks' Air Raid authority almost felt out of his element during a rush-heavy loss to West Virginia on Sept. 23.
"I don't think I've run the ball that many times throughout my whole life," Meacham said of a day when running backs Khalil Herbert, Taylor Martin and Dom Williams combined for 48 carries and quarterback Peyton Bender threw 32 passes, "so that was definitely a tendency-breaker."
The former TCU and Houston co-coordinator certainly didn't mind the results after navigating the offense closer to the turf. KU (1-3 overall, 0-1 Big 12) averaged just 6.2 yards per pass in the loss to WVU, while Herbert's career outing of 291 yards helped the rushing trio average 7.6 yards a carry.
"Yeah, I'd like for him to rush for 300 every week," Meacham joked, when asked whether Herbert's 36-carry day might become the new norm. "That'd be awesome. But we saw a few things in kind of what (the Mountaineers) do, and I know him (WVU defensive coordinator Tony Gibson) pretty well. He probably had 15 different blitz types and 15 coverages dialed up for us if we lined up in empty and stuff. I just wanted to kind of shrink his call sheet a little bit, and we saw some angles there with how they lined up and kind of took advantage of it. I think it surprised them a little bit.
Podcast episode
On this episode of the KU Sports Hour, hosted by KU football beat writer Benton Smith, the KUsports.com staff discusses the state of KU football and what the rest of the season might entail. Topics include: Where do things stand after the bye week? (3:00-22:10), what are the worst-case (22:10-33:00) ...
"It won't surprise anybody else — you know what I mean? But it did surprise them."
After spending the days leading up to the WVU game working with offensive line coach and run-game coordinator Zach Yenser, Meacham embraced a variant to his typical game plan.
"We hashed it out, worked it out. Some of that stuff we'd kind of been working on but it just didn't really matchup with some of the defensive fronts that we saw (before the WVU game)," Meacham explained. "So we had some reps at some of that stuff and it kind of, it just filtered out really nice with how they aligned."
The success within the ground game didn't amount to a Kansas victory, of course. And Meacham couldn't even conjure up one of his typical analogies to describe how much of an adjustment it was for him to call more rushes than passes.
"Yeah, it's weird," he said, with a chuckle. "It's weird."
There is no guarantee KU will stick to an offense centered around Herbert (7.6 yards per carry, four touchdowns) this week against Texas Tech (11 a.m. kickoff, FOX Sports 1) and beyond. Still, Meacham now has first-hand experience in running away from his comfort zone.
Can the Kansas Air Raid become a run-first offense going forward?
"Where would you categorize West Virginia defensively in this league?" Meacham countered. "Middle- or upper-echelon? Like (ranked in Big 12) three or four type defense? I mean, without the penalties we had like 600 yards on it (564). So I could see it being something we'd probably do."
If nothing else, KU's offensive tendencies might be more difficult for opponents to pinpoint for the time being.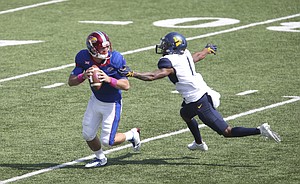 After calling 62 pass plays in the loss to Central Michigan, the number dipped to 47 at Ohio and 32 versus WVU.
"I'll try anything once. You know? But you've got to play to your strengths," Meacham said, "and we felt like (featuring Herbert against West Virginia) was the best plan that week. It doesn't necessarily mean we're just going to line it up and do it every week."
Little self-scouting necessary for offense
At his weekly press conference Tuesday, KU head coach David Beaty said much of the team's bye-week work focused on self-scouting and addressing issues.
Meacham said he used his extra time on other areas.
"I didn't really do near as much of that part (self-assessing) as we kind of used it as much as anything as a way to get healthy and kind of cultivate our twos more so than identify problems that everybody can already see, offensively anyway," Meacham said. "Because I feel pretty comfortable with who we have at what spots."
The bonus week between games, before facing Texas Tech (3-1, 0-1), he added, went toward getting his first-string players refreshed mentally and physically. In fact, Meacham revealed second-stringers took most of the practice reps during the bye week. He also said receivers and QB Bender used that time to work on route specifics and developing better timing.
Missing Hampton
In his first three games with the program, true freshman receiver Quan Hampton caught 15 passes for 114 yards, with a long of 22 yards.
Meacham said the Jayhawks missed the 5-foot-8 slot receiver from Texarkana, Texas, against West Virginia.
"He's really fast," Meacham said of Hampton, who couldn't play in KU's previous game due to an undisclosed injury.
When asked whether Hampton, a starter, is close to returning, the coordinator and receivers coach replied, "yeah," and that the team's second-leading pass-catcher (behind Steven Sims Jr.'s 16 receptions) has practiced this week.