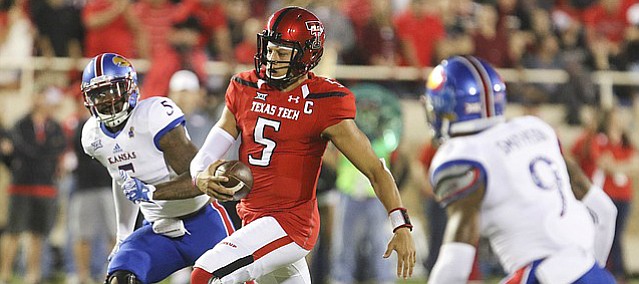 Kansas opened its Big 12 football schedule in Lubbock last season with a realistic shot at shedding its habit of getting off to woeful starts. Texas Tech was coming off consecutive games in which it had allowed 68 points to Arizona State and 45 to Louisiana Tech.
So what happens? Kansas falls behind, 14-0, five minutes and five seconds into the game. The first-quarter score of KU's first three games vs. FBS competition of 2016 drops to 42-0. KU's first six possessions vs. Tech end in punts.
And all the talk a few days later centered on how to get off to quicker starts. A year later, the chatter is right back to where it started.
The time has come for Kansas to either put a stop to getting blown out of games right off the bat or brace for the reality that if this keeps up much longer, the stands will look at the beginning of games the way they do in the waning moments — by which time even Eleanor Rigby feels too isolated and heads home.
By halftime, Central Michigan led Kansas, 24-6. Ohio was up on the Jayhawks, 18-0, in the second quarter en route to a 25-14 lead heading into the third quarter. West Virginia took a 35-13 halftime lead.
Podcast episode
On this episode of the KU Sports Hour, hosted by KU football beat writer Benton Smith, the KUsports.com staff discusses the state of KU football and what the rest of the season might entail. Topics include: Where do things stand after the bye week? (3:00-22:10), what are the worst-case (22:10-33:00) ...
In its three games vs. FBS foes, all losses, KU has trailed at the half by an average score of 28-11, and has mustered just six first-quarter points.
I sometimes wonder how many among the "I'm just going to finish this beer and then head in" crowd listening on the radio in the parking lot decide before the beer has vanished that the game is over and never enter.
The trend that must end showed signs of vanishing late in 2016. Third-year head coach David Beaty has coached 25 games vs. FBS opponents and has taken a lead into the second twice. Those leads came on back-to-back weeks vs. Iowa State and Texas in the 10th and 11th games of last season.
But as has been the case so often this decade when Kansas does something positive, it fails to sustain the momentum.
Kansas State took a 20-3 halftime lead in the season finale, and things haven't gone a great deal better than that in the first half this season.
In 25 first quarters vs. FBS competition, Beaty's teams have averaged 2.7 points. Beaty addressed KU's slow starts Tuesday and referenced a "quick-start drill" he calls for out of the blue in practices. OK, but not all problems have practice solutions. Maybe the answer lies in switching the game-day routine.
Might Beaty want to step way out of character during his pregame speech and locker-by-locker quickly blast every single player on the team, sharing with the whole room whatever negative quality about that particular player pops into his head? Just something to startle the players into thinking they owe the coach one.
Maybe pop in that eerie nighttime BBC Planet Earth video of a pride of lions teaming up to take down an elephant, or one of an eagle turning a wolf into its lunch, whatever will drag the team into the sort of visceral, savage mindset needed to wage battle in the Big 12.
During his time at Kansas, Beaty's teams on average have been outscored in the first half, 26-7, and 18-9 in the second half, rounded to the closest digit.
Score by quarters, rounded to the closest digit:
First: Opponents 11, Kansas 3.
Second: Opponents 15, Kansas 5.
Third: Opponents 10, Kansas 5.
Fourth: Opponents 7, Kansas 4.
So it's not just about slow starts, but fixing that might make a nice place to start.