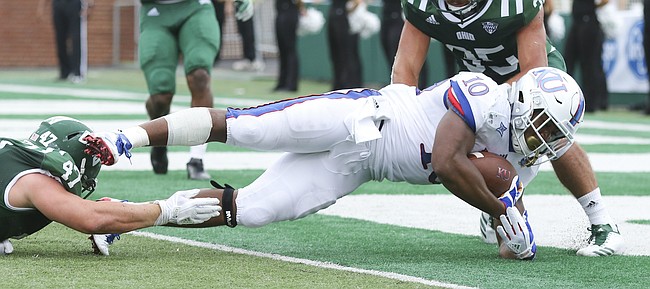 While the addition of offensive coordinator Doug Meacham to the Kansas football staff hasn't yet translated to more victories, the Jayhawks' current version of the Air Raid offense has proven more effective than the 2016 model.
Through four games a year ago, when Meacham still worked for Gary Patterson at TCU, the KU offense floundered, averaging just 353 yards — 102nd among FBS programs.
Now that Meacham is in charge of calling plays for Kansas, the offense, entering Game No. 5, has jumped up to 480.5 yards a game, which ranks 23rd nationally.
The man who hired him, third-year head coach David Beaty, cited the offense's comparative improvement when asked to address the self-scouting the team did during the bye week.
"We've had the ball a lot longer, we've had a ton more first downs, we doubled our rushing production," Beaty said looking at the numbers, side-by-side.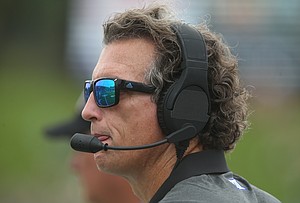 Comparing those referenced statistics through four games, Kansas has improved from 25:33 to 28:05 in time of possession, gone from 68 first downs to 93 and seen its rushing yards per game leap from 91 to 173.8.
That ground success, of course, stems from back-to-back monster outings for sophomore running back Khalil Herbert, who followed a 137-yard day at Ohio with 291 yards in a home loss against West Virginia.
Junior quarterback Peyton Bender said Herbert's success should benefit the passing game, too, and make for a more impactful offensive product overall.
Podcast episode
On this episode of the KU Sports Hour, hosted by KU football beat writer Benton Smith, the KUsports.com staff discusses the state of KU football and what the rest of the season might entail. Topics include: Where do things stand after the bye week? (3:00-22:10), what are the worst-case (22:10-33:00) ...
"Khalil has played real well. You've got to attribute a lot of that to the O-line. They block extremely well," Bender said of Hakeem Adeniji, Andru Tovi, Mesa Ribordy, Chris Hughes and Zach Hannon. "Coach Meacham's had some good blocking schemes in for us, which have been very beneficial. But the run-threat always is going to open up the passing threat through play-action and all of that."
Entering this Saturday's home date with Texas Tech (11 a.m. kickoff, FOX Sports 1), Bender has completed 57.3 percent of his 178 pass attempts, thrown for seven touchdowns and seven interceptions and averaged 306.8 passing yards (14th among FBS quarterbacks).
"The more effective we can run the ball the easier it will make the passing game, keep the defense off guard," Bender said. "They have to respect the run. It's definitely going to help us moving forward."
Meacham's offense hasn't been the primary factor in three consecutive losses for Kansas (1-3 overall, 0-1 Big 12). On the season, the defense has surrendered 39.8 points per game (122nd nationally) and 482 yards an outing (117th).
Beaty thinks both sides of the ball would benefit from the defense coming up with more takeaways. Thus far, Mike Lee and Hasan Defense each have one interception. Josh Ehambe recovered one fumble on defense and receiver Chase Harrell came up with another on special teams.
KU's net turnover margin of minus-5 (-1.25 a game) ranks 119th in the country.
"The difference is we haven't got near as many turnovers — we haven't taken them away. If we did that, I think that's the difference in averaging 32 a game and averaging 45 a game," Beaty said. "That will be something that can help us, so we spent a lot of time in the bye week creating extra possessions in one way or another."
With 10 total takeaways (five fumble recoveries and five interceptions) and only three giveaways, Texas Tech (3-1, 0-1) has a plus-7 turnover margin, which ranks sixth-best in FBS.