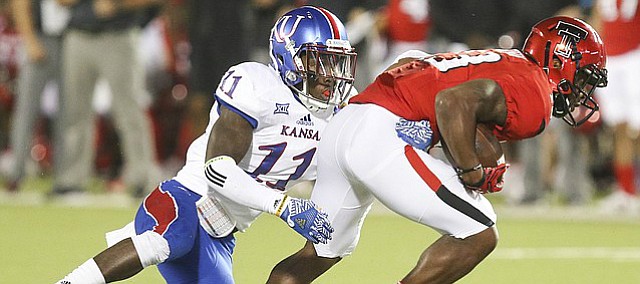 It didn't take Kansas safety Mike Lee long to establish himself as one of the Big 12's most feared bone-crushing tacklers.
KU receiver Ryan Schadler, tagged by Lee in the spring game, can attest to that, as can Kansas State running back Alex Barnes and countless others.
Lee's tackles have staying power and so does his enjoyment in making them. He has an expressive face, so I thought I'd ask him a question that might produce an expression I never had seen from him.
"If you could change the rules of college football to make it touch football would you do that or keep it tackle football?" I asked.
He was certain he misunderstood the question and asked me to repeat it, which I did. First a blank stare, then his face crinkled up, then he answered: "Tackle. I don't want to touch nobody. That's just for kids."
He knows because he said he first played touch football at the age of 3.
"I still tackled though," Lee said.
Clearly, he was born to tackle but there is more to playing safety than delivering hits that hurt. It requires playing with the discipline not to bite on fakes and it requires preventing receivers from catching passes, not just rocking them after they have their hands on the football.
"He noticed his mistakes from early in the season and now I think he found himself and said that has to stop," teammate Dorance Armstrong said. "He has to be a cover safety and that's what he's going to do. That's how he's going to help our team."
Armstrong called Lee "a work in progress," who "needs to get better," and said he thought Lee did a good job of listening to coaches and getting better during the bye week.
Lee has switched to bench safety from free safety, where Tyrone Miller now roams. Bryce Torneden has moved to nickelback and KU head coach David Beaty said Shaquille Richmond is healthy enough to back up at safety this week. Lee said Richmond has the mental side of safety down, quickly processes what he sees and always knows where to be, so his addition can't hurt.
Even more so than usual, all eyes will be on KU's secondary. Texas Tech ranks third in the nation with 410.8 passing yards and KU's pass defense ranks 124th among 130 FBS schools with 309.5 passing yards allowed per game.
Nobody needed to remind Lee of Tech's passing prowess. The first extensive playing time of his career came in Lubbock last season, where he gave what he is certain will go down as the worst performance of his career. He said he was out of position on so many plays he felt compelled to text then senior Fish Smithson the next morning.
"My text said I know I had some missed tackles and a lot of big plays that I gave up and I'm going to work on that and that's going to be my last game missing things like that," Lee said. "I just had to shoot him a text message saying I apologize because I know he was a senior and he wanted me to show more experience than I did that game and I had to get better. That's what I did. I improved throughout the year."
Lee knows of but one avenue to purge the memory of that game.
"I'm going to play my butt off because last year when we played Texas Tech I didn't show a lot of improvement," Lee said. "This Texas Tech game I'm going to have to prove a lot. The whole defense. Our bye week we watched the film of last year's Texas Tech. The plays we gave up were our fault. We were late to the ball, had missed assignments, stuff like that."
Nothing but disciplined, precise football will enable Kansas to hang with Texas Tech. Lee is well aware of that and eager to show he's not the same player he was the last time he faced the Red Raiders.