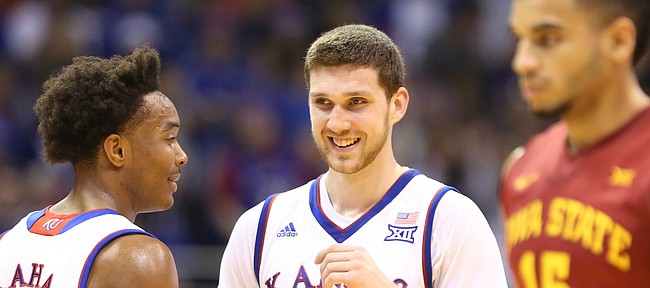 During the 2016-17 Kansas basketball season, seniors Frank Mason III and Landen Lucas proved to be valuable leaders whose unflappable demeanor, vast experience and unending toughness led the Jayhawks night in and night out.
Even freshman Josh Jackson — wise beyond his academic classification — and walk-on Tyler Self served an important role in leading last year's Jayhawks.
Today, the leadership baton has been passed to returning guards Devonte' Graham and Svi Mykhailiuk, and there was a brief period of time last Spring when the Jayhawks were unsure whether they would have either of them in uniform this year.
Although Graham never tested his NBA Draft stock and Mykhailiuk took his decision down to the wire, both ultimately decided to return for one final run at Kansas.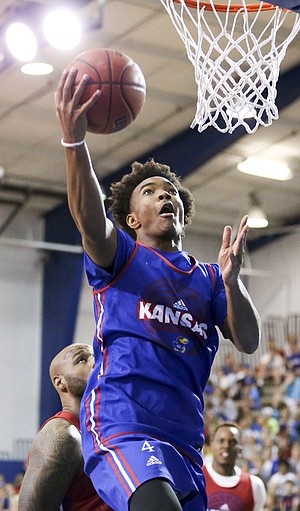 "I think that's huge for us, to have Svi and Devonte' come back," sophomore forward Mitch Lightfoot said this summer. "They're both great players and they're also great leaders both on and off the court. They really have the team's best interest in mind."
Although the two senior guards will not carry quite as many minutes in the gym and on the floor as Mason and Lucas did entering last season, they are both returning starters and by far the most experienced players on the new-look KU team.
Others will step up as the season draws near. A few already have. But there's no denying that the 2017-18 Jayhawks will be looking first to Graham and Mykhailiuk to lead them, a fact that made both players' decision to return even more important than it appears on the stat sheet.
Despite the relative youth and bevy of new faces around them, KU coach Bill Self recently explained that leadership and lack of experience were not a concern of his.
"It's still one of the most experienced teams in the country," Self said last week at the annual Coaches vs. Cancer event in Kansas City, Mo. "Svi and Devonte' are seniors. Lagerald's a pretty experienced junior. Malik is as experienced as any sophomore could possibly be. Where we are young and inexperienced is up front. But we've got good guards. We've got good big guys, I just don't know if they're ready yet to be big time players. But we think they're talented players."
Regardless of position, Lightfoot said he thought even those young big men that Self referenced — Lightfoot returns as a seldom-used sophomore; Udoka Azubuike is back but with just 11 games under his belt; and five-star freshman Billy Preston has yet to play a real college game — could benefit from the leadership shown by Graham and Mykhailiuk.
"It'll be great for the younger guys to see how they come to work day in and day out and to see what's required to play and prepare at this level," Lightfoot said.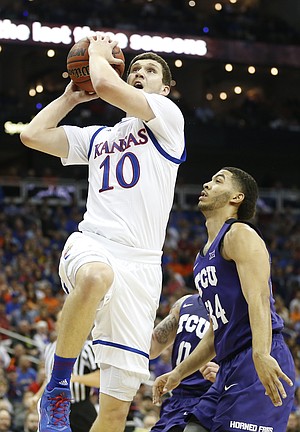 With the upcoming season representing their final crack at college basketball, Graham and Mykhailiuk no doubt will both be gunning, full-bore, toward bringing another national title banner to Lawrence. But, at least in the backs of their minds, both also will be working on developing their games for a shot at the NBA next summer.
That type of urgency led to great things for departing senior Frank Mason III and Lightfoot said he believed similar stories could be written by Graham and Mykahiliuk.

"I'm just super excited to get in there with the guys and really see how this team works together," Lightfoot said. "I'm fairly confident that we'll do really well."
The Jayhawks' first actual practice of the fall semester is slated for Tuesday afternoon. They'll continue working their regular class and practice schedule through the end of the month, when they open exhibition play, Oct. 31 vs. Pitt State at Allen Fieldhouse.