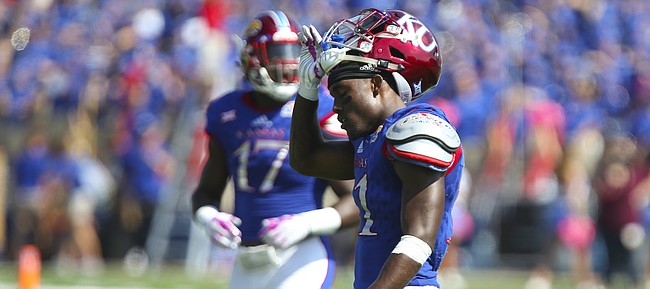 After three consecutive losses, the Kansas football team's players and coaches had more down time than usual to regroup this past week, thanks to an idle Saturday on the schedule.
When the 2017 calendar first came out, third-year head coach David Beaty didn't know whether he liked the timing of the Jayhawks' bye. But in retrospect, Beaty entered preparation for this Saturday's home game against Texas Tech glad the off week came when it did.
In his first season at KU, the bye came after two losses. In 2016, it arrived after three non-conference games. This fall, though, the Jayhawks (1-3 overall, 0-1 Big 12) got to experience a bit of league action, courtesy of a 56-34 loss to West Virginia, before pausing to reassess.
"There's some things that are synonymous, I think, with the conference that helps you out a little bit," Beaty said at his Tuesday press conference. "You're seeing a lot of the same body types, which I think is very helpful for us. We were able to get one game under our belt against a very similar offense and really some similar things on defense, which was good, allowed us to see what we needed to shore up against some of those schemes, so I thought that worked out good."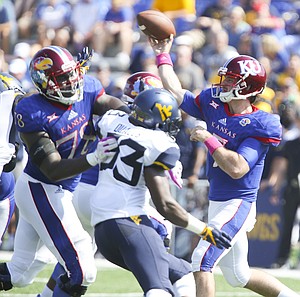 In his first Big 12 game, junior quarterback Peyton Bender completed 17 of 32 throws for 197 yards — his first outing at KU below 300 — with a touchdown and two interceptions.
The self-assessment portion of the bye week for Bender included honing in on reads and seeing on video when and where mistakes were made. KU's starting QB admitted his seven interceptions on the season are "too many."
After getting some extra time to examine how he can improve, and having a loss to WVU as a barometer of where the offense is at, Bender agreed the bye came at an ideal time.
"It's definitely nice, I think mentally and physically. Probably a little bit more mentally for me," added Bender, who avoided injury while suffering nine sacks and other hits during the first four games. "But I know a lot of guys were playing a little bit banged up, so obviously the bye week's always good for that. But, I think the bye week came at a good time. I think we've got a good stretch of games here where we can really compete, and we're looking forward to seeing what we can do coming off last week."
Junior defensive end Dorance Armstrong Jr.'s week also included video study and trying to correct personal mistakes. The captain also said many Jayhawks were able to restore themselves physically.
"We had treatments like three times a day — just getting our body right and not having anything to do but getting our body right," Armstrong said. "I think a lot of players took advantage of that."
While some ice baths took up part of sophomore safety Mike Lee's time to unwind, the defensive back didn't take much of a mental vacation.
"I always watch football. That's the game I love," Lee said, explaining he finds himself following offenses closely, to see if he can spot tendencies. "That makes me a better player on the field."
Lee watched the Dallas Cowboys and Denver Broncos more in a diagnosing fashion than as a fan, and also caught some of Texas Tech's 41-34 loss to Oklahoma State.
As Lee studied the Red Raiders (3-1, 0-1) he watched the offense's formations, the routes receivers took and who quarterback Nic Shimonek looked for when he dropped back to pass. Lee also tried to gauge whether Shimonek had any tells before he threw deep.
"Really, they're like a fast offense," Lee said of what stood out most. "They like to move with a lot of tempo, stuff like that. And they've got some smart plays. So they can trick you if you're not really focused on what you've got to do."
Beaty said much of KU's extra prep time for Texas Tech (11 a.m. kickoff, Saturday at Memorial Stadium) went toward making sure players are "squared away" on particular individual responsibilities within various play calls.
Armstrong expects such attention to detail will benefit the Jayhawks.
"We had two weeks to prepare for them, so it's a pretty big deal," the junior defensive end said. "There should be no reason we should have a lot of mistakes preparing for a team for two weeks."
Injury update
Two weeks after first hinting at the possible return of sophomore safety Shaquille Richmond, Beaty said Tuesday KU "probably" will have the Dallas native back this week.
"We haven't had his services since (Richmond suffered an undisclosed injury before the season began), so it was an aiming point to get him back on the field here, so we think we are going to have him back in that secondary for us, which is good," Beaty said. "We've got some depth back there now, which will be great."
The coach added other players are "doing pretty good" from a health and availability standpoint — "It was a good week in that regard."
Armstrong 'fine'
Although an injury to his right hamstring sidelined Big 12 Preseason Defensive Player of the Year Armstrong during some of August camp, Beaty said the injury didn't linger.
"He's fine. Athletically or physically he's fine. He hasn't had any issues with his leg," Beaty said.
The 6-foot-4, 246-pound defensive end is sack-less through four games, which Armstrong continued to describe as "frustrating." He has made 22 total tackles (four for loss) and been credited with five QB hurries.
Considering how many snaps Armstrong played during the first third of the schedule, Beaty hoped the bye week would help his star D-lineman.
"But he hasn't been hurt," Beaty added. "That hasn't been a problem for him."