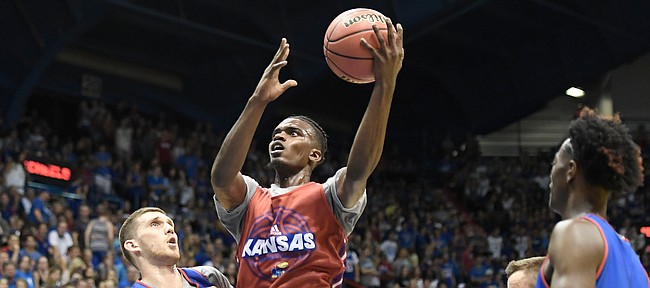 The night was mostly about senior Devonte' Graham stepping into the spotlight and the nearly two dozen recruits in attendance for the season tip-off spectacle known as Late Night in the Phog.
But somewhere along the way, junior guard Lagerald Vick decided to steal the show.
Basketball-wise, the moment came at the 10:31 mark of the 20-minute, running clock scrimmage that ended in a 45-45 tie.
That was when Vick recorded his first bucket of the night, a high-flying, thunderous dunk that pulled Team Crimson within seven at 26-19. At the time, that was a manageable deficit, given the fact that the Blue squad, led by Graham, jumped out to leads of 12-2 and 24-12 before Vick's crew woke up.
Vick's dunk, and two more just like in during the next two minutes, sparked an 11-3 run by the Crimson squad that made it a one-point game and set the stage for the down-to-the-wire finish.
More importantly, though, the stretch showed, once again, that this is a different Vick than KU fans have seen before. More aggressive. More confident. More sure of himself and his place on the team. More explosive.
"He was just OK as a freshman," KU coach Bill Self said after the Late Night scrimmage. "By the end of the (2015-16 season) he was pretty good. Last year, he was really good at times, but inconsistent. He just needs to build off of last year. It's a natural progression. He's one of the most underrated players in our league, I would think, without question."
Vick, who wasn't able to talk about his 2017-18 debut because he was not made available to the media after the big night, finished with 17 points on 7-of-9 shooting and added four assists, one rebound and one turnover in 16 minutes.
Perhaps more notable than any of his shooting stats or the impressive point total was the fact that Vick tallied three assists before his first field goal.
"He can play point guard, I think, because he's so fast and he's a good handler," Self said. "He's not a point guard, but he can certainly take the pressure off of guys when Devonte's not in the game."
Vick, who finished the 2016-17 season on an all-time high in the confidence department — you might remember his 360-slam in a close game against Purdue in the Sweet 16 — has just continued to climb in the days and months since.
That includes a strong offseason, a solid showing during KU's exhibition trip to Italy in August and the display of leadership-type qualities and ever-improving athleticism during KU's recently completed boot camp.
"Lagerald's a really good player," Self said. "Devonte' has looked good, but I think Lagerald's been our best player so far, from maybe the beginning of summer. He can do a lot of things and his stroke's gotten much better. And he should be your best defender, too. There's a lot of things to like about his game."
After wrapping up boot camp last Wednesday and expending a lot of energy on Saturday night — on the court and in the dance-filled adrenaline department — the Jayhawks, who were off Sunday, will take another day off Monday before conducting their first official practice of the 2017-18 season on Tuesday.
KU opens exhibition play at home against Pitt State on Oct. 31 and will host Tennessee State 10 days later in the regular season opener.
---
More news and notes from Kansas vs. West Virginia