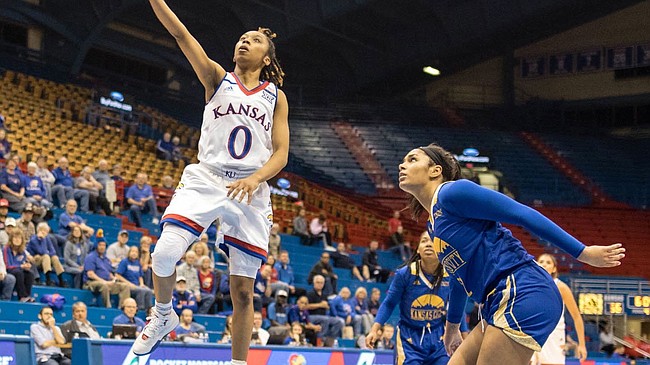 UMKC coach Jacie Hoyt had one goal on Wednesday.
She'd seen enough of KU's Kylee Kopatich on film and didn't want the Kangaroos to be the latest add-on to her highlight tape.
"She's a great player when she gets in a rhythm," said Hoyt after KU's 63-48 win over UMKC. "If we got beat, we didn't want it to be because of her."
So mission accomplished, then? Sort of.
The Kangaroos did their part in keeping Kopatich from locking in.
The junior, who entered the day averaging right around 20 points and four made 3-pointers per game, scored five quick points, but only added four more the rest of the night.
Part of that was due to a head injury that took her out of the game in the third quarter — KU coach Brandon Schneider said he expects Kopatich to be OK — but she, as well as the Jayhawks, were also affected by the slew of defensive looks they saw on Wednesday.
The Jayhawks (6-0) finished the game with more turnovers (18) than assists (15) for just the second time this season. They hit only three 3-pointers on the night, with two coming on their first two offensive possessions.
"For a game in which we never trailed, it didn't feel that way," Schneider said. "Ugly, ugly, muddy game."
KU's struggles, aside from a pair of runs to start the first (12-2 run) and second (8-0) quarters, appeared to be tied to the opposition.
UMKC (0-6) went to a box-and-one early on, which took Kopatich out of the game. Later, the team switched to a triangle-and-two, keying in on Kopatich and Brianna Osorio (12 points, 6 rebounds, 5 turnovers), who knocked down a pair of late 3-pointers in KU's last win against Rice.
Fortunately for the Jayhawks, they were able to look elsewhere, especially in the second half.
"I was just being more aggressive," said guard Christalah Lyons. "My teammates needed someone to step up, and that happened to be me."
Lyons found success driving into the teeth of the spread-out UMKC defense throughout the evening. She finished with a KU career-high 22 points, with 17 of those occurring in the second half.
Perhaps her best highlight, though, came as a passer. Lyons, who tabbed five rebounds and six assists in the win, hauled in a pass in front of the UMKC bench, some 80-plus feet from the hoop. She fired a one-handed baseball-style pass the length of the floor to a streaking Osorio, who put up a layup and was fouled.
"(Lyons) comes ready to attack and do what she needs to do every game," said teammate Chayla Cheadle, who tabbed eight points and six rebounds in the win. "So this was nothing new."
Austin Richardson (10 points, 9 rebounds) was KU's only other scorer in double figures. Kopatich finished with a season-low nine points and four rebounds, while UMKC's Kristen Moore went off for 18 points and 10 rebounds.
After the game, Schneider expressed his disappointment with his team's turnovers and free throw margin — the Jayhawks tallied only 10 free throw attempts compared to 20 for UMKC — but was ultimately pleased with the result.
The Jayhawks, who remained perfect on the season with the win, will next take the floor Sunday against Arkansas. Tip for that game is scheduled for 2 p.m. at Allen Fieldhouse.
"Regardless of who we play, we're not going to beat anybody by 30 or 40. We don't have that type of firepower or depth quite yet to do that," said Schneider. "But that doesn't mean we can't win games."