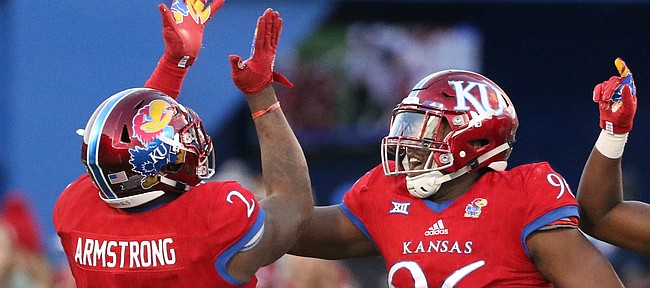 There's a chance the next time the Kansas football team takes the field it will do so without standout defensive tackle Daniel Wise.
The 6-foot-3, 290-pound lineman, just like his KU teammate Dorance Armstrong Jr., will spend much of his time in the upcoming weeks exploring whether he should enter the 2018 NFL Draft.
"I haven't really thought much about it yet," Wise said immediately following the conclusion of his redshirt junior season, which included 54 total tackles, 17.5 tackles for loss, 6.5 sacks, five quarterback hurries and two forced fumbles. "Obviously we've been focused on this season. But now that I have time I'm going to make the best decision based off family, sit down and talk with coaches, family, all that stuff. I'm really not in too much of a rush. Being here at the University of Kansas, I love it. Love Coach (David) Beaty, love Coach (Jesse) Williams and I trust their advice and I want to make the best decision."
Wise and Armstrong, who wasn't available for interviews after Saturday's season-ending loss at Oklahoma State due to illness, have until Jan. 15 to declare for the draft if that's the path either chooses.
Podcast episode
On this episode of the KU Sports Hour, hosted by KU football beat writer Benton Smith, the KUsports.com staff discusses the end of the 2017 KU football season. Topics include: 2017 season obituary (open-17:10), the KUsports.com football mailbag — Greg Schiano, 2019 and where we screwed up (17:10-52:00), rehashing the ...
Third-year KU head coach Beaty supported the junior defensive linemen looking into their potential draft stock, and said he and his staff will do all they can to help them in the process.
"We haven't really spent a whole lot of time on it yet. We spent a little time on it just to make sure they're compliant. But those kids have been great, man. They've wanted help to try to keep all that stuff behind them, because they were just focused on KU, which is great," Beaty said. "So we'll see."
According to Beaty, KU coaches will reach out to their various connections in the NFL and seek feedback on what organizations think of Wise and Armstrong, who made 63 total tackles, 9.5 tackles for loss, two sacks, four pass breakups, seven quarterback hurries and three forced fumbles.
"Once we see what comes back, those guys are mature enough to know that they'll have a decision to make right then about what their future may hold," Beaty said.
The most recent list of top 10 prospects at each position for the 2018 draft from ESPN's Mel Kiper Jr. doesn't include Wise's name, but projects Armstrong, a 6-4, 246-pound junior D-end, as the 10th-best outside linebacker.
Wise hopes the information KU collects will be insightful, and he plans to reach out to his brother, Deatrich Wise Jr., a fourth-round pick of New England in 2017, as well.
"I try to pick his brain as much as I can," KU's Wise said of his older brother, who played at Arkansas and has 17 tackles and 3.0 sacks for the Patriots as a 23-year-old rookie.
Beaty emphasized he wants Wise and Armstrong to leave for the draft if they determine the timing is right.
"We'll certainly guide them all the way through as much as them and their families want us to," Beaty said. "And I know they'll want us to, which is good."
The last Jayhawk to leave early and get drafted was receiver Dezmon Briscoe, a sixth-round selection of Cincinnati in 2010. Kansas hasn't had a player taken in the first three rounds of the NFL Draft since another early-entry, Aqib Talib, went 20th overall, in the first round of the 2008 draft to Tampa Bay.