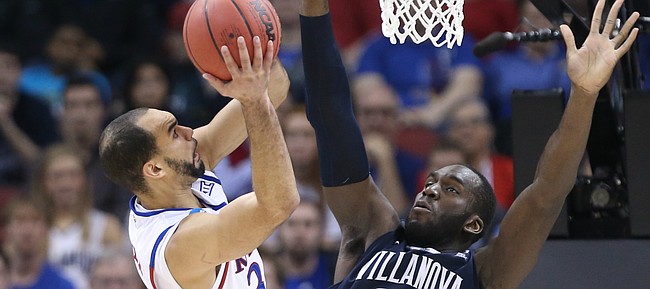 When the two programs met up in the Elite Eight in 2016 in Louisville, Kentucky, it was clear they were among two of the absolute best in college basketball.
But thanks to a Monday morning announcement from both schools, hoops fans no longer have to hope for a showdown in the NCAA Tournament to see the two schools on the same floor.
Kansas and Villanova announced Monday the creation of a two-year series that will pit the Jayhawks against the Wildcats, first in Lawrence in 2018 and again in Philadelphia in 2019.
The Jayhawks and Wildcats will play Dec. 15, 2018, in Allen Fieldhouse in Lawrence, Kansas, and Dec. 21, 2019, at Wells Fargo Center in Philadelphia.
The Kansas-Villanova series dates back to 1968 and is tied at 3. Four of the six meetings have taken place on neutral floors. KU and Villanova also played a home-and-home series in 2004 and 2005, with both teams winning on their home floors.
The complete 2018-19 KU non-conference schedule will be released after the current season, but the following games already have been announced:
Nov. 6 - Michigan State (Champions Classic), Bankers Life Fieldhouse, Indianapolis, Ind.
Nov. 21 & 23 - NIT (Marquette, Tennessee, Louisville), Barclays Center, Brooklyn, N.Y.
Dec. 1 - vs. Stanford at Allen Fieldhouse
Dec. 15 - vs. Villanova at Allen Fieldhouse
Dec. 22 - at Arizona State, Wells Fargo Arena, Tempe, Ariz.