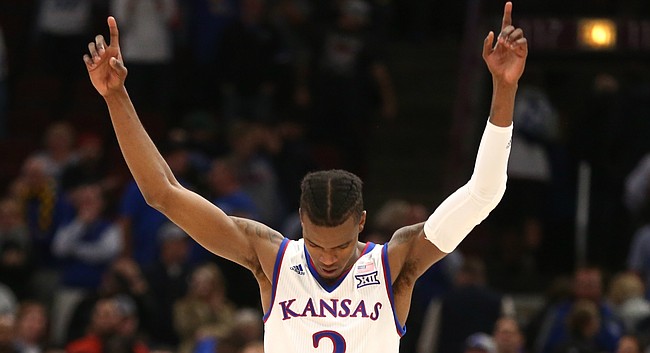 As Kansas closes out the college basketball season's opening month, only one other team in the country is considered in better standing.
The Jayhawks (5-0) moved up a spot to No. 2 in the latest AP Top 25, released Monday, with fellow unbeaten Duke a unanimous choice for No. 1.
KU benefited from previously-ranked Arizona plummeting all the way from No. 2 to out of the top 25, with Thanksgiving week losses to North Carolina State, SMU and Purdue, all at the Battle 4 Atlantis, in Paradise Island, Bahamas.
Bill Self's Jayhawks currently rank ahead of the likes of No. 3 Michigan State, No. 4 Villanova, No. 5 Notre Dame and No. 6 Florida.
Kansas is one of 14 undefeated teams among the top 25, which includes two newly-ranked members from the Big 12, No. 22 Texas Tech (6-0) and No. 23 TCU (6-0), as well as No. 16 Baylor (5-0). West Virginia also moved up this week, from No. 23 to No. 19.
After playing host to Toledo on Tuesday, the Jayhawks' schedule looks to turn more difficult, with games against Syracuse and Washington.
KU, which defeated No. 7 Kentucky in Chicago earlier in November, will again take on a currently-ranked opponent on Dec. 10, at Allen Fieldhouse, when No. 20 Arizona State visits Lawrence.
AP TOP 25 (Nov. 27, 2017)
No. 1. Duke
No. 2. Kansas
No. 3. Michigan State
No. 4. Villanova
No. 5. Notre Dame
No. 6. Florida
No. 7. Kentucky
No. 8. Wichita State
No. 9. Texas A & M
No. 10. Miami
No. 11. Cincinnati
No. 12. Minnesota
No. 13. North Carolina
No. 14. USC
No. 15. Gonzaga
No. 16. Baylor
No. 17. Louisville
No. 18. Virginia
No. 19. West Virginia
No. 20. Arizona State
No. 21. Xavier
No. 22. Texas Tech
No. 23. TCU
No. 24. Alabama
No. 25. Creighton