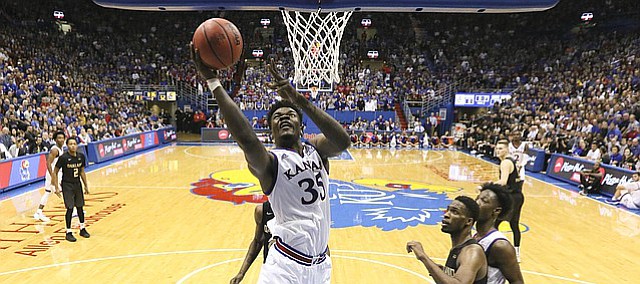 No. 2 Kansas Jayhawks (5-0) vs. Toledo Rockets (3-2)
Time: 7 p.m. | Location: Allen Fieldhouse, Lawrence, Kansas
TV: Jayhawk TV/ESPN3/KMCI-TV | Radio: IMG Jayhawk Radio Network
Log on to KUsports.com for our live game blog coverage and follow the KUsports.com staff on Twitter: @KUSports @mctait @TomKeeganLJW @bentonasmith @nightengalejr @chasenscott & @nickkrug
Keys for Kansas
1. Forget about the scoreboard
Kansas has won each of its last two games by exactly 43 points and those blowouts have made it harder for the Jayhawks to stay engaged from start to finish the way they will need to during the upcoming Big 12 Conference season.
KU coach Bill Self and his players are aware of that and have tried to utilize the recent blowout victories to improve in that area.
"Playing each possession as if it's game point, we're not close to being able to do that yet," Self said. "But maybe we're gaining on it just a little bit. I've always had teams that got off to great starts (and then) maybe (struggle to maintain) the same defensive intensity throughout the last 10 minutes of a game. And I do think that's been the case, but it's hard to get guys not to look at the scoreboard."
2. All eyes on Vick and Azubuike
Asked how he would rate his team's offense and defense through the first five games of the 2017-18 season, Self said he was, overall, pretty pleased with the offense — particularly the team's ball movement and 3-point shooting — but that he would like to see the defense make significant strides in the coming weeks.
"Defensively, we've just be average at best," Self said. "And we don't rebound the ball like we're capable of."
While part of that comes from the Jayhawks keeping their men in front of them and contesting shots in order to execute quality team defense, Self singled out two specific players to help on the boards.
"The key to us rebounding well is going to be Lagerald (Vick) and Udoka (Azubuike)," Self said. "They've gotta do better than what they've been doing on the glass."
3. Continue to be strategic with big men
With a thin bench and just two true big men playing at the moment, Self and the Jayhawks have had to get creative with the way they dish out the minutes.
Luckily for Kansas, KU's deep and talented backcourt goes five deep, which has allowed Self to utilize a four-guard approach as often as possible.
Even with that seeming to be the solution, Self knows his team will need its big men to win and he's had to craft a system that maximizes the output from 7-foot center Azubuike and 6-8 reserve forward Mitch Lightfoot.
"I look at those two; combined there's four fouls that they can give us in the first half," Self said, indicating that, with the four guards, Azubuike and Lightfoot essentially function as one big man. "If they're playing together it's (different). We need to get 20 good minutes out of them the first half and the second half we can kind of experiment a little bit."
Mega Matchup
Lagerald Vick vs. Tre'Shaun Fletcher
The Toledo senior enters Tuesday's clash with Kansas averaging 19.8 points and 9.6 rebounds per game and also leads the team in assists and steals.
To say whichever Jayhawk draws this matchup will have his hands full would be an understatement. And, in reality, it will probably be a trio of guys who get the chance to check Fletcher — Vick, Svi Mykhailiuk and Marcus Garrett.
When the game tips, though — and for most of the time he's out there — Vick figures to be the main man. His length and athleticism could bother Fletcher inside and out and Vick's ability to get on the glass, should he choose to, also can negate some of what makes Fletcher go.
The Toledo senior attempts about a third of his shots from behind the 3-point arc (9-of-24 from 3, 33-of-74 FGs) and also is a solid free throw shooter, meaning Vick and company will have to defend him straight up if they want to prevent the double-double.
Jayhawk Pulse
The last of a four-game homestand that has featured dominant performances by the Jayhawks over quality mid-major foes such as South Dakota State, Texas Southern and Oakland, the Jayhawks enter tonight looking for one final tune-up before heading to South Beach to take on Syracuse in Miami on Saturday.
Because the Orange and their famous 2-3 zone are KU's next opponent, keeping their touch from 3-point land will be important for the Jayhawks. But so, too, will preventing 3-pointers from Toledo.
The Rockets enter the game averaging 10 3-point makes per night and shoot .375 from 3-point range, while jacking up roughly 21 a game from downtown.
While that type of defensive challenge seems to fit the guard-heavy Jayhawks well, Self said Toledo was a team that executed as well as any team KU has faced so far this season, making focus and assignment-sound defense crucial in this one.
In addition to the challenges on the floor, tonight's game is a family reunion of sorts, as KU assistant coach Norm Roberts will be coaching against his son, Justin Roberts, a reserve guard on the Toledo roster.
Justin grew up around the KU program and knows several of the players and the entire coaching staff very well. That should add to the energy and fun for both teams in this mid-week matchup.
Probable Starters
No. 2 Kansas
G – Devonte' Graham, 6-2, 185, Sr.
G – Malik Newman, 6-3, 190, Soph.
G – Svi Mykhailiuk, 6-8, 205, Sr.
G – Lagerald Vick, 6-5, 175, Jr.
C – Udoka Azubuike, 7-0, 280, Soph.
Toledo
G – Marreon Jackson, 6-0, 170, Fr.
G – Jaelan Sanford, 6-4, 195, Jr.
G – Tre'Shaun Fletcher, 6-7, 205, Sr.
F – Taylor Adway, 6-9, 215, Jr.
F – Nate Navigato, 6-8, 215, Jr.