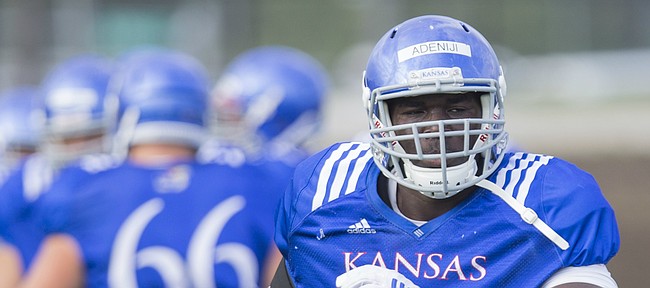 Even before this past Kansas football season began, left tackle Hakeem Adeniji suffered an injury — a torn labrum in one of the sophomore offensive lineman's shoulders — that would make his already strenuous job even more difficult.
The 6-foot-4, 290-pound blocker from Garland, Texas, didn't consider the setback in preseason camp a reason to take time off. Nor did Adeniji decide he'd had enough the first week of October, when the exact same trauma popped up in his opposite shoulder.
"The season's three months. You put in all this work to play, and so it was never really a thought. I'm not going to sit out if I can go," Adeniji explained Saturday, after starting all 12 games for the second season in a row.
Instead, Adeniji, with the help of Murphy Grant, the program's director of sports medicine, battled through the pain. Every week, KU's training staff aided the tackle with treatments and rehab.
"Murph did a good job of keeping me intact to be able to perform as good as I can with what I had," Adeniji said.
Third-year Kansas coach David Beaty, of course, deeply appreciated Adeniji's dedication.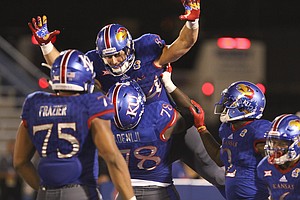 "That kid's a true sophomore and he's played the entire season with his arms strapped down. Stud, man," Beaty said following KU's season-ending loss at Oklahoma State. "We've got to get him healthy, because he's one of our better players."
Adeniji's first of two offseason shoulder surgeries is scheduled for this week, with the second to come at an appropriate time down the road. The O-lineman had no regrets about putting off the procedures.
"There's pain here and there, but it's just something mentally that you have to be able to overcome," Adeniji said. "Pain is pain. You go out and play through that."
The starting left tackle wasn't the only Jayhawk to endure not only a 1-11 season but also significant bumps, bruises or worse. Junior receiver Steven Sims Jr., for instance, played through undisclosed aches, as did redshirt sophomore quarterback Carter Stanley, before a late-season knee injury robbed the QB of his final start.
"We have a lot of resilient guys. That's what gives you help going forward," Adeniji said. "We're going to keep going out there, keep pushing. I love the group of guys we have coming back. We're not losing too many seniors. Looks better for us going forward."
Although so much went wrong for the Jayhawks this season they almost seemed doomed to misfortune at the lowest points, Adeniji at least proved mentally and physically strong enough to play through the worst 2017 could throw at him.
"It's hard to take, but we're going to keep pushing, because there's two ways you can go from here," Adeniji said after KU's season ended with an 11-game losing streak and failed to live up to internal expectations. "You can fold or you can keep working and just believe everything's going to one day pan out for you, and that's what we're going to continue to do."