Tori Miller never expected to be here — in just about every sense.
The senior defensive specialist never expected to play Division I volleyball. She also never expected to be staring down the barrel of a senior day, let alone one at which she'll be honored.
"Every senior night, like, we never see it coming," Miller said. "But now it's us, so I'm like, 'This is not happening. This is sad.'"
Miller, along with six other departing seniors, will be honored at No. 14 KU volleyball's senior day match against West Virginia at 1 p.m. Saturday.
Although Miller expects the emotions to be flowing, both for her and her family — "Parents are going to be crying, so that's going to be interesting," she said — she's also looking forward to the experience. Certainly she's earned the right to do so with the role she's taken on this year.
After the departure of program stalwart Cassie Wait last season, Miller, along with senior Addison Barry, competed for the starting libero job, which was eventually won by sophomore Allie Nelson. Out of the race, the two found other ways to contribute, mainly with their serving.
Funny enough, though, they happen to execute their craft quite differently.
Miller is essentially the volleyball equivalent of a knuckleballer. She stands as far back as possible when she serves and usually keeps her feet stationary. She tosses the ball up and slaps it as hard as she can with no regard for where it might end up.
"It floats in the air and I really have no idea what it's going to do," Miller said. "It could drop, it could fly 50 feet out-of-bounds."
There might be a little more method to it than that, given her impressive track record.
In a match against Oklahoma earlier this season, Miller was called upon to serve after an OU error. Down 24-14 and in danger of having to play a fifth set against the Sooners, KU was set to face 10 consecutive set points. Realistically, no one expected it to go that long.
Serving in her signature fashion, the senior helped KU win the next eight points of the match. The Jayhawks lost the set but had all the momentum going into the final frame, which they won, 15-13.
"That deep float, you think it's coming at you easy, but then it's gathering speed," said KU coach Ray Bechard. "That would've been pretty epic to come all the way back."
As for Barry, the word "epic" is perhaps the best indicator of her defining moments.
Aside from her impressive social media track record, Barry's serving prowess might be her strongest attribute. She often tries to thread the ball down the side of the court, creating difficulties for opponents to judge whether a ball might be in or out.
That style brings with it a lot of pressure, but she's had no problem delivering in the team's most crucial moments.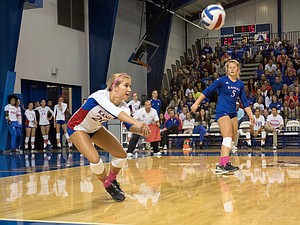 "I look back at Addie Barry," Bechard said, "who was once serving the ball against Creighton at match point."
Certainly there was no bigger moment for the Jayhawks last season than in the fifth and final set of their final match.
Trailing 14-13 in the fifth set, a service error by Creighton's Brittany Witt allowed Barry to come into the match. Barry took her first serve of the set with the score tied at 14. She continued to serve after KU won the point on a ball-handling error by the Blue Jays to go up 15-14.
"She's always going to bring good energy when she comes in the game," Bechard said.
Like Miller, who is a Derby native, Barry had plenty of familiarity with KU by the time she stepped foot on campus. Growing up in Topeka, Barry attended camps at KU for a number of years, something Bechard said has been a "cool deal" to watch.
In similar fashion, Barry, the upbeat, energetic Topekan, has been called upon more often this year as various players have filtered in and out of the lineup with health issues.
In fact, after a match without fellow senior Madison Rigdon in which KU played with as many as three littles in the back row, Barry was asked about her experience on the court, which prompted a laugh and a big smile.
"What's it like?" Barry joked. "I've been doing it for four years, so I must really like it."