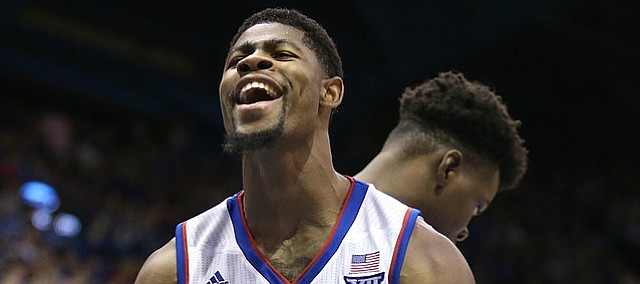 Seeing it during Late Night and an official visit is one thing; experiencing the mystique for an official game is something completely different.
And Friday night, Malik Newman's father, Horatio Webster, truly experienced Allen Fieldhouse for the first time.
Sitting eight rows behind the visitor's bench during KU's 102-59 victory over Oakland, Webster lived and died with every move his son made, clapping often, grimacing occasionally and enjoying every second of the night.
"I checked it out on the visit and earlier," Webster said. "But it's just amazing. There's nothing like it."
Although Newman's father plans to make several more trips to the Fieldhouse before his son's career is over, he said the timing of Thanksgiving and a few other things made this one possible.
Photo Gallery
Kansas basketball v. Oakland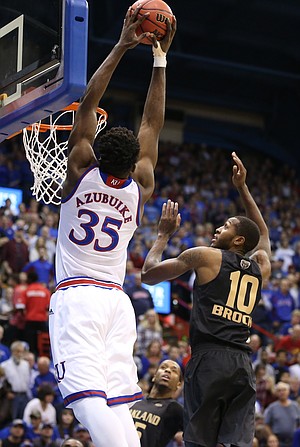 View a gallery of images from Friday night's game between the Jayhawks and Golden Grizzlies at Allen Fieldhouse.
Although he had hoped to see his son go off for one of those unforgettable, 40-point nights, Webster said he was simply happy just to see Newman, who logged 15 points, six rebounds, three assists and two steals on 5-of-9 shooting in 31 minutes.
"I saw him as soon as I walked through the door," he said, beaming with pride. "We made eye contact."
Though Newman is not off to the start that either he or his father envisioned this season, Webster said he could sense that better days were ahead.
"Hopefully we can bring back a little magic, a little of that high school magic, but he'll be fine," Webster said. "He's off to a slow start, but he's trying to figure it all out and I think he will. I could tell in his spirit. When we hugged, I could feel it."
No news on Billy Preston
Kansas coach Bill Self had no news on withheld freshman Billy Preston, who missed his fifth consecutive game while KU's compliance office attempts to sort out an issue involving a vehicle that he was driving in a one-car, noninjury accident on Nov. 11.
"There's no new development," Self said. "You know, holidays aren't the best time to get a lot of development, so nothing's happened since I last talked about it on Tuesday.
"And I'm sure nothing will happen over the weekend. We won't be able to comment on anything maybe until Monday, but I doubt anything happens in the first four or five hours Monday. It's not on our schedule, it's on somebody else's schedule."
Podcast episode
After a 102-59 victory over Oakland on Friday, Kansas basketball coach Bill Self talked about Mitch Lightfoot's big first half, Udoka Azubuike's improvements and the latest on Billy Preston's situation — "There's no new developments."
De Sousa update
Earlier this week, ahead of a KU's Thanksgiving team meal on Thursday, Self offered up a quick update on the status of Class of 2018 big man Silvio De Sousa during his regular radio appearance on Hawk Talk.
"I'm personally pretty optimistic about it," Self said when asked by a fan what the odds were of De Sousa playing for the Jayhawks this season. "He's got to graduate, there's no question about that because of the eight-semester (high school) rule. The (standardized) test score and everything just has to line up (with overall performance in core classes).
Self said Friday that De Sousa had plans to retake the test on Saturday to try to improve his score as "insurance."
"The thing about it is, when you recruit and take international kids and the transcript's being evaluated and all these things, you still have to make sure everything transfers the way you view that it does. So we're working hard with the NCAA to make sure it is being looked at and viewed the same way we view it. People may say, 'Well, that's easy to do.' But it's really not easy.
"You have to have so much core content, instructional content on your core classes. And you're taking a class in Angola not offered in the U.S. What is that the equivalent to? Things like that. It's more to it than what a lot of people think. We've only known for a while this was a possibility, so we've been on it and our team has been on it hard since we've known this was a possibility. But we haven't got all the answers that we need in order to lock it all in. I'm optimistic, but certainly, in no way, shape or form, has he been cleared by any stretch."
Back to the Big Apple
KU announced this week that the Jayhawks were one of four teams selected to play in the 2018 NIT Season Tipoff, a two-game, four-team event that will take place at Barclays Center in Brooklyn, N.Y.
Kansas will join Louisville, Marquette and Tennessee at the event, which is slated for Nov. 21 and 23, 2018. Pairings for the event will be announced at a later date.
Next year's event will mark the fourth consecutive year that Barclays Center has been the host for the event, which has been played, in some form or another, in New York City every November since 1985.
This and that ...
KU's victory moved the Jayhawks to 5-0 for the first time since the 2013-14 season and the sixth time in the Bill Self era ... KU has won 23 consecutive nonconference games in Allen Fieldhouse ... The Jayhawks now lead the series with Oakland, 2-0, and are 3-0 all-time versus current members of the Horizon League.
---
More news and notes from Kansas vs. Oakland
---