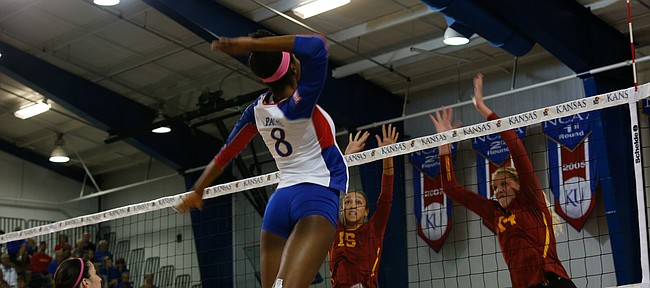 Kelsie Payne's first successful swing on Saturday will bring about an anticlimactic conclusion to one of the most momentous achievements of her career.
Payne, who along with fellow seniors Tori Miller, Kayla Cheadle, Ainise Havili, Madison Rigdon and Addison Barry, helped KU achieve its first Final Four appearance and Big 12 championship in program history, will also see her name shoot to the top of a chart she's looked up at for the longest time in the No. 14-ranked Jayhawks' senior day finale against West Virginia at 1 p.m. Saturday.
"Obviously I just need one," Payne said. "So it will be the first one I get."
The "one" in this case refers to kills needed for Payne to move into first all-time in program history.
Payne, who tabbed 13 kills in the team's last match at Texas Tech, currently has 1,483 for her career, matching the career mark set by Josi Lima (2002-05).
Although Payne has been aware of the mark for quite some time, she never saw it as being all that realistic. Upon arriving at KU her freshman year, the players received bookmarks noting all the record-holders of major statistical categories. Among them were assists — Havili already set that mark this season; aces — Rigdon could have set that record if not for an injury that held her out of a few matches; and kills.
"I saw the kills record and I was like, 'That's so many kills. Like, there's no way,'" Payne recalled thinking. "And then here we are. Did not expect that at all."
Her coach may not have scripted it exactly that way, but he at least identified how special a player Payne could be early on, converting her from a middle-blocker to a do-everything right side that plays in both the front and back rows.
Payne recalled being nervous when her coaches asked if she'd be willing to switch positions. She credits the team's trip to Europe in the summer of her sophomore year as helping her feel more comfortable with "something I'd never done before."
Head coach Ray Bechard may not have expected the results to be so dramatic — namely her back-to-back appearances on the AVCA All-American First Team and Big 12 player of the year honors in 2016 — but by this point, he's pretty much called his shot with everything else.
"I think her chances are pretty good," Bechard joked of the kills record. "That's a pretty cool deal for her."
It'll be a pretty cool day for the rest of the team, too.
The other, nontraditional seniors are transfers Taylor Alexander and Gabby Simpson. Alexander transferred in from Ole Miss to fill the void left by the departure of Tayler Soucie; Simpson is expected to redshirt this season while she works back from an injury. Her actual senior day should come next year.
But for seven true seniors — five of whom came on their official visit to KU together — the day will bring forth plenty of cheers, tears and all sorts of emotion, plus the unfortunate reminder that, well ...
"We're old," Payne joked. "Officially."