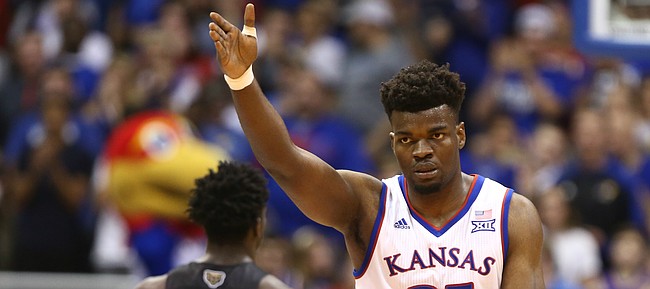 If there were any concerns about a Thanksgiving hangover, the Jayhawks were quick to quiet them.
Just days removed from a record-setting half in which they knocked down 12 3s, the Jayhawks were at it again, this time in an entirely different fashion. No. 3-ranked KU decimated the Oakland defense to the tune of 55 points in the first half of a 102-59 win on Friday, routinely finding space all over the floor with contributions from all seven active scholarship players.
Udoka Azubuike was first onto the scoresheet with a dunk off a Lagerald Vick lob. After the big man got into early foul trouble it was Svi Mykhailiuk who took over, scoring 10 points in an eight-minute spurt while Mitch Lightfoot added 11 points in the period, setting a career-high in scoring with 20 minutes still to go.
The Jayhawks got to the line 19 times in the first half and dominated in transition, where they scored more than one-fifth of their points. They only hit three 3-pointers in the period, but the way the game was going, it was more than enough.
All seven active scholarship players scored in double-figures while upperclassmen Lagerald Vick (15 points, 7 rebounds, 3 assists, 3 steals, 3 blocks) and Devonte' Graham (14 points, 7 assists, 3 rebounds, 2 steals) did a little bit of everything.
Photo Gallery
Kansas basketball v. Oakland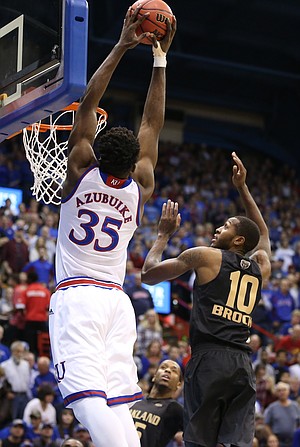 View a gallery of images from Friday night's game between the Jayhawks and Golden Grizzlies at Allen Fieldhouse.
Here's a quick look back at some of the action:
• The game turned when: Every ball started bouncing KU's way.
Already ahead 11-5, Graham sprinted down the floor with a full head of steam. As he entered the paint, Graham fired a behind-the-back pass to Svi Mykhailiuk in the corner. The pass was slightly off target, curving closer to the baseline than intended and taking Mykhailiuk an extra step out of his path.
Not that it mattered.
Mykhailiuk hauled in the pass and buried a 3-point jumper from the corner, putting KU up by 9. The shot came in a the midst of a 12-2 run that pushed a one-time two-point lead to 12. Less than six minutes later, that lead was all the way up to 22.
• Offensive highlight: Having proved too big to handle for KU non-conference opponents so far, Azubuike showed no signs of slowing down vs. Oakland.
The Delta, Nigeria-native started the game by making his first three field goal attempts and showed no signs of complacency, tracking after Devonte' Graham as the senior drove toward the rim. Graham's shot was blocked by Oakland's Isaiah Brock, but Azubuike was right there for the rebound, snagging it and slamming in a dunk over the aforementioned defender.
Despite an inauspicious start to the game, namely an air-balled free throw in his first trip to the line, Azubuike finished with a career-high 21 points and 10 boards (six offensive). He battled foul trouble in the first half, but still kept his double-digit scoring streak to start the year intact.
• Defensive highlight: After Azubuike picked up an early foul, reaching in on an opposing player some 90 feet from the hoop, KU coach Bill Self turned right to Mitch Lightfoot on the bench.
Lightfoot, who tabbed four blocks in each of his last two games, wasted little time making his mark in that area.
Lightfoot picked up his first block at the 14:30 mark in the first half and added another moments later, spiking away a shot by Oakland's Kendrick Nunn. The second block started a fast break that was finished off by a Malik Newman lob to Mykhailiuk for a two-handed dunk.
As a team, the Jayhawks finished with nine blocks and 14 steals. Mykhailiuk led both teams in steals with 4 while Vick tallied a KU-best three blocks.
• Key stat: It has been said that the more aggressive team will be the one that gets to the line more often. That statement was certainly true for the Jayhawks in the first half.
While Oakland only totaled five free throws in the period — all five were shot by Martez Walker — the Jayhawks totaled 19 free throw attempts between six different players. Perhaps most importantly, though, they made 16 of them.
While Azubuike went 1 for 3, the rest of the team combined to shoot 15 for 16 at the line in the half. The lone miss came from Graham, but he still knocked down five free throws in the frame.
• Up next: The Jayhawks will finish off their four-game home stint Tuesday evening against Toledo. The Rockets defeated Oakland, 87-74, back on Nov. 18 but have since lost back-to-back contests.
---
More news and notes from Kansas vs. Oakland
---
More like this story on KUsports.com