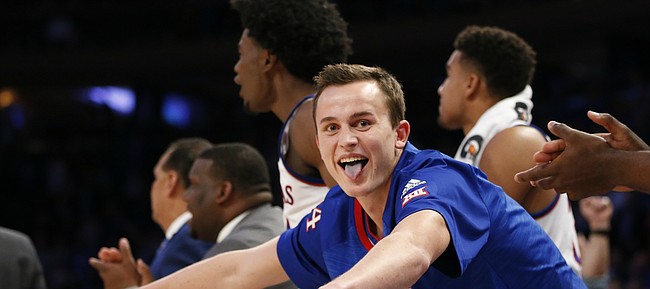 Thanksgiving in New York City has a nice ring to it.
From taking in the Macy's Thanksgiving Day Parade to holiday shopping on the streets of the city and good food and a festive atmosphere, the Big Apple has it all this time of year.
Thanks to a recent announcement from KU and ESPN, the Kansas basketball team will get to experience it one year from now.
KU announced this week that the Jayhawks were one of four teams selected to play in the 2018 NIT Season Tip-Off, a two-game, four-team event that will take place at Barclays Center in Brooklyn, New York.
Kansas will join Louisville, Marquette and Tennessee at the event, which is slated for Nov. 21 and 23 of 2018, the Wednesday and Friday surrounding Thanksgiving. Pairings for the event will be announced at a later date.
The Jayhawks have played in NYC four times in the Bill Self era, winning twice and losing twice.
Back in 1989, in Roy Williams' second season in charge of the program, KU played in and won the Preseason NIT Tournament in New York City, knocking off UNLV and St. John's in the Big Apple to bring home the title.
Next year's event will mark the fourth consecutive year that Barclays Center has been the host for the event, which has been played, in some form or another, in New York City every November since 1985.
This year's NIT Tip-Off features Seton Hall, Virginia, Vanderbilt and Rhode Island.
The NIT Season Tip-Off is one of 11 college basketball events owned and operated by ESPN Events, a division of ESPN.