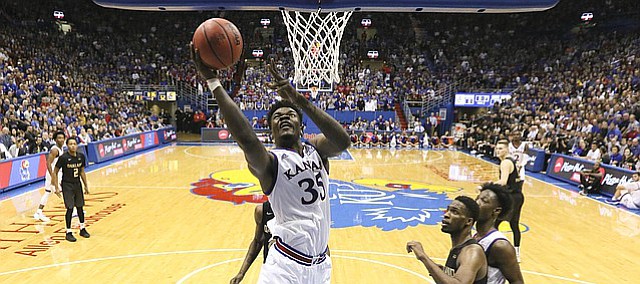 Tuesday night, it was the Kansas guards who lit up the Allen Fieldhouse nets for a school-record 19 3-pointers in a rout of Texas Southern.
Friday, the focus shifted inside and the result remained the same, as KU's two big men, so different in size, skill and status, led a 102-59 Kansas pounding of Oakland in the same building.
A lights-out start from sophomore center Udoka Azubuike and some seriously steady play from Mitch Lightfoot that followed led to career-highs for both KU big men and an easy victory for the Jayhawks.
"We're not just a 3-point shooting team," said sophomore guard Malik Newman, who was one of seven Jayhawks in double figures with 15 points on 5-of-9 shooting. "I think it was good that we were able to show that we're capable of making the three but also show that we have these two big guys that we can feed. We're a balanced team."
Photo Gallery
Kansas basketball v. Oakland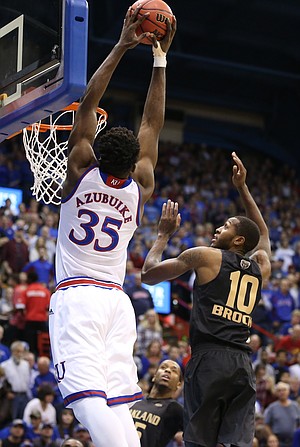 View a gallery of images from Friday night's game between the Jayhawks and Golden Grizzlies at Allen Fieldhouse.
Entering the game, Oakland (2-3) led the country in 3-point defense and its emphasis on trying to contain opposing 3-point shooters suggested that Friday could be a big night for Azubuike. It was. Right away.
In the game's first five minutes, the 7-foot sophomore put his stamp all over this one, tallying nine points, two rebounds (both offensive), a block and the kind of all-out effort and hustle that could make him absolutely unstoppable most nights.
Azubuike, who finished with 21 points and 10 rebounds (three nights after going for 20 and nine against Texas Southern) made his first four shots on Friday — all but one of them dunks — including a monster flush on the very first possession of the night, which embarrassed and frustrated Oakland coach Greg Kampe said "set the tone" for the rest of the game.
"We thought it was a good matchup for us, that we could guard (KU's guard-heavy attack)," Kampe said. "Some days you're the windshield, some days you're the bug. And we were the bug today."
While Azubuike raced out to a start that foreshadowed a career night, two careless fouls limited him to just six minutes in the first half.
Not to worry. Lightfoot's 14 first-half minutes featured 3-of-3 shooting from the floor, a 4-for-4 clip from the free throw line and career-highs of 11 points and five rebounds, just in the first half.
By game's end, Lightfoot's point total remained the same but he pushed his rebounding total to eight and added two blocks in 24 minutes.
"I thought Mitch was probably the best player we had in the game, for sure the first half," KU coach Bill Self said. "He was active and it always helps when you make a shot and make your free throws. I thought he was very important and played very well."
Both coach and player were asked what was different about Lightfoot on Friday night. Lightfoot's answer revealed little.
"Honestly, I was just doing what coach asked," Lightfoot said. "That's what he needed from me, energy off the bench tonight, play defense, finish what I was supposed to finish (and) I was glad I could do it."
Self's answer provided a slightly deeper explanation of why Lightfoot enjoyed a big night.
"Maybe the game slowed down a little bit today. He just seemed to be not as much on edge," Self said. "You know, I don't do a great job of calming him when I probably should. But I thought he played a little bit more relaxed today."
Podcast episode
After a 102-59 victory over Oakland on Friday, Kansas basketball coach Bill Self talked about Mitch Lightfoot's big first half, Udoka Azubuike's improvements and the latest on Billy Preston's situation — "There's no new developments."
Azubuike's ongoing growth and maturation took another step forward Friday night. And the KU big man said his work on non-gamedays was responsible for his improvement.
"Coach tells us all the time, we should just give energy right from the jump," Azubuike said. "I'm beginning to understand more, beginning to learn more from the coaching staff. And I just learn from every game. After every game I look at stuff that I didn't do right, stuff I need to improve on and when I come to practice every day I try to work on it."
With Azubuike staking Kansas (5-0) to an early lead, the Grizzlies hung around as long as they could. After a pair of free throws by Oakland's Martez Walker pulled Oakland within 11, one assistant coach emphatically yelled three times from the bench, "Let's get a stop here. Get a stop. Time to get a stop."
Oops.
Kansas answered with an 11-0 run and built a 55-26 lead by halftime. The Jayhawks outscored the Grizzlies 47-33 in the second half and, much like Tuesday night, cruised to an easy victory while eclipsing the century mark.
This one, like the one that preceded it on Tuesday, featured the kind of balance for which Self's teams are known. However, this time, instead of that balance just coming on the stat sheet, with players one through seven scoring in bunches, the Jayhawks delivered both inside and out on the floor.
"The chances are going to be better that you have balance when all seven guys are playing about the same minutes," Self said. "It's not going to be like that all year long. And, hopefully, if we can get some pieces back, it won't be like that much longer.
"But I do think balance is good. We've got six or seven guys that, if they're playing well, they can all get double figures easily."
Kansas will return to Allen Fieldhouse on Tuesday for a showdown with Toledo before heading to Miami to take on Syracuse on Dec. 2.
---
More news and notes from Kansas vs. Oakland
---