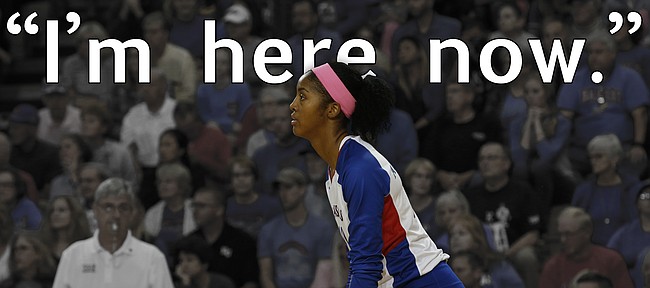 MANHATTAN — The Kansas volleyball team huddled on the edge of the raised purple flooring at Ahearn Field House.
The muggy air clung to the uniforms of the players. One requested a new jersey after sweating through her original. Another stood on the sideline with her elbows propped on her knees while two team managers sprinted over with cups of ice water and a frozen towel to drape over her neck.
On a 90-plus-degree day, the glass windows encasing the top tier of what was essentially a warehouse turned sauna served only to convect and intensify the heat. Nothing more than a set of fans with long, narrow blades lazily turning in the rafters offered any relief from the agonistic conditions.
"The heat was different today," said coach Ray Bechard.
The crowd of 3,325 and music playing over the PA system filled the backdrop, but the silence inside the huddle would not be broken until Taylor Alexander said her first words.
Trailing two sets to one, Alexander gave an impassioned, albeit hackneyed, speech. It wasn't the content so much as the speaker that "brought us all the momentum," teammate Ainise Havili would later say.
Alexander is no stranger to adversity. She's tried and failed to face her team in the darkest of circumstances. She's had to learn to cope with the passing of both a sibling and one of her closest friends.
But this? This was just volleyball. It was — and is — her "happy place." Alexander took center stage and delivered her message, never wavering as she spoke.
"The toughest time to be positive is when something is going wrong," she said. "Toughest thing ever."
* * *
Two days removed from collapsing on the court during the final point of the match at K-State — the Jayhawks completed the comeback and won, by the way — Alexander is back in Lawrence, gingerly hobbling down the court at Horejsi Family Athletics Center. The team's next game is a day away, evident by the rows of seats compacted into the walls to leave more space for the team to practice.
Alexander is technically cleared to play but will only be used sparingly over the next month-and-a-half. She, of course, doesn't know this at the time.
With each pace, she eases up as her left leg touches the ground. The brace on that leg is by no means unfamiliar. The hard outer-coating secured by three velcro straps over a blue sock has been a mainstay of the senior's gameday attire for some time, though she tries to forget about it when she steps on the court.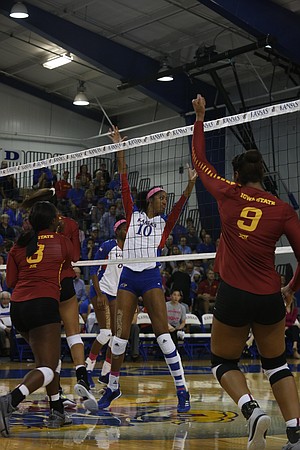 "Volleyball is a mental sport, so there's no need to add any extra things to my mind," Alexander says.
On this day, though, she's not here to play. She's here to talk.
Alexander heads to the back corner of the gym and hops up on a training table. Her speech against K-State, she recalls, was simply to remind the team of all it can be. It's far from a rarity she'd want to take charge.
Up until her freshman year of high school, Alexander was set on becoming president of the United States, a dream she's still not quite sure why she relinquished. Eventually, her aspirations shifted to law enforcement, though her principles remained constant.
"I never wanted to be, like, a cop," she says. "I always wanted to be that person higher up in the chain."
The amount Alexander puts on herself would be a lot for anyone. It also left her in pieces following one of the hardest days in her life.
Ty Laporte was a member of the Ole Miss volleyball team when Alexander arrived on campus. The two competed at the same position and Laporte began to look after Alexander, mentoring her and always being brutally honest. "She had a feisty mouth," Alexander recalls.
One night, Laporte was going to visit her boyfriend, Roderick Lawrence, a basketball player who had transferred from Ole Miss to Campbellsville University in Kentucky in search of playing time.
Alexander was originally supposed to join Laporte on the trip, but the plans changed when Alexander's family came into town. Alexander offered to stay on the phone with Laporte to keep her awake and focused on the road. Laporte assured her it wasn't necessary. "I'll call you every two hours or something," Laporte said. "I'll text you to let you know I'm good."
Their last conversation came when Laporte was at a gas station, still in Mississippi. Alexander awoke at 4 a.m. the next morning to a call, not from Laporte but from Lawrence, noting Laporte never made it into town.
The two frantically called around to see if they could locate Laporte. They contacted the highway patrol, who could only tell them to get in touch with her parents. Alexander tried to use a connection at the Oxford Police Department to find out more. It didn't work.
Eventually, through an assistant coach on the volleyball team, Alexander came up with a number for Laporte's mother. She told Lawrence to reach out and then waited for a callback that never came.
Instead, she received a FaceTime.
* * *
Back in the present, Alexander shifts her posture slightly. She sits up taller and grimaces. She takes a breath.
It's impossible not to feel chills as the word "FaceTime" escapes her mouth. She doesn't need to continue with the story to make it clear what happened, but she does.
Alexander answered the FaceTime and asked where Laporte was. Lawrence said Laporte had been in a car accident. Alexander asked what hospital she was in. Lawrence simply said Laporte was "gone."
It still didn't register. "Wherever she's at," Alexander said, "I wanted to go get her."
Lawrence repeated himself. Alexander broke down. She blamed herself. She could've been on the phone. She could've been in the car. "I could've prevented it," she said.
Laporte was killed in a two-car collision less than an hour away from the Ole Miss campus. According to police, she pulled into the path of an 18-wheeler at the intersection between two highways. Laporte, 23, died at the scene.
"This is somebody I saw every day, somebody I could never get out of my house because she was always there," Alexander said. "And just hearing those words was unreal to me."
Alexander lay on the floor of her room in tears. She hadn't moved but could hear her mom answer the phone and talk to one of her coaches.
The reality of the situation began to return to Alexander. It was Friday, which meant "die day" workouts for the volleyball team.
A text came into the team's group message, alerting the players to meet at the team room before weights. Such a message would normally signify the team was going to run on the soccer field instead of at the football stadium. Alexander was, at first, shocked things would continue as usual. Perhaps the idea of completing such a morbidly-named, even colloquially-so, workout led to her disgust.
Alexander decided in that moment she needed to go to the team room. She got dressed and told her mom to drive her. Laporte's relationship with the coaches, Alexander recalled, was complicated. It wouldn't have felt right if they were the ones to tell the team she died.
"They need to hear it from me. They need to hear it from somebody who understands and truly and genuinely cares about what's going on," Alexander said.
Upon arriving at the facility, Alexander pressed her finger on the scanner to unlock the door. She took a step inside and saw her teammates through a glass window. She never made into the room, collapsing in the hallway as "it all hit me again."
Melanie Crow, a teammate of Alexander's, left the team room and joined her in the hall. Crow was unaware of why Alexander broke down but sat with her and told her, "I have you."
The two eventually walked back in together, but Alexander couldn't speak. Instead, Crow held her while she sobbed, keeping her from collapsing once more.
Alexander would later learn why it was so important for Crow to be there.
* * *
The last conversation Crow had with Laporte was in the team's video room. Crow was going over game film when Laporte joined her on the couch.
Laporte, who had accepted an opportunity to play overseas, knew she wouldn't be around the program much longer. She had previously helped keep Alexander "in line," given Alexander's expressive, and at times, intense personality.
"The last thing she had ever said before I stepped out in the hall," Crow recalled, "You have to watch out for Taylor for me."
Crow saw her primary role as helping Alexander "keep her head on straight" but found other ways to bond with her.
During the transfer process, Crow reminded Alexander to look beyond volleyball fits and find a graduate program that fit her schooling needs. She also at least tried to help Alexander over one of her biggest fears.
Back in May of 2016, the two took a vacation to the Lake of the Ozarks, where Crow's family has a condo. After wearing Alexander down, Crow was able to convince her to jump in the water. "Then a huge wave came up over her head," Crow recalled. "She started choking a little bit, but she was OK."
Alexander, who has aquaphobia, was officially out from that point on. She hasn't since developed any semblance of an affection for water. During the team's preseason training, which features military-style team building activities, there was an event that took place in a lake. "She told the army guy like straight up," Crow said, "I am not going in the water."
"He kind of respected her for that," she added.
As for their connection to Laporte, it's just as strong today.
Alexander wasn't able to transfer within the SEC since her primary motivation was for volleyball reasons. Crow, on the other hand, was able to get a waiver to do so because of health issues.
In both cases, things probably worked out for the best.
Alexander and Ole Miss played host to South Carolina in her junior season. Crow's Missouri squad played that match on the road, meaning she was able to take a detour and visit the burial of Laporte's body in Columbia, S.C. for the first time.
Before Crow visited the cemetery, she and Alexander spoke. Alexander picked out flowers for Crow and her family to bring and remained on FaceTime as Crow left them at the grave. Crow was crying, having "never lost someone" before, but Alexander comforted her with memories of Laporte, a switch from the two's first intimate interaction.
https://www.instagram.com/p/BMuexetgohU/?taken-by=bonniewheresclyde
"We both went through the lowest points of our life at Ole Miss," Crow said. "There were so many times when we couldn't turn to anyone else."
If Alexander does make it back — she hasn't returned since Laporte was buried some 21 months ago — she'll undoubtedly need that support, too. She wants to go but in the same breath admits, "I'm not sure I'm strong enough for that part yet."
* * *
Alexander still hears Laporte's voice from time to time. When she gets blocked at the net, she hears Laporte reminding her "that doesn't happen again." When she huddles with the team after a big play, she holds up three fingers, an homage to Laporte's number.
"There were days I thought there would be no point in leaving the house," Alexander says. "She gave me that strength from above. I'm here now."
It wasn't easy for Alexander to forgive herself.
The encouragement of Crow, as well as the words of Laporte echoing in her mind, were a start. She also had several conversations with her mother, who could speak from experience having lost a child, Alexander's older sister. "If you would have been on the phone with her, you would've heard it happen," her mother cautioned. "If you would've been in the car, you would have seen it."
Crow agreed. "If the same situation had happened and they had been on the phone," she said, "that would've been the worst experience Taylor could have ever heard."
In some ways, Alexander isn't over that day. She can make it through the story without bursting into tears but is still working through what she calls the lowest point of her life.
By comparison, the topic of volleyball — despite her on-court adversity — is a lighthearted relief. At KU, Alexander has made plenty of happy memories, like on September 4, when the Jayhawks swept a ranked Kentucky squad at Horejsi. She addressed the team after the match, Bechard recalled, and proclaimed, "Hey, that's the first time I've ever beat Kentucky."
"That's something that wasn't possible in the SEC," Alexander said.
Alexander's injury is still not fully healed, and her role on the team is similarly up in the air. After appearing scarcely over the last month, Alexander has logged significant time in four straight matches and looks, at least for now, to be as important as ever with postseason play looming.
Perhaps all of that is why she has no problem discussing her own plight. Or perhaps it's because, like her coach says, she believes "she'll have a lot of good moments before her career is done."
Regardless, from her darkest days, to where she is now, to where she hopes to be, Alexander hasn't tried to forget about the past. She wants to embrace it.
"As much as I wanted to lay in bed, never come out of my room and keep the lights off, that was God's plan," Alexander says. "And now the way the world is going, she's in a better place than any of us."