Third-year Kansas football coach David Beaty defined the identity of this year's team as "resiliency."
"They continue to come out each week and they practice as hard as any team I've ever had," Beaty said. "They continue to work toward developing, and they block out distractions, and they continue to see the vision, and they continue to march toward it."
Players arrive in June for "voluntary" summer conditioning. They go home for a short stretch, and at beginning of August start fall camp.
After the season, they immediately start winter conditioning, running and pumping iron to grow faster and stronger.
The reward for all of that sweat arrives on game day. Twelve Saturdays in a 13-week stretch and then the cycle resumes the Monday after the final game.
At least that's the reward for those chosen to play on Saturdays.
And then there is Kyle Pullia, in his fifth year of school at Kansas. He joined the football program in January of his first year at KU.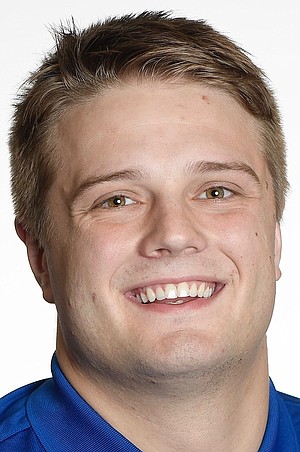 His time with the program ends Saturday in Stillwater, where Kansas enters its game with Oklahoma State as a 40-point underdog. He graduated last spring and is on course to complete his work for a Masters of Science in Architecture in May. So far, he has received two job offers in Chicago and one in Kansas City.
Pullia, a three-year, two-way starter at Fenwick High in Oak Park, Ill., plays left tackle for the scout team, trying to prepare NFL prospect Dorance Armstrong and the rest of KU's defensive ends for that week's games.
Pullia, who wears No. 64, never has appeared on the field in a game. Not on special teams, not on a play from scrimmage. Not one play.
He never quit the program, despite not having that playing-time carrot dangling as motivation to stick it out.
Why?
"Well, just growing up I was always the type of kid when you start something you see it all the way through," Pullia said. "I love being part of this team and it's really important to find your role and just give all you can do in that role."
What is that role?
"I try to be a leader in the weight room," Pullia said. "I show up on time to everything and work hard and then on the field during scout team I try to give our starting defense the best look I possibly can."
He explained how he does that.
"Watching the other team's film, trying to mimic the other team's plays and going full speed every single play, even though it's scout team," Pullia said. "I try to play with the same amount of intensity as you would in a game."
Pullia might have special access to an NFL game down the road. He might find that if he were to hit up Armstrong for tickets to a game when that day comes, the request would be granted.
"Oh yeah," a smiling Armstrong said. "I won't forget him."
Pullia gets an extra charge out of watching NFL games.
"Ben Heeney, I was on scout team when he was here and it's pretty cool to turn him on on a Sunday and say, 'I had to block him on some plays in practice,' " Pullia said.
Teammates don't take his efforts for granted.
"He's a true Jayhawk," defensive tackle Daniel Wise said. "He's what it means. Week in and week out, day after day, he's giving us the best that he can. I think he's blocking me better than some of the other teams. He's a great dude, hard worker and a great blue-collar guy, so I thank him a lot."
Beaty expressed gratitude for Pullia's contributions as well.
"Man, Kyle Pullia, first of all, he works every day to improve our defense, and he's been a very valued member playing a tackle for us," Beaty said. "He plays the opposing team's left tackle for us every week, and he still gets himself ready to play. He still gets himself ready to play. If we were to need him and his services, he still knows everything he needs to know. Very smart, very, very intelligent guy, so he can do that."
Pullia said he prepares each week for that chance, just in case. This is the last chance.
In a season lacking in feel-good moments, wouldn't it be nice to see Pullia take the field for the start of the game at left tackle, moving Hakeem Adeniji to right tackle for the opening play? Maybe even let Pullia represent the team as one of the captains for the pre-game handshake during the coin toss, a time-honored football tradition, the bare-minimum display of sportsmanship.
Just a thought.
"I always hope I get in for a snap here or there, but it's a team sport and as long as we do our best, that's all that really matters," Pullia said.
Put him in, coach. He's ready to play. Everybody involved with the KU football program, inside or outside, deserves a feel-good moment.