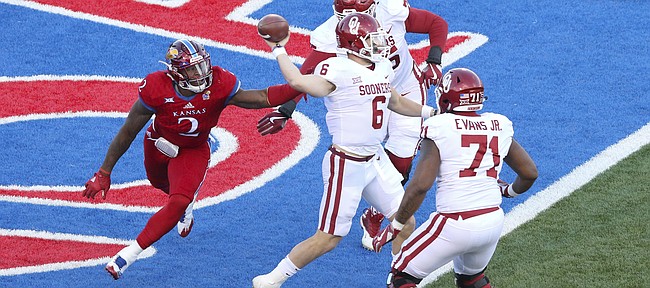 Dorance Armstrong Jr.'s current season as a junior with the Kansas football program hasn't played out the way the massive defensive end envisioned.
As his coaches adjusted schemes to make up for the unit's shortcomings, they revised Armstrong's responsibilities. Consequently, the sacks and tackles for loss that defined his breakout sophomore year often have been replaced by near misses and frustration.
With one game left on the schedule, Armstrong's preseason goal of surpassing his 10-sack total of the previous year qualifies as nearly impossible. His takedown of Oklahoma quarterback Baker Mayfield this past weekend marked the Preseason Big 12 Defensive Player of the Year's second sack and served as a reminder of unfulfilled expectations for the Jayhawks (1-10 overall, 0-8 Big 12).
The 6-foot-4, 246-pound Houston native, though, hopes all of this will ultimately benefit him as a player.
"It's been challenging," Armstrong admitted, a day after he and three teammates lost their captainship for the season finale because of KU's pre-game handshake snub of Mayfield. "It's really just been another learning experience. I've learned a lot, become a better player since last year, and I'm thankful for that."
His production — Armstrong's tackles for loss have dipped, too, from 20 in 2016 to 9.5 this year — has taken a hit. But there is a chance he will become a more well-rounded defensive lineman because of what Kansas defensive coordinator Clint Bowen has asked of him.
"We've had to adjust our front this year a little bit. Call it as it is. We've had to adjust our coverage to make sure we're protecting the pass game a little bit more," Bowen explained, referring to significant struggles in KU's secondary, especially early this fall. "Then there's always that domino effect. You're trying to keep your safeties out of things, you've got to count on your D-line to be a lot heavier techniques."
When Armstrong was a sophomore, Bowen pointed out, KU could get away with lining the speedy, powerful rusher up a yard wide of an opposing tackle in a four-man front. Of late, though, Kansas is using three defensive linemen far more often, and Armstrong many times can't be let loose to chase an opposing quarterback. Frequently, Armstrong can't get into the backfield on rushing plays, either, because one of his jobs is keeping his hands on an offensive tackle, to make sure the blocker can't reach the second level.
"It's a little different," Armstrong said. "Not too much that you can't handle. A changeup in your game, I guess you could say."
Bowen thinks the more his high-profile junior gains experience in the less glamorous aspects of playing on the D-line, the more impactful he will become.
"He's had to get in there and big-boy ball it a little bit more than he had to a year ago," Bowen said of Armstrong adding to his skill set. "It's probably helped him to learn how to fight in there a little bit more"
Podcast episode
On this episode of the KU Sports Hour, hosted by KU football beat writer Benton Smith, the KUsports.com staff discusses KU's 41-3 loss to Oklahoma. Topics include: recapping OU-KU (open-8:10), the on-field antics (8:10-23:20), injuries and other leftovers (23:20-30:30), and the KUsports.com football mailbag — discipline, birthday presents and Mark ...
Teammate and compadre Daniel Wise has improved his statistical output from 2016, with 14.5 tackles for loss and 5.5 sacks, up from 10 TFLs and 3.0 QB stops. Wise can tell the drop-off in Armstrong's numbers bothers him, but the redshirt junior defensive tackle also credits Armstrong for taking on multiple blockers and getting into the backfield as often as he can.
"It's one of those things. I wouldn't say bad luck," Wise said. "Great players require double-teams and give other players opportunities. So he's getting those double-teams week in and week out and it's giving other guys more opportunities to make plays."
Both Wise and Bowen said Armstrong's effectiveness has not fallen off.
"He didn't change," Bowen said. "He didn't become slow or unathletic or a bad pass-rush guy. He's doing some things for us that we really appreciate his unselfishness and his team attitude, because he gets in there and battles and has been in a different approach this season. We realized early in the year that what we had done the previous year wasn't going to work with this bunch. We had to make some adjustments, and he's been as good as … The kid's too good to be true."
A smile materializes on Armstrong's face when he discusses his former days of lining up wide and racing after quarterbacks. But he also appreciates how his less exciting obligations make a difference.
"Technique-wise, physicality-wise, just everything that doesn't require pass-rushing has gotten better, because I've been doing lots of different things," Armstrong said. "Whatever Coach Bowen needs me to do I'm going to do it to help the team to win. Whatever we need to do to win, I'm down with it."
KU's season concludes Saturday at No. 18 Oklahoma State (8-3, 5-3).