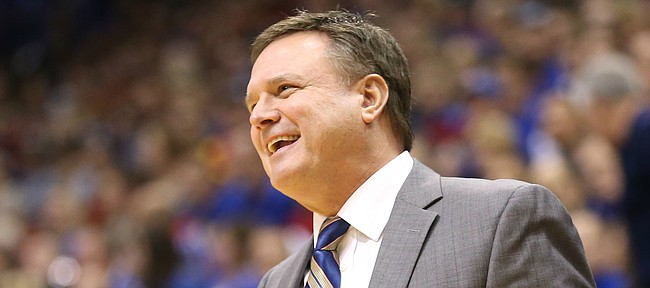 No one can ever accuse Kansas basketball coach Bill Self of not practicing what he preaches to his players regarding not playing to the scoreboard.
In the first half of Tuesday night's 114-71 rout of Texas Southern, Kansas moved the ball so swiftly it was difficult to keep up just watching, so just imagine how tough it was for the visitors' defense to catch up to the ball.
The ball movement was a thing of beauty as the Jayhawks drained open shot after open shot to take a 66-30 halftime lead.
If Self had coached to the scoreboard in the second half, he might have been tempted to crack jokes with his assistants, text recruits and scroll his phone for the latest headlines on Handshake-gate.
Photo Gallery
Kansas basketball v. Texas Southern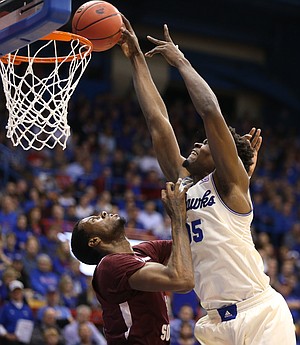 View a gallery of images from Tuesday night's game between the Kansas Jayhawks and Texas Southern Tigers at Allen Fieldhouse.
Instead, at times in the second half, his hands on hips, his head tilted, his expression bordering on disgust, he looked as if he were the one coaching the team that lost by 43 points and gave up 19 3-pointers.
Regardless of the degree of the mismatch, the sort of ball movement Kansas displayed to the delight of the customary sellout crowd of 16,300 in Allen Fieldhouse is not often seen in any month of the season, much less November.
Kansas, competing with seven scholarship players, looked ahead of schedule, except when you looked at the coach's face.
Is this team ahead of schedule?
"No. No," Self said. "The thing about it is, they played four guards. Now, are we going to be any good when we're playing a team that plays two bigs and we're only playing one big, or when another big can get us in foul trouble? So I think that we've done OK, but I still think there are a lot of things out there with our depth situation that it could not look real good, real fast, if we're off just a little bit."
Arizona State transfer Sam Cunliffe  will become eligible Dec. 16 for the game at Nebraska. Silvio De Sousa is trying to become eligible by then, instead of starting school in the fall, and then there is Billy Preston, watching from the bench as a probe continues into the "financial situation" of the vehicle he drove in a one-car accident. No telling if or when he will make his college basketball debut.
"There's not enough margin for error," Self said of his current seven-man rotation. "When you go into a game, well, what's the key to the game? Getting everybody to halftime with two or (fewer fouls). That shouldn't be your game plan going into a game, but it's kind of like that now."
The stiffer the competition, the more problematic that grows.
---
More news and notes from Kansas vs. Texas Southern
---