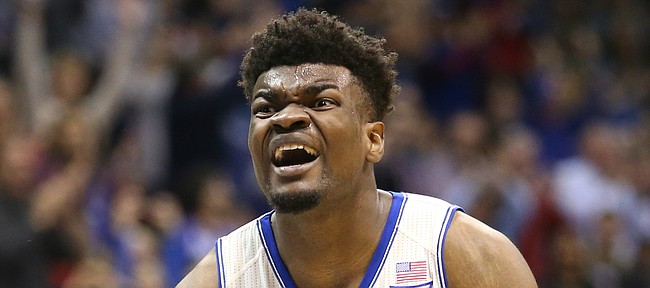 He made nine of 12 shots, finished one rebound shy of a double-double (20 point and nine boards) and added a steal, a block and assist and two fouls in 27 minutes.
But the main thing on the mind of Kansas coach Bill Self about big man Udoka Azubuike following Tuesday's 114-71 whipping of Texas Southern at Allen Fieldhouse was one of the things Azubuike did wrong.
After a steal and assist by Malik Newman led to a monster jam from Azubuike in transition, the Kansas sophomore rattled the rim a little too long in the eyes of the officials and was whistled for a technical foul.
It mattered not in the grand scheme of Tuesday's game. KU led 35-17 at the time and went on to win by 43. But it came at a good time in the eyes of Self.
"He deserved it," Self said. "I told the official, he said, 'I hate calling that,' but I said, 'You gotta call it. That's good for us.' He didn't say it in a way that he shouldn't have called it, he said, 'Just tell your kid to get off the rim.'"
Photo Gallery
Kansas basketball v. Texas Southern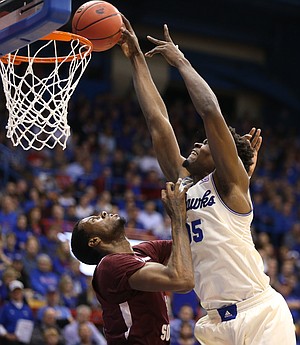 View a gallery of images from Tuesday night's game between the Kansas Jayhawks and Texas Southern Tigers at Allen Fieldhouse.
Self had no problem reminding Azubuike of that and probably will for weeks to come.
"He has a bad habit of doing that," Self said of Azubuike's propensity to inflict extra harm on rims. "And I was glad they called it, because that may end up not costing us when we really need it in a close game. The worst thing about it is it's a personal foul, too. So if he had done that with two fouls and it's his third foul in the first half, that wouldn't be good at all. But that's a good lesson for him."
That was far from the only noteworthy dunk of the night from Azubuike. Later in the game, after posting strong in the paint against TSU 7-footer Trayvon Reed, Azubuike went up, over and through his sizable counterpart for a dunk that sent Allen Fieldhouse into a frenzy.
"That dunk was crazy," said KU junior Lagerald Vick, barely able to contain himself. "He put him in the rim."
Graham the facilitator
Kansas point guard Devonte' Graham's 11 assists on Tuesday pushed him to 39 for the season (9.8 per game) and marked the third time in four games that he reached double figures in the category.
"He's finding people," Self said of his floor general. "But there were a lot of open guys tonight, too, so it's a little misleading. He didn't get 10 assists against Kentucky. That's the level you want to try to play to."
Though pleased with his unselfish night, Graham himself did not gush too much about his assist totals.
"I'm just doing what I'm supposed to be doing, taking care of the ball and making the right plays," he said. "But, yeah. In the offseason, you all were wondering what I was going to be able to do with the ball in my hands more and I'm just doing what I'm supposed to be doing."
Faces in the crowd
A handful of notable spectators dotted the Allen Fieldhouse crowd during Tuesday's victory, with former Jayhawks Sasha Kaun, Sherron Collins and Tyler Self sitting behind the home bench.
Actor Rob Riggle, a noted KU junkie, also was in attendance and he, after the introduction of the former Jayhawks, drew the largest roar from the home crowd when the celebrities were introduced on the big screen.
Signs of love
Last week, during the Jayhawks' 41-3 home football loss to Oklahoma, a lone and somber KU fan was spotted in the Memorial Stadium stands holding a sign that said, simply, "I Am Sad."
Tuesday, that same fan made his way to Allen Fieldhouse and, this time, flashed the back side of that very sign, which read, "I Am Happy."
This and that...
Kansas now leads the all-time series with Texas Southern, 4-0 and has won 22 consecutive non-conference games inside Allen Fieldhouse... The Jayhawks are now 16-0 all-time against teams from the SWAC and off to their first 4-0 start since the 2013-14 season, when they opened 5-0. It marks the sixth time under Self that the Jayhawks have started a season 4-0.
---
More news and notes from Kansas vs. Texas Southern
---