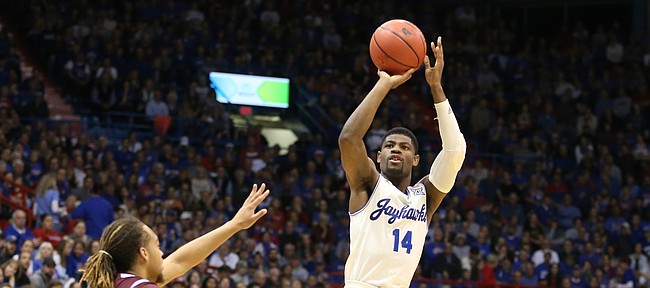 The phone call was placed with the intent to be a prank, but it turned out being a premonition.
Tuesday afternoon, several hours before Bill Self's third-ranked Kansas basketball team throttled Mike Davis' Texas Southern squad, 114-71, at Allen Fieldhouse, Self gave his old friend a ring and reminder.
"When we played (Indiana) the year (Davis led them) to the finals (2002), they got on us pretty early and their guards were 16 of 21 (from 3-point range) against us," Self recalled of a rough game during his second season at Illinois. "So I reminded him of that. I just called him saying, 'Hey, man, you going to bust us with 16 threes again like you did in 2002?' I just wanted to see if he knew who it was and he knew exactly who it was."
Davis, who guided the Hoosiers for six seasons in the early 2000s remembered the conversation a little differently.
Photo Gallery
Kansas basketball v. Texas Southern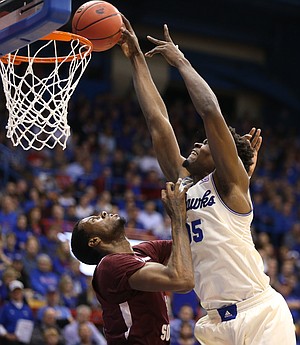 View a gallery of images from Tuesday night's game between the Kansas Jayhawks and Texas Southern Tigers at Allen Fieldhouse.
"I said, 'Coach, let's try to keep it under 40 tonight,'" Davis shared of his Tuesday request of Self. "And he said, 'No, the last time we played you guys, you were hitting all those threes. So I think he kind of jinxed it, that way he got the 19 threes today."
Svi for three. And Malik. And Marcus. And Devonte'. And Lagerald. And even Mitch.
It was that kind of night for the Kansas men's basketball team, which unleashed a record-setting shooting performance at the expense of defenseless Texas Southern (0-5).
Six of the seven Jayhawks who played the majority of Tuesday's minutes — freshman forward Billy Preston did not play for the fourth game in a row — drained 3-pointers en route to a wildly impressive 19-of-36 showing from downtown, eclipsing the previous KU record of 16, set in 2005 in a win over Baylor.
"Nineteen threes seemed like 100," Davis said.
Several Jayhawks had a similar feeling, including senior point guard Devonte' Graham, who made three of those 19 and dished 11 assists in 30 minutes.
"It seemed like we couldn't miss," Graham said.
For a while, they couldn't.
Kansas made 12 first-half 3-pointers — also a school record — and tied the all-time mark with 20 first-half attempts. Nearly all of them came in rhythm. Most of them were wide-open looks. And very few of them looked like anything other than swishes when they left the hand.
"Malik (Newman) took two bad (shots) the first half," Self said. "And, other than that, I'm not sure we took any bad ones the first half. And the ball really moved, too. Everything looks good when you make shots, and we did make shots."
Asked if he knew about the record after the game, Self said he did not until he was told as he walked off the floor. Asked for his reaction, the rarely impressed coach dead-panned: "I couldn't be happier. I think we should celebrate for a week."
Clearly, that won't happen, but it's not just because the Jayhawks (4-0) have Thanksgiving on Thursday and another game on Friday. Even in a game that looks as clean and one-sided on the scoreboard as Tuesday's rout, Self said there were things his team could have done better, with second-half intensity and defensive rebounding chief among them.
He was not alone in thinking that.
"Hopefully we can play better," Graham said. "There's always some stuff that we can correct. I know coach was getting on us about spacing and staying in the corners. It just makes it easier. If we space the floor, we've got guys that can drive it and guys that can shoot. But it was definitely a good offensive performance."
The triple that broke the record was one of the least impressive of the night. But it was the result of exactly what worked for the Jayhawks all night – pushing in transition, forcing the pace and knocking down open jumpers.
This one, No. 17, from Graham with 9:59 to play, made the score 91-55 Kansas and came off of an assist from Lagerald Vick, who, moments earlier, had grabbed his 10th rebound of the night and raced up the floor to start the break. After pitching it ahead to Graham near mid-court, the KU senior, who again showed off his passing skills in this one — to the tune of 11 assists and one turnover — simply caught it, loaded the gun and drained the shot right in front of the Kansas bench.
The one that set the final mark of 19 came from freshman Marcus Garrett, who hit 3-of-5 from downtown and finished with 13 points and 11 rebounds in 26 minutes.
"I've never seen a team pass the ball and shoot the basketball as well as they do," Davis said. "That's the way I want my team to play."
Tuesday's onslaught marked the second-highest point total by a Kansas team in the Bill Self era and featured seven Jayhawks in double figures, with six of them making at least one 3-pointer.
Leading scorer Svi Mykhailiuk (21 points) led with a 5-of-7 mark from downtown. Newman knocked in 4-of-6. Graham, Garrett and Vick drained three apiece. And sophomore forward Mitch Lightfoot connected on 1-of-3 from behind the 3-point line. Outside of walk-ons Chris Teahan and Clay Young, the only Jayhawk who did not make a 3-pointer was big man Udoka Azubuike.
And even though the sophomore center enjoyed another efficient offensive night, draining 9-of-12 shots for 20 points and nine rebounds in 27 minutes, Graham said the hot shooting night by the rest of the Jayhawks never got into Azubuike's mind.
"Nah. No chance," Graham said with a laugh. "Unless we put him in a bad situation late with the shot clock, no way. It seems smart."
---
More news and notes from Kansas vs. Texas Southern
---