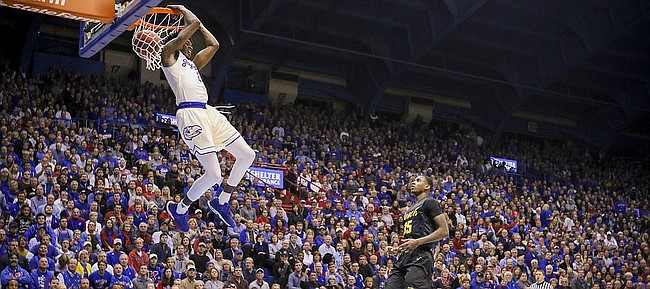 Rare is the basketball player who leaves for the arena with his mind trained on how miserable he's going to make life for the man he will guard that night.
Yet some of the greatest players in basketball history were even better defensively than with the ball in their hands.
Bill Russell, Michael Jordan and Jerry West should be on everyone's list of all-time top 10 basketball players and all three men were even better at keeping someone from scoring than they were at scoring.
Kansas coach Bill Self thinks he has a potential defensive stopper in Lagerald Vick, who also happens to have a soft shooting touch and a wide array of mind-blowing dunks. It's tough to expect a player who can get a rise out of a crowd in as many ways as Vick can offensively to make locking up the opposing team's best scorer his top priority, but Self has a way of getting out of players what he needs from them.
Self needs the equivalent of a shutdown cornerback and he's convinced that in Vick he has the makings of one. It will be interesting to watch that whole dynamic develop.
Self doesn't always share the messages he imparts to players on the court, but did after Friday night's 98-64 rout of South Dakota State.
"I told him during the game, 'Do you really think you're our defensive stopper?' I mean, not being negative, but I said, 'That's not your mindset right now.' I think people sometimes play to the score some, and guys who really have that mindset, they don't do that much," Self said.
That doesn't mean Vick can't develop the mindset because once he tastes success shutting down a big-time scorer he might like how that feels so much he'll be eager to do it over and over.
"There are a lot of things he can do," Self said. "He can slide. He can jump. He's quick. He's smart. He's strong. He can fake a screen. He can do a lot of things, but I don't think he plays where it's his mindset like it needs to be moving forward."
Self mentioned Travis Releford, Brandon Rush and Brady Morningstar as players he could count on to shut down scorers.
"Brady was our best defender there for three years," Self said. "(Jeff) Withey was a different type player, but certainly he was one because he was able to protect the rim so well."
Marcus Garrett, blessed with quick hands and feet, defends well and will play a lot off the bench, but Vick's physical gifts are even greater and his minutes more extensive, so he's No. 1 on Self's wish list for a shutdown perimeter defender.