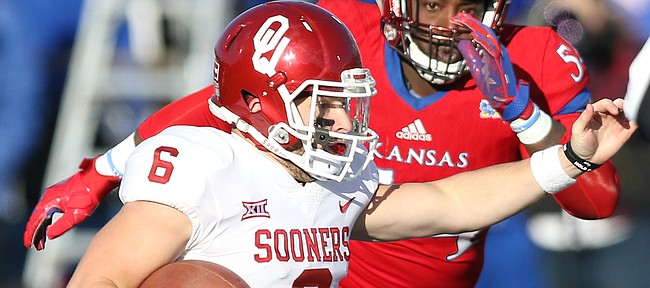 Captured on ESPN grabbing his crotch and yelling profanities toward the Kansas sideline following a third-quarter touchdown in his team's trouncing of the Jayhawks Saturday at Memorial Stadium, Oklahoma quarterback Baker Mayfield won't start or serve as a captain for the Sooners on his Senior Day.
First-year OU head coach Lincoln Riley announced those punishments for his fiery Heisman Trophy-hopeful quarterback at his Monday press conference in Norman, Okla., while also referencing the pregame handshake snub by the Jayhawks' captains that set Mayfield down that path.
"We all know what provoked it, but it's something that can not happen," Riley said of Mayfield's ill-advised antics, while adding he will allow Mayfield to play against West Virginia in the regular-season finale.
"This program has very, very high standards," Riley said. "This university has very, very high standards. When they're not met, there's going to be consequences."
Podcast episode
On this episode of the KU Sports Hour, hosted by KU football beat writer Benton Smith, the KUsports.com staff discusses KU's 41-3 loss to Oklahoma. Topics include: recapping OU-KU (open-8:10), the on-field antics (8:10-23:20), injuries and other leftovers (23:20-30:30), and the KUsports.com football mailbag — discipline, birthday presents and Mark ...
According to Riley, he watched the handshake kerfuffle play out in front of his eyes before OU's 41-3 drubbing of Kansas, and it was the first time the coach had seen an opposing captain refuse to shake hands during a coin toss.
"And I thought it was a sign that the game was going to be pretty heated from there," Riley said Monday during his portion of the Big 12 coaches media teleconference, "and I alerted the officials right after it happened that they better be aware of it and that we needed to make sure and keep the game under control. Because obviously that was a little bit of a lightning rod, stirring the emotions of both teams and made for a heated, chippy game."
Mayfield, for sure, displayed his distaste for Kansas following the snub. After OU extended its lead to 28-3 in the second half on the quarterback's touchdown pass to Mark Andrews, Mayfield let the Jayhawks know about it in what soon became a viral video of him spewing F-bombs after making an inappropriate gesture. Riley said his star player must find an emotional balance, and it shouldn't be difficult to do so.
"You love the fire. You want him to have the fire, and the competitive nature that he has is off the charts," Riley said, "as good as any player I've ever been around or seen. But at the same time he's got to know where the line is and make sure that he doesn't cross it."
Beaty's reaction to Mayfield antics
Kansas football coach David Beaty again was asked Monday whether he saw Mayfield's belligerent reaction that ultimately cost the QB a spot in the starting lineup this week.
"A little bit. But I do know this, man, that guy's a phenomenal football player," Beaty replied. "I mean, what a terrific player he is. That guy made so many plays in that game and continues to do that. I know that he's a great competitor. He's a great competitor. And I know at the core of who he is, I know he's a good young man. I wish nothing but the best for him. I think he has great things in his future."
KU's third-year head coach then said he knows Riley well, calling the OU coach "one of the most classy individuals I've ever been around," to add his opinion that Mayfield "couldn't be in better hands."
Beaty, who earlier in the teleconference apologized to various parties for his captains' actions toward Mayfield and OU, said his players got chippy, too.
"There's just no place for it in our game when it comes to our guys," Beaty said. "We go to great lengths to make sure they understand and value the opportunity they have to represent the Big 12, the name on the back of their jerseys, as well as that name on the front of their jerseys."
Asked whether he heard from anyone at OU on the subject of Mayfield's actions, Beaty referenced a phone call he initiated to Riley.
"Lincoln and I talked. He and I are dear friends and I apologized to him right from the beginning. I talked to him directly about that's not at all indicative of who we are and what we represent and apologized to him and his team, including Baker," Beaty said. "It was just one of those situations where it was unfortunate. But the good news is you've got two men here who are committed to creating good men. And we'll use this platform as we move forward to make sure that they're better as a result."
Jayhawks not offended by Mayfield
During his postgame interview Saturday, junior KU linebacker Joe Dineen said he saw Mayfield's celebratory tirade as it played out.
Dineen, who along with fellow captains Daniel Wise and Dorance Armstrong Jr., snubbed Mayfield prior to kickoff, didn't take the QB's actions personally.
"Trash talk and stuff like that's a part of the game. If he thought that was necessary to do then whatever, you know. That doesn't hurt my feelings or anything like that. If a guy says 'F you' to me I brush it off," Dineen said. "It's happened before."
So was the highly publicized scene directed at KU's players or coaches?
"I think everybody," Dineen said. "That's just kind of how he is. He's a talker and we knew that going in. Our goal was just to get him rattled a little bit, maybe get him out of his comfort zone."
KU sophomore corner Hasan Defense, whose late hit on Mayfield in the second quarter might have further agitated the QB, said the back-and-forth jawing between the Sooners (10-1 overall, 8-0 Big 12) and Jayhawks (1-10, 0-8) was fun.
"That's what happens when you play a physical sport. You're not going to let nobody talk to you in any kind of way," Defense said. "Anytime something gets physical your mouth gets physical as well."
So what were Defense's thoughts on Mayfield afterward?
"He did what he was supposed to do," the KU defensive back said. "He got the win."