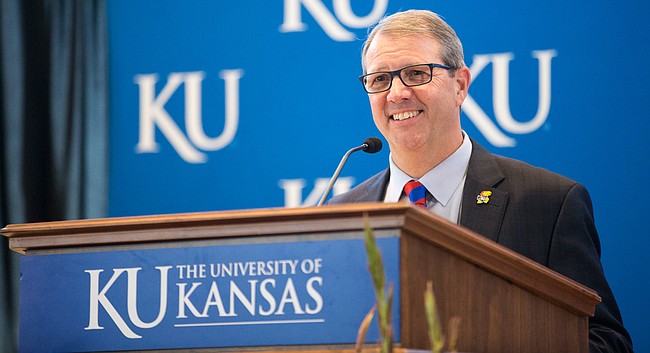 At what point will the power brokers at the University of Kansas pretend to care about the football team enough to be embarrassed into action?
Obviously, three victories in three seasons doesn't quite get a good blush going.
A 15-80 record in eight years, none ending with more three victories, compared to 50-48 (3-1 in bowl games) in the previous eight under Mark Mangino, doesn't seem to stoke the competitive fires.
Maybe the Red Sea of Oklahoma Sooners fans that overwhelmed the smattering of blue-clad, hard-core KU football loyalists will cause the power brokers to challenge their initial decision to kick the can down the road another year.
(By the way, KU finished its seven-game home schedule with an average attendance of 26,641. The next-smallest in the Big 12: Baylor's 43,830.)
If not, perhaps the bizarre coin-toss handshake boycott by the three captains aimed at Heisman Trophy favorite Baker Mayfield, as well as Hasan Defense's way-late hit on Oklahoma's brash quarterback, will count as the final straws for third-year coach David Beaty.
After all, the chancellor has the right to change his mind when circumstances change.
When Dr. Doug Girod teed up his first major decision as KU's head honcho — what to do with the football mess — he whiffed by backing athletic director Sheahon Zenger and Beaty. The chancellor's entitled to a mulligan, a breakfast ball, a do-over.
Saturday's embarrassment gift-wrapped him the perfect opportunity to right his wrong. He could do so with one simple statement and nobody would accuse him of waffling.
Here's all he has to say: "In releasing a statement last week in support of our athletic director and football coach, I decided I could live with a one-win season. I cannot, however, tolerate a one-win season that includes a lack of humility and sportsmanship. The embarrassing coin-toss conduct and egregious late hit on the quarterback have led me to reconsider my stance. We will have a new AD and football coach in place soon. Thanks for your support and incredible patience. Better times are on the horizon, both before and during games."
A protracted search isn't necessary to upgrade two of the three top positions of leadership in the athletic department.
Sure, hiring a football coach takes more than the few days it took Zenger to hire Charlie Weis after June Jones turned him down, but it's not as complicated as KU always seems to make it.
Everyone needs to grab hold of reality. Enough is enough.