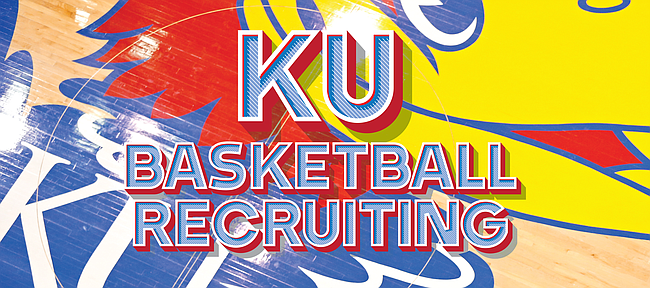 Sunday marked the end of what turned out to be a darn good week for Kansas basketball on the recruiting trail.
With last Wednesday signaling the end of college basketball's early signing period, Bill Self and his coaching staff emerged with four high-level, Class of 2018 players officially signed on to be Jayhawks.
While that kind of haul this early in the process sure seems like Kansas striking gold, Self said such success is the goal pretty much every year, no matter how many scholarships KU has available.
"We've always tried to sign all our kids early" Self said recently. "It's not that we haven't tried. It's just that sometimes when you try, and you go after the best of the best, sometimes you strike out and you don't get them."
That has happened in the past. But, no matter what the Kansas class does from this point forward, nobody will be able to say that about this group.
Charlotte point guard Devon Dotson (6-1, 180, No. 17 per Rivals.com) and Oak Hill center David McCormack (6-10, 280, No. 33) got the party started by signing their letters of intent on Nov. 10. IMG power forward Silvio De Sousa (6-9, 245, No. 25), who remains in pursuit of NCAA clearance to come to KU in time for the second semester this season, followed their lead by sending his letter of intent to KU last Monday.
And The Woodlands, Texas, combo guard Quentin Grimes (6-5, 190, No. 11) completed KU's stellar early-signing-period run by both committing and signing with Kansas last Wednesday.
That foursome puts KU at No. 2 in Rivals.com Class of 2018 team rankings and has fans and analysts alike suggesting that the 2018 crew could be one of the best classes Self has ever assembled.
"We got Joel (Embiid) early, but we had to wait to the second to the last day to get (Andrew Wiggins) and we had to wait to get Josh (Jackson). And those guys are definitely worth waiting on," Self said.
"In this particular situation, to have four in your pocket — and they're four that I think are terrific and are all very bright and understand the game and will be immediate impact guys — I think that takes some pressure off in the spring for sure. Although we can't be done. We've still got more work to do."
While the balanced quartet might lead some to believe the Jayhawks can go anywhere with whatever remaining scholarships they hand out — KU anticipates having anywhere from four to seven scholarships to use following the 2017-18 season — Self had a different, much more focused opinion.
"I think we need a perimeter scorer," he said. "When you think about bigs and who could be and who should be in the fold next year, I think we could be OK size wise. Guards? Small lead guards, we're in good shape. All-around guards, we're in good shape. But it would be nice to get one more shooter."
That goal, along with working ahead in the Classes of 2019, 2020 and beyond, will occupy much of KU's recruiting efforts in the months ahead.
Top 10 talents Romeo Langford (6-4, 185, shooting guard ranked No. 6 by Rivals) and Zion Williamson (6-7, 230, forward, No. 2) remain at or near the top of KU's wish list.
But even if those two elect to sign elsewhere — most believe Langford is down to KU and Indiana and Williamson will choose to stay closer to his South Carolina home — the KU coaching staff has plenty of time to seek and sign that perimeter scorer that Self was talking about.
KU Basketball Class of 2018 (thus far)...
• No. 25 Silvio De Sousa – 6-9, 245, Power Forward, 5 stars, IMG Academy
Kansas lands commitment from Silvio De Sousa
Silvio De Sousa seeking to join Jayhawks early
De Sousa's letter of intent arrives in Lawrence
• No. 33 David McCormack – 6-10, 280, Center, 4 stars, Oak Hill Academy
Trust in Jerrance Howard delivered McCormack to Kansas
• No. 17 Devon Dotson – 6-1, 180, Point Guard, 5 stars, Charlotte, N.C.
Class of 2018 PG commits to KU
Devon Dotson unselfish to the core
• No. 11 Quentin Grimes – 6-5, 180, Combo Guard, 5 stars, The Woodlands, Texas
Grimes calls signing with KU an indescribable feeling