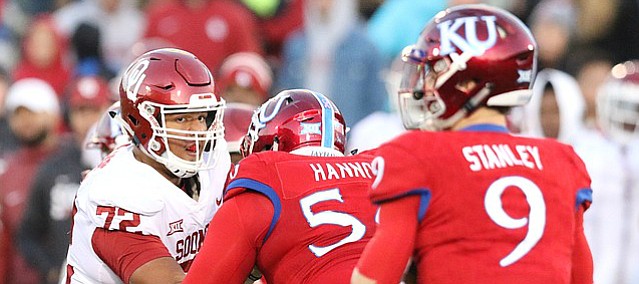 There were more family and friends in the stands than usual, but Amani Bledsoe tried to treat Saturday's football game against Kansas like all of the others.
Bledsoe, a sophomore defensive end from Lawrence High, was playing in his hometown for the first time since he chose to play at Oklahoma. He recorded his team's first tackle in a 41-3 victory over KU at Memorial Stadium, one of his three solo stops.
As soon as the game ended, he met Kansas linebacker Joe Dineen at midfield for a handshake and some quick words. From crosstown rivals in high school to watching each other play in Big 12 games.
"I had a lot of family come because I probably won't have Thanksgiving (off)," Bledsoe said. "It's good to see them now, just in case. It's good to be back to see all of the players on Kansas, too, that I've played against that went to Free State. They are coming along really well, so good to see all those guys and coaches."
During his senior year of high school, Bledsoe named the Sooners and Jayhawks as his two finalists before eventually announcing his commitment to Oklahoma. KU later received a commitment from Isaiah Bean.
The 6-foot-4, 279-pound Bledsoe, who has added about 10 pounds of muscle since his time starring for Lawrence High, said it was "fun" playing against KU after watching many games in high school.
"Man, just proud of him," Kansas coach David Beaty said. "He continues to do well over there. I told him the day he selected Oklahoma, I said, 'Don't look back. You do what you think is best for you.'"
Bledsoe has followed that advice.
"Everyone's got those 'What if' moments and things about it," Bledsoe said. "But my heart and soul is on this team, Oklahoma. I mean this is my home."
Bledsoe has registered 14 tackles and one sack through seven games in his sophomore season. Last year he was suspended for a calendar year after he failed a perfomance-enhancing drug test. He filed a lawsuit in district court against the NCAA in August to attempt to restore a year of eligibility.
Throughout the suspension, he heard from plenty of his former teammates, classmates and other supporters.
"I had a lot of people rallying around me, keeping my head up, just sticking around me and making sure I stay positive and get through this," Bledsoe said. "Everybody goes through adversity and that just happened to be mine. I got through it."
Starting on the defensive line for the Sooners, Bledsoe is focused on making sure he can do his best to help the team win a Big 12 title and qualify for the College Football Playoff.
But for one night back in Lawrence, he had a chance to catch up with many of his high school coaches, along with his family.
"It felt great," Bledsoe said. "It's just good to see them all."
More like this story on KUsports.com