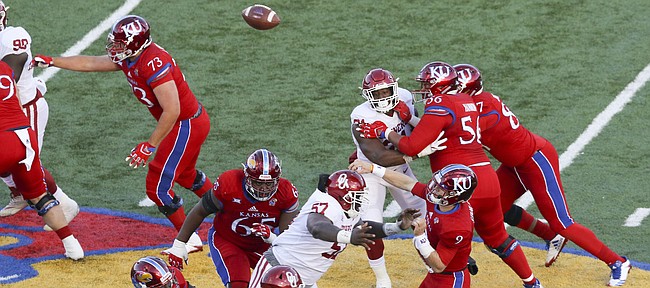 The No. 3-ranked Oklahoma Sooners are known for their highly effective offense and a tough-to-defend quarterback in Baker Mayfield, who just might win the Heisman Trophy, in spite of his combustible personality.
OU's football team, at least this season, is not known for its defense. Nonetheless, Kansas failed to score a touchdown in its 2017 Memorial Stadium finale, a 41-3 defeat.
An Oklahoma defense that entered the weekend giving up 27.4 points and 414.2 yards per game, only allowed KU to finish a possession on the right side of midfield on four of 15 drives.
The Sooners (10-1 overall, 8-0 Big 12) hadn't held a Big 12 team below 20 points before visiting Lawrence, and gave up 41 at Baylor in September. But OU limited tottering Kansas (1-10, 0-8) to 155 yards of total offense, and forced seven three-and-outs, as the Jayhawks went without a touchdown for the fourth time in the past six weeks.
"We just didn't make plays in the passing game," KU head coach David Beaty said. "I thought Carter (Stanley) made a terrific play down the middle of the field and we just didn't come up with a catch. And then there was one down the sideline that Carter made a terrific throw and we just didn't come up with the catch. We've got to become that team that makes plays and right now we just don't have guys making plays for us consistently."
Photo Gallery
Kansas football v. Oklahoma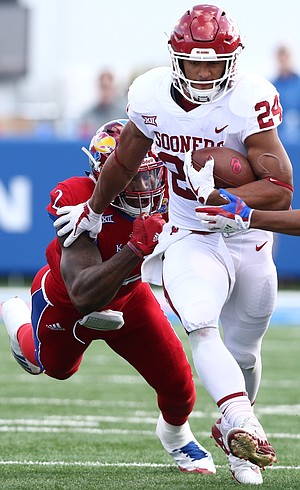 View a gallery of images from Saturday's game between the Jayhawks and Sooners at Memorial Stadium.
Indeed, Stanley, threw for just 123 yards — a career low for a game in which he started — after completing 19 of his 33 throws, with one interception against an Oklahoma program that has out-scored Kansas 203-20 in the last four meetings.
In the category of so-called chunk yardage, defined as plays of 15 or more yards on passes and 10 or more rushing, KU's offense registered just one in 61 plays — a third-quarter 34-yard pass from Stanley to Steven Sims Jr. The second-longest passing play was a 13-yard reception by tight end Ben Johnson in the first quarter.
"They do a good job of disguising their coverage," Stanley said of the Sooners. "Most of the time we were able to see what they were in, definitely, but I think they play hard and they're just a good team."
On rushing plays, KU averaged only 1.2 yards per carry. Sophomore Khalil Herbert led the team with 38 rushing yards on 13 attempts. Both Herbert, who left the game early in the fourth quarter with an injury, and Dom Williams had a team-best eight-yard rush in the third quarter.
"We've got to find a rhythm. I thought we ran the ball inconsistently a little bit," Beaty said. "When it mattered (the Sooners) were able to tighten it up."
Offensive woes notwithstanding, KU only trailed 14-3 as late as the final minutes of the second quarter, because the home team's defensive players forced OU to punt on five of its first seven possessions.
The Jayhawks even were in position to cut into Oklahoma's lead prior to halftime, or at the very least run out the clock and enter the third quarter trailing by 11.
With 1:39 left in the second quarter, a Kansas drive that began in OU territory, at the 47-yard line, actually went backward, as Du'Vonta Lampkin brought Stanley down for a five-yard loss on first down, and two ensuing pass attempts for Herbert and Johnson fell incomplete.
Kansas punted from its own 48-yard line and the Sooners responded with a 40-second TD drive to take a 21-3 lead into the locker room.
"Defense killed it. I thought our defense was awesome," Stanley said. "They had a great game plan, they executed it well. I think us as an offense not being able to get that first down around midfield and getting points or at least running the clock out, that hurt our team overall. They were able to go down and get that touchdown to make it 21-3. I think defense played great and there were times when obviously we could've helped them."
Beaty, too, said KU's defense put the team, which has lost 10 straight, in a position to make it a competitive game. The offense failed to lift its play to that level. The Jayhawks' 155 yards were the third-fewest this season, beating out 21 yards at TCU and 106 at Iowa State, both shutouts.
"We didn't finish the game good enough," Beaty said. "That score is not good enough. Those guys are mad. They're upset. I'm mad. I'm upset, because I just know we're a better football team than what that score shows. It bothers me. It bothers them. I think we're a better football team than that, and we've got to go back to work (Sunday) and make sure that doesn't happen again next week because we've got a great opportunity again next week in Stillwater."
Beaty, now 3-32 as head coach, concludes his third season at Kansas Saturday at Oklahoma State (8-3, 5-3). The Big 12 announced the game will kickoff at 11 a.m. at Boone Pickens Stadium and air on FOX Sports 1.
---
More news and notes from Kansas vs. Oklahoma