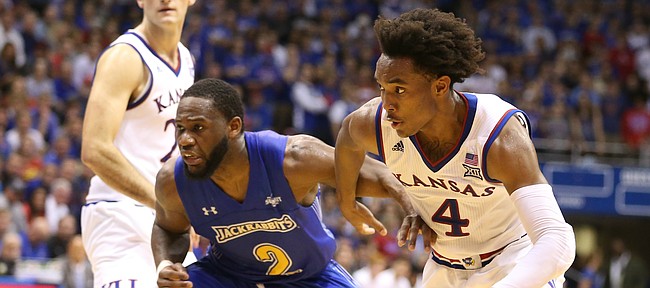 By this point, T.J. Otzelberger has probably had enough of coaching against Kansas guards — even if he can't quite remember their names.
Following KU's 98-64 victory over South Dakota State on Friday, the Jackrabbits head coach took his seat in the media room. He was no stranger to Allen Fieldhouse, and he had even more familiarity with some of the players who took the court.
"I've coached at Iowa State, coached against them in the past," Otzelberger said. "As somebody that has a lot of respect for this program and for coach (Bill) Self, to see the leaders, what Nate Mason became, now what Devonte' Graham is, is a great credit to them and their ability to develop guards."
Otzelberger undoubtedly meant to refer to "Frank" Mason and not Nate, who is a Minnesota guard, but the comparison between the two — Frank Mason and Graham — is rather interesting.
Mason rather famously set the tone for his senior season with two monstrous performances in the opening week. He racked up 30 points, 9 assists and 7 rebounds in an overtime loss to Indiana and rebounded with 21 points and 5 assists against Duke in Madison Square Garden, hitting a game-winning jumper with only seconds remaining in that game.
Graham's season has gotten off to a different start. Graham has scored 29 points total between his first three games. He's capped out at 11 points.
For reference, Mason had one game all of last season in which he scored 11 or fewer points.
"Devonte's a point guard, but he's a scoring point guard, and he hasn't seen the ball go in the hole during our regular season games so far," said KU coach Bill Self. "He doesn't need to get 18 a game. But he's a guy that can get 14 and 10."
To date, that's where Graham has picked up the slack.
Although Graham has shot just 9 for 28 from the field (.321) and 4 for 16 from 3 (.25), he's found other ways to contribute, averaging 9.3 assists, 5 rebounds and 2 steals.
Against South Dakota State, Graham tallied 11 assists. He forced a couple shots, but was mostly content to play the role of the setup man, at one point even finding walk-on Clay Young with a nice drop-off pass for a bucket.
After the game, Graham's wingman duties carried over to Twitter, where he shared a tweet from former Jayhawk Cliff Alexander saying that Svi Mykhailiuk should get a chance in the NBA. Graham's next was in all caps and read simply, "CLAY YOUNG FOR PRESIDENT."
"He's a point guard. He got 11 assists today. His job is to make shots for everyone else," Mykhailiuk said. "Everyone knows he can score the ball. Every team focuses on him a lot. Sometimes they forget the other guys.
"Devonte's just been driving the ball and kicking it out. We've just been making shots."
Perhaps that's the best sign for the KU offense.
Less the Kentucky game — "We all struggled," said Mykhailiuk of KU's 65-61 win — the Jayhawks have scorched the nets despite playing with only seven scholarship players.
With Graham quarterbacking the offense, KU has four players averaging more than 12 points per game — and that's without the prolific senior doing so.
Both Mykhailiuk and Lagerald Vick, the team's top two scorers, are shooting at least 50 percent from the field and 47 percent from 3; big man Udoka Azubuike has made an impressive 90.5 percent of his shots (19 for 21).
The KU offense has also started to take care of the ball better. In the last two games, the team has only committed 18 turnovers. They played the first 28 minutes on Friday without any. The final total of seven was inflated by three committed by the walk-ons in garbage time.
"I thought on film Devonte' Graham is a phenomenal player. He's an unbelievable passer, tremendous passer on the move, leader and winner," Otzelberger said. "A big part of the assists tonight, and that ball security, is a credit to Devonte'."
Really, the only part of Graham's day that Self didn't like was how it ended.
Though Graham was able to play 32 minutes, he, along with Mykhailiuk and Malik Newman, began to cramp up late in the game.
"It was hot in the gym today," Mykhailiuk noted.
Graham dealt with similar cramping issues last year, though he was eventually able to work through those issues.
On Friday, though, KU could afford to give Graham a breather. Vick took over the backup point guard duties down the stretch as the team closed out the win.
"I thought he played well. I didn't see any negatives," Self said of Graham. "I was glad we could kind of — not coast, that's not the right word, but glad we didn't have to push it at all in the second half because we were just trying to get to the finish line."
---
More news and notes from Kansas vs. South Dakota State