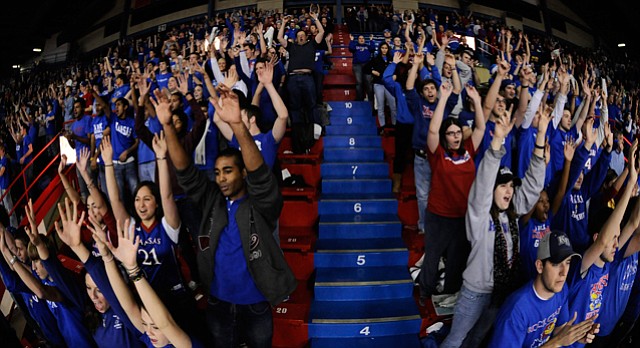 A new partnership between the University of Kansas Student Senate and Kansas Athletics aims to make games at Allen Fieldhouse more accessible to traditionally underserved students.
This season, Kansas Athletics is providing 20 free tickets for every home men's basketball game that will be earmarked especially for first-generation college students and Pell Grant recipients. The new program allows eligible students to opt into a lottery system with the opportunity to win their ticket.
Mady Womack, student body president at KU, said the new system was designed partly to counterbalance rising tuition rates at the university, where she said the price of the student All-Sports Combo ticket package has also increased by about $25 over the last few years.
"Our tuition goes up and it makes it harder and harder to afford other pieces of the student experience, like the All-Sports Combo … that make you feel like you belong here," said Womack, a senior studying economics.
"For us, it's really important to be able to offer that opportunity for everyone and make it more accessible," she added.
Womack said work began in developing the new program during the previous Student Senate administration, with senators officially agreeing to the initiative this past summer.
Eligible students must apply online, and those who are selected through the lottery system will be notified the day before the game. Students need only enter the lottery once and choose the games they would like to attend.
There's no limit on the number of tickets any one person can win.
Though Womack said she doesn't know how many students have opted into the lottery so far, she also said Kansas Athletics has successfully given away all 20 tickets each game this season.

"We've had really great feedback from students who have been able to attend the game this season, just over emails and various ways telling us they were excited," Womack said.
She also said the program has inspired Student Senate to explore "other ways we can expand access to that part of the student experience."
Jim Marchiony, associate athletic director for public affairs, said the new system is part of a larger plan with Student Senate to reduce student ticket prices by reallocating 420 seats previously reserved for students to KU donors. The trade-off lowered student season-ticket combo packs from $179 to $159.
He said it was Student Senate's idea to reserve 20 of those seats for low-income and first-generation students, but that Kansas Athletics was happy to partner on the project. The KU Student Senate will manage the new lottery system, with Kansas Athletics simply providing the tickets.
"We applaud the students for starting this kind of program and really believe it'll work just like they want it to," Marchiony said.
Eligible students can apply to the lottery at rockchalkcentral.ku.edu.
More like this story on KUsports.com