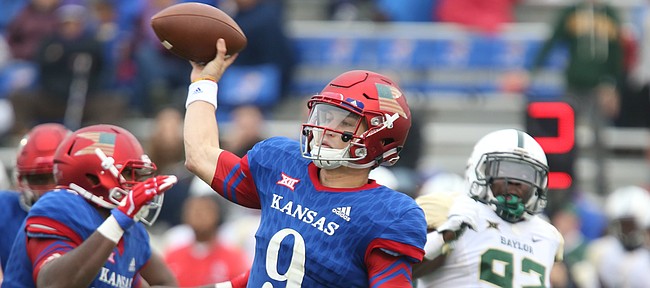 In his third start this season and sixth during his time at Kansas, redshirt sophomore quarterback Carter Stanley threw a career-best three touchdown passes this past Saturday at Texas. The Jayhawks' ninth consecutive loss, though, also included three costly Stanley interceptions, a career-worst for the second-year QB.
Offensive coordinator Doug Meacham broke down what went wrong for Stanley and his teammates on each giveaway.
Stanley's first mistake put KU in a 14-0 hole, because Antwuan Davis picked it out of the air and returned it 16 yards for a touchdown.
"He's standing five yards deep in the end zone and our right tackle (Clyde McCauley III) hit air," Meacham said of a missed block. "I think (Stanley) thought he was about to get sacked from behind, because he felt that (pass-rusher) and he panicked a little."
Though Davis was perfectly positioned for the UT defense, which dropped eight into coverage for the third-and-long play deep in Kansas territory, his teammate, safety Deshon Elliott, free-lanced, and ended up in a spot over the middle where he stood between Stanley and Davis, almost shielding the soon-to-be intercepter.
Podcast episode
On this episode of the KU Sports Hour, hosted by KU football beat writer Benton Smith, the KUsports.com staff discusses KU's 42-27 loss to Texas. Topics include: what went wrong for KU (open-17:25), 4th down and red zone strategy (17:25-25:15) and a massive edition of the KUsports.com football mailbag — ...
Later in the first quarter, with KU trailing 21-7, Kansas lined up receivers Steven Sims Jr. and Tyler Patrick on the weak side of the formation. Given the defensive alignment the Longhorns were in, safety Jason Hall should've covered Patrick in the slot, as the KU receiver made a turn toward the middle of the field a few yards off the line of scrimmage. Hall didn't, though, and his mistake landed him directly in Stanley's passing lane to Sims on the timing throw. It made it easy for Hall to pick off the pass.
"That could happen to Tom Brady, that one," Meacham said. "The first one Carter just should've took off."
In the final minute of the first half, with the Jayhawks (1-9 overall, 0-7 Big 12) down 35-17, Stanley's final interception came on third-and-goal at the Longhorns' 4-yard line.
Meacham's explanation of another pass taken away by Davis was straightforward: "There was a running back and a nose guard in his lap when he threw the ball," Meacham said of a play when Stanley overthrew tight end Ben Johnson in the end zone under pressure, because nose tackle Poona Ford bull-rushed right guard Larry Hughes and running back Dom Williams.
Despite those turnovers and taking numerous other hits, on top of the four sacks he suffered, Stanley completed 27 of 43 passes (62.8 percent) for 268 yards.
"He did a good job," Meacham said. "I mean, they're a good team. I think OSU scored 13 on (Texas). And without the pick on the 4-yard line we put 35 on them, in Austin, so there's a bright spot there if you just want to try to coat it the best way you can. I think a lot of our guys pressed just trying to make something happen and it ends up backfiring on us a little bit. I think he just needs to do a better job of 'let's just punt the damn thing' at times."
O-line issues
Mistakes and/or losing battles on the offensive line have been at the heart of many shortcomings for Meacham's Air Raid offense this season.
At times this past week, the Longhorns (5-5, 4-3) only rushed three players and still pressured or hit Stanley.
"There's a couple guys that just played bad," Meacham said of the O-line's rough night in Austin, Texas.
To make matters worse, Kansas lost three starters — left guard Andru Tovi, right guard Chris Hughes and right tackle McCauley — to injury in the first half at UT.
Backups left guard Jayson Rhodes, right guard Larry Hughes and right tackle Zach Hannon spent most of the game protecting with left tackle Hakeem Adeniji and center Mesa Ribordy.
Asked whether he thought the O-line would be closer to full strength Saturday against No. 3 Oklahoma (9-1, 6-1), Meacham said the team's injury report had 34 names on it (some of whom are players remaining in the lineup while hurt). Meacham felt hopeful one, "maybe two" of Tovi, Chris Hughes and McCauley would be back on the field.
Giving the ball away
Kansas head coach David Beaty understands ball security has to be a requirement for his perpetual underdog Jayhawks. When KU committed four turnovers in its road loss at Texas, the Longhorns won comfortably, 42-27.
"Obviously that's key and that's critical to anyone in the country," Beaty said of the need for a cleaner offensive product during the Big 12 coaches media teleconference Monday. "You've got to manage that. You take away the 21 points (for UT) off the four turnovers and you're in pretty good position to win the game there."
It marked the second time this season the Jayhawks lost four turnovers, the other coming in a 65-19 drubbing at the hands of Texas Tech.
KU now ranks 124th among FBS teams with 23 giveaways. Only Washington State (25), Rice (26), New Mexico (26) and San Jose State (39) have protected the ball worse.
Those 23 mistakes put Kansas as one of the worst in turnover margin, as well, at minus-14 through 10 games, which ranks 126th. Three teams have done even more poorly: New Mexico (-15), Rice (-21) and San Jose State (-28).
Jayhawks make Academic All-Big 12 teams
Seven Kansas football players landed on the Big 12's Academic All-Big 12 First Team, the conference announced Thursday.
With a 3.2 GPA or better, the KU first-teamers were junior linebacker Keith Loneker Jr., junior offensive lineman Larry Hughes, junior receiver Jeremiah Booker, redshirt freshman offensive lineman Chris Hughes, senior punter Cole Moos, junior receiver Keaton Perry and sophomore defensive back Bryce Torneden.
Loneker, a graduate of Lawrence's Free State High, and Larry Hughes, from Carrolton, Texas, became two-time members of the league's academic first team.
KU also had seven second-team selections, with a GPA between 3.0 and 3.19: sophomore tackle Adeniji, junior offensive lineman and fullback Jacob Bragg, redshirt junior linebacker Joe Dineen Jr., redshirt sophomore O-lineman McCauley, redshirt sophomore Ribordy, junior receiver Ryan Schadler and senior long-snapper John Wirtel.
Wirtel was honored for the third straight season, all second-team awards.
To qualify, student-athletes must maintain a 3.0 GPA or higher, either cumulative or over the two previous semesters, and must have participated in 20 percent of their team's games. True freshmen and transfers are not eligible in their first year of academic residence. Senior student-athletes who have participated for a minimum of two years and meet all the criteria except percent of participation also are eligible.