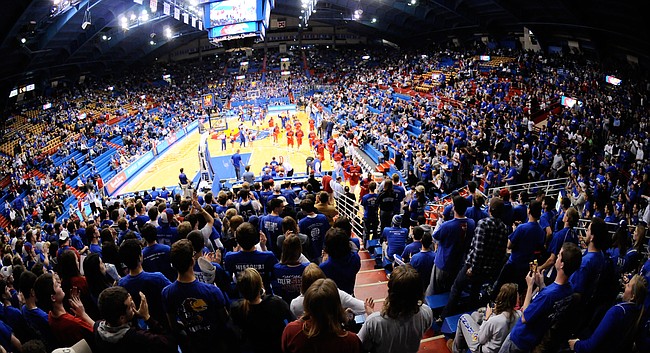 There's good news for Kansas City-area Kansas basketball fans who in recent years have struggled to see a handful of early-season KU games televised on The Jayhawk Network.
KMCI-TV, 38 The Spot, announced Wednesday that it had reached an agreement with Spectrum Sports Kansas City to simulcast eight upcoming KU games — four men's and four women's games — beginning with the men's basketball team's home game with South Dakota State at 7 p.m. on Friday.
This is also good news for KU fans in Lawrence who do not subscribe to Midco. Many in that group now will be able to access these games via the use of an antenna.
The following men's games will be picked up by KMCI-TV, along with four KU women's games, including a pair of Big 12 Conference games in 2018:
• Friday, Nov. 17 – 7 p.m. vs. South Dakota State
• Tuesday, Nov. 21 – 7 p.m. vs. Texas Southern
• Friday, Nov. 24 – 7 p.m. vs. Oakland
• Tuesday, Nov. 28 – 7 p.m. vs. Toledo