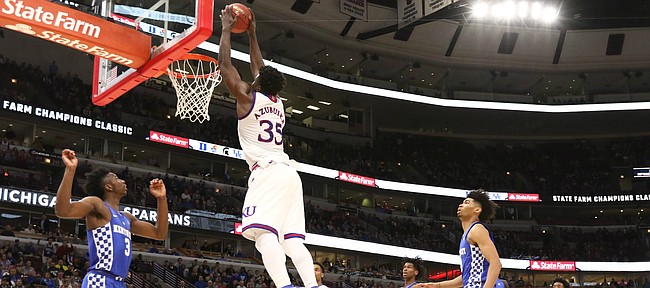 On a night when the Kansas men's basketball team shot 35 percent from the floor and won, the one Jayhawk who finished with a field goal percentage above 50 percent had just five attempts.
"(We shot) 7-of-18, 4-of-14, 4-of-13, 3-of-14 and he's 5-for-5 and we got him five shots," said Kansas coach Bill Self lamenting the limited offensive involvement of sophomore center Udoka Azubuike. "So we've gotta do a much better job of throwing the ball to him on the post."
When the Jayhawks did that Tuesday night, during a 65-61 Champions Classic victory over No. 7 Kentucky, Azubuike at times looked unstoppable.
As has become common, all five of his buckets came right at the rim, with the 7-foot sophomore finishing 4-for-4 on dunk attempts and 1-for-1 on layups.
There were, of course, other times when he caught the ball in the post. But those touches either led to Azubuike getting fouled or him kicking the ball back out and resetting the offense.
Neither did KU (2-0) much good, as the Kansas guards struggled to find room and rhythm against Kentucky's length and Azubuike struggled at the free throw line.
A 38 percent free throw shooter in 11 games a season ago (11 of 29), Azubuike made just 3-of-8 attempts from the free throw line on Tuesday, costing Kansas points and failing to capitalize on the front end of several one-and-one situations that could have delivered more points.
Where he lacked in putting points on the board, Azubuike more than made up for in other areas. His five offensive rebounds were a game high and he delivered two blocks, altered a handful of other shots and dished a nifty assist to Malik Newman on a backdoor cut for a key second-half basket.
"I do think he played pretty well," Self said. "That was the first time that we really had to have him to win and I thought he played pretty well."
Whether fully pleased with his performance or not, Azubuike agreed with his coach in one key area — he felt good while playing a career-high 34 minutes, a number that was as important as ever given the fact that freshman forward Billy Preston missed his second straight game because of an off-the-court issue.
"I feel great," Azubuike said after the game. "This is a big game and I love big games so I just came out there and tried to do whatever to make my team win. I wasn't tired. I was telling coach, 'I'm not tired, I'm not tired.' He was the one that wanted to get me a little break. I was hyped up for this game and I was ready to go."
Azubuike's ability to not only play 34 minutes but to impact the game at such a high level when he was out there, played a huge role in Kansas surviving.
The goal now, he said, was to find things he could do to make it easier for his teammates to get him the ball in the right spots.
All five of Azubuike's buckets came off of assists, with two coming from Devonte' Graham, two from Svi Mykhailiuk and the other coming from Lagerald Vick. Those three have combined to play 261 games at Kansas, providing evidence for the claim that the Jayhawks' experience advantage helped push them past the Wildcats.
"Once you pass the ball to me on the post, it's really hard for opponents to guard me and all that stuff so I just used that to my advantage," said Azubuike before elaborating on what he thought he could do better. "Maybe coach wants me to be a little more vocal, demand the ball more. (Tuesday), when they got me the ball inside, positive stuff happened."
---
More news and notes from Kansas vs. Kentucky