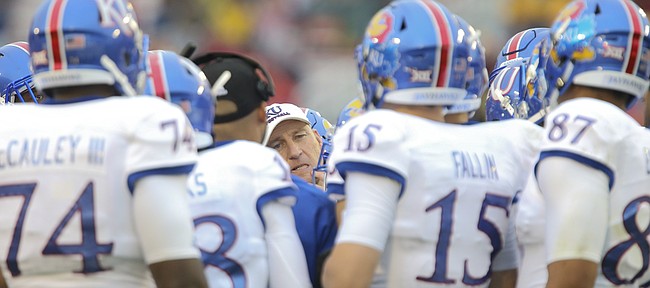 According to David Beaty, he didn't expect to have University of Kansas chancellor Douglas Girod declare support for him as the football coach on Monday, while doing the same for athletic director Sheahon Zenger and the current direction of the program.
Beaty unsurprisingly said at his weekly press conference Tuesday, Girod's endorsement "means a ton" to him, his staff and the players.
"What it does is it certainly helps the future of KU football," the third-year KU coach said. "It helps us in recruiting. Those are the things that help stabilize you when it comes to the message that you are talking about when you're talking to kids when you're out there on the road."
While Girod admitted the football program is facing "challenges" on the field, his message on KU football and the $350 million "Raise The Chant" campaign stated the first-year chancellor wants to empower Zenger and Beaty by giving them "the tools they need to fulfill their vision."
Beaty, who enters this week's home finale versus No. 3 Oklahoma (2:30 p.m. kickoff, ESPN) with a 3-31 record in nearly three seasons leading the Jayhawks, praised Girod for his vision and leadership.
"And he's been like that from the very time I met him," Beaty added. "He understands where we're at, he understands how we're building it and it's like he said, I love the phrase, 'We're the ones doing the work. You're the ones doing the work.' And understanding that is a perspective that not everybody gets to enjoy. He gets that."
Given KU went 0-12 in Beaty's first season, 2-10 in his second and the team currently stands at 1-9, one might assume the coach at some point earlier this year or prior to signing a contract extension in December of 2016 felt some uncertainty about his long-term future with KU. He claimed that wasn't the case.
"I have never since I have been here felt unstable, uncertain. Not one time," Beaty stated. "I just keep going back to when I got here, we talked about the plan and how you build that program. And I talked at length about if you want this thing done overnight, I'm not your guy, because we're trying to make it last forever. We're trying to build something. That timeline is what it is; it just is what it is. We'd like it to be faster than it is and our fans certainly deserve it. But the truth of the matter is, it's going to take some time."
A former receivers coach and recruiting coordinator at Texas A & M, Beaty said when he took the job at KU, he and his staff inherited "a very great opportunity, but a situation that you have to address some things to be able to get where you need to go."
The head coach, whose job appears secure with Girod's backing, said KU is in "the middle" of that rebuilding process. The Jayhawks are 1-30 against FBS teams since Beaty took over.
"And at no time, through any of those days," Beaty said, "has Dr. Zenger been anything other than unbelievably supportive — same thing with our new chancellor, same thing with our former chancellor (Bernadette Gray-Little). The vision, the vision that they have, I just really appreciate."
Of late, Beaty often has referenced his plan for the program. Asked whether that is on schedule or behind schedule, the coach answered, "We're in the process," again asserting KU football is "right in the middle" of his strategy.
"And I think one of the major things for us was culture, and making sure that we get the right guys on our team, right? That they're representing our university in the public right again," Beaty said. "That we're back there again. That they're representing our university right in the classroom. That they're representing our university right on the field, with a never-quit mentality. Because those things were all things that really needed to be fixed, right? So there's a lot of things that had to be addressed."
With just two games remaining in a season that has not lived up to internal expectations, Beaty went on to say he's proud of the Jayhawks for their contributions in shifting the culture and playing hard, "regardless of what distractions may be ... because they believe."
Junior defensive tackle and captain Daniel Wise said Girod's message meant a lot to the players in the KU locker room.
"Just to hear his support, support from someone who is not in the facilities, I mean, it doesn't surprise me at all," Wise said. "He is a great guy, always been supportive of what we do and what we're trying to get accomplished. So we'd tell him we appreciate what he's doing and his support."
Likewise, junior linebacker Keith Loneker Jr. said it was encouraging to see Girod shares the mindset of KU's coaches and players.
"That, at least for me and I'm sure for everybody else, was great to hear," Loneker said. "Because if you know your boss' boss is on the same ship as you, then everything's going to flow right."
Beaty admitted KU football is a "work in progress," before saying the coaches and players will "continue to do what we're doing with regard to our plan and how we're building this thing."
As the team's Memorial Stadium finale for 2017 looms, Beaty said eight seniors will be honored, and referenced other programs benefiting from the presence of far more upperclassmen on their rosters. Ideally, he added, he'd like to have 25 to 28 seniors any given season.
"When we get there, that will be a goal that we've reached," Beaty said, noting teams need 46 to 50 juniors and seniors involved.
The current Kansas football roster includes 30 juniors and 14 seniors.
"There's some things there that we're proud of, but we're just not there," Beaty reiterated. "We're right in the middle of it."