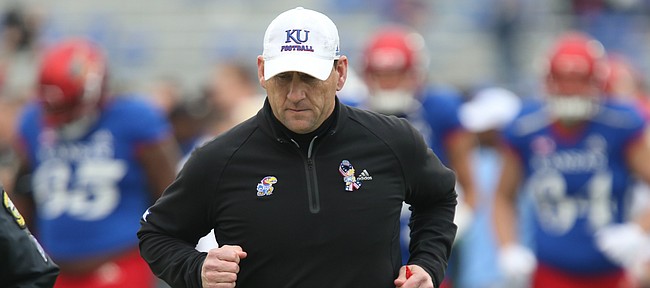 Of all the conversations between new University of Kansas chancellor Douglas Girod and seventh-year athletic director Sheahon Zenger, the one I most would have liked to hear: The chancellor asking the AD some form of the question on the minds of many: You fired Turner Gill with a 5-19 record and Charlie Weis at 6-22. What makes 3-31 better than 5-19 and 6-22?
Surely, it wasn't the explanation Beaty gave last week about taking the slow, steady approach of recruiting high school players instead of transfers, which Zenger backed with a released statement later that day. That claim quickly was debunked when the names of Beaty's 29 transfers were published in the next day's paper.
The statement the chancellor released on Twitter was sufficiently vague as to not in any way answer the question as to why 3-31 is better than 5-19 or 6-22.
Does winning not mean as much as it did in 2011, when Zenger fired Gill after two seasons, or in 2014, when Zenger fired Weis with a 2-2 record in his third season?
The key words in the chancellor's statement: "I maintain my belief that Sheahon and Coach Beaty have the right long-term vision and are doing things the right way. Our focus now is empowering them with the tools they need to fulfill their vision."
What tools? Blockers to protect quarterback Carter Stanley and blow open holes for Khalil Herbert and to remain disciplined enough not to draw penalties in big spots? Tacklers? Cornerbacks blessed with remarkable flexibility and speed? A potion that prevents exercising the urge to punt on fourth-and-short from the enemy 42?
No.
Brick and mortar.
My long-term vision must differ from that of Zenger and Beaty. Here's what it shows: Kansas storms into Conway, S.C., on Sept. 26, 2020 for a pick'em game against the Coastal Carolina Chanticleers. A sellout crowd of 15,000 at Brooks Stadium — named in honor of Coby Garrett Brooks and Boni Belle Brooks, children of Hooters chairman Bob Brooks — buzzes in anticipation of a possible victory against a school from a power five conference.
What is a Chanticleer? Dictionary.com to the rescue: "1. a rooster: used as a proper name in medieval fables."
Anyway, back to the future.
The 15,000 strong head home disappointed. Dom Williams runs for 200 yards and Kansas ends its record road losing streak at 57 games.
As for the immediate future, any coach in Beaty's situation would load up on junior-college recruits in hopes of having a good enough fourth season to merit a fifth. Will anybody care enough about the future to stop him?