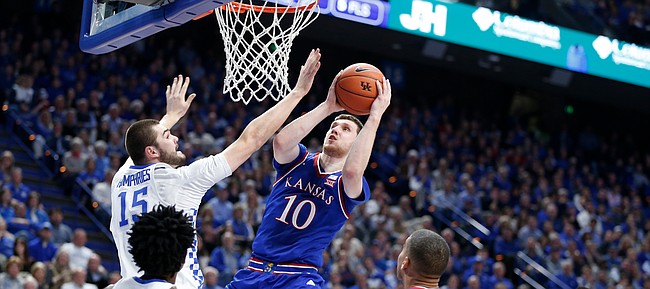 No. 4 Kansas Jayhawks (1-0) vs. No. 7 Kentucky Wildcats (2-0)
Time: Approximately 8:30 p.m. Tuesday | Location: United Center, Chicago
TV: ESPN | Radio: IMG Jayhawk Radio Network
Log on to KUsports.com for our live game blog coverage and follow the KUsports.com staff on Twitter: @KUSports @mctait @TomKeeganLJW @bentonasmith @nightengalejr @chasenscott & @nickkrug
Keys for Kansas
1. Set the tone early
Preparing to play in his fourth Champions Classic game makes Kansas senior Devonté Graham somewhat of an authority on what it takes to have success in a game of this magnitude.
The fact that Graham, along with KU guard Svi Mykhailiuk, owns a 1-2 record in the event heading into tonight only hammers home the point. Rather than learning the key to victory just through KU's successes, the two veteran Jayhawks also have learned from their failures.
"You just have to come out and set the tone from the jump," said Graham, who was on the team that was drubbed by Kentucky in 2014, upset by Michigan State in 2015 and finally beat top-ranked Duke a season ago. "You can't come out slow in a game like this and give those guys a whole bunch of confidence early on because then it'll just seem like everything's going their way. So you've got to come out and try to jump on them quick. I think that'll be the key, just getting out to a good, quick start."
Although a quality start is key in every game, KU coach Bill Self cautioned against putting too much into the game's early going.
"If you say we've got to get off to a good start, what happens if you don't? Does that mean the game's over," Self posed. "If you say we get off to a good start, we're OK, does that mean you're going to win? That doesn't mean anything at all. It's a 40-minute and you've got to understand it's a long game, and being up or being down doesn't mean much, especially in the first 30 minutes of the contest."
2. Experience advantage
This Kentucky team, which has struggled to a pair of home victories against lower-level teams to open the season, is young even by Kentucky standards.
Because of that, these Wildcats, who start five true freshmen, make a relatively young Kansas roster look like a group of old men.
"We've had three guys who have been through the battles before in Lagerald (Vick), Devonté and Svi," Self said. "We're not as young as Kentucky, but we've only got three guys who have been in the fire before, too. So I'm just as curious to see how our guys react in the bright lights."
Asked whether he thought KU's experience would be a factor in this one, Graham did not hesitate to say advantage Kansas.
"It helps a lot because you've been in situations before. I mean, I've played in many big games and know it's a game of runs. If it's your first big game as a freshman you might be a little nervous, more nerves than usual and stuff like that. You haven't been in tough situations. So I think experience plays a big part in any game. ... They're young, so try to make them face a little adversity early and see how they handle it."
3. Coaching counts
As this year's Champions Classic pits four of the top seven teams in the country — Duke and Michigan State will square off in the opener — it also features four coaches who are in the Naismith Memorial Basketball Hall of Fame.
In addition to some serious star power, that sets the stage for the guys on the sideline to have a huge impact on these two games.
Whether that shows up in the form of a timely inbounds play, an adjustment on the fly or throwing out something that the other team did not see coming, expect both Self and Kentucky's John Calipari to have their fingerprints all over this game.
That figures to be especially true given the youth and inexperience of their rosters. Both coaches are as competitive as any in the business and their minds, voices and physical existence will get a serious workout in this one.
Mega Matchup
KU's offense vs. Kentucky's length
Asked Sunday what aspect of Calipari's 2017-18 team impressed them most, both Self and Graham pointed to the Wildcats' athleticism.
Although Graham said Kentucky's athleticism would force the Jayhawks to be locked in on the defensive end, Self looked at it from a slightly different perspective.
"Of all the times we've played them, I can't remember them being this long on the perimeter," he said. "(Positions) one through five (are) probably about as long as I can remember them. Obviously very long, very athletic and very skilled and can get the ball downhill with the best of them."
Where, then, will Kansas have to be most careful against Kentucky's length? Self believes it's on the offensive end.
"Length can show you a passing lane and take it away," Self said. "Length can create more deflections. And length allows you not to crowd a shooter quite as much and still be in great position to contest."
Jayhawk Pulse
After a sluggish ending to the longer-than-normal exhibition schedule last Tuesday night, the Jayhawks responded by clicking on all cylinders in a 92-56 season-opening win against Tennessee State at home.
Kansas was aggressive and efficient on offense, bullied the Tigers on defense and did it all with just seven scholarship players.
With freshman Billy Preston — the eighth scholarship Jayhawk who missed the opener to serve a one-game suspension — expected to be available against the Wildcats, Self will have his complete rotation at his disposal.
Although that will not change much in the backcourt, where Graham, Vick, Mykhailiuk, Marcus Garrett and Malik Newman will look to fly at every opportunity, it will give KU a little more to work with against Kentucky's size. Instead of relying solely on Udoka Azubuike and Mitch Lightfoot, Self now will have three bodies to rotate in, giving him the freedom to allow them to sub for one another or occasionally play in tandem if that becomes necessary.
Either way, the Jayhawks enter this one as a 2.5-point favorite in Las Vegas and should take the floor and execute with the kind of swagger you expect to see from a team favored by even more.

Probable Starters
No. 4 Kansas
G – Devonté Graham, 6-2, 185, Sr.
G – Malik Newman, 6-3, 190, Soph.
G – Svi Mykhailiuk, 6-8, 205, Sr.
G – Lagerald Vick, 6-5, 175, Jr.
C – Udoka Azubuike, 7-0, 280, Soph.
No. 7 Kentucky
G – Hamidou Diallo, 6-5, 198, Fr.
G – Quade Green, 6-0, 180, Fr.
F – Kevin Knox, 6-9, 215, Fr.
F – P.J. Washington, 6-7, 236, Fr.
C – Nick Richards, 6-11, 240, Fr.