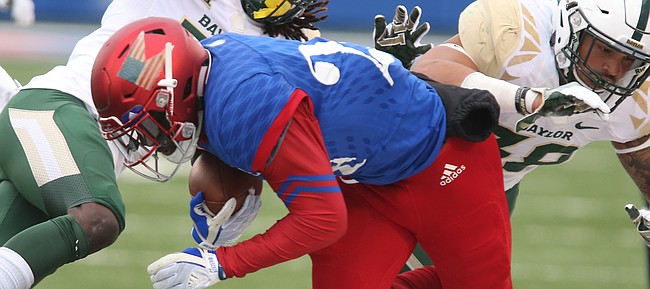 One never knows prior to kickoff what specific tribulations the Kansas football team will encounter, self-inflicted or otherwise.
In the Jayhawks' ninth consecutive defeat, Saturday night at Texas, the road underdogs somehow overcame four first-half turnovers to only trail 35-17 at halftime.
In a rare road game that took on a competitive feel after halftime, KU's most costly transgression may have been backfiring first downs in the third quarter which left the offense unable to pounce.
The Jayhawks (1-9 overall, 0-7 Big 12) didn't hassle the Longhorns (5-5, 4-3) enough to ignite a legitimate run at an upset and extinguish a road losing streak that has now reached a major-conference record 45 games.
UT failed to score on its first four possessions of the second half, but in the meantime KU only put three points on the scoreboard, courtesy of Gabriel Rui's 15th field goal of the season.
"I haven't seen the play-by-play," third-year KU coach David Beaty said immediately following the loss, while discussing the lack of third-quarter production, "but I don't have to look at it to know on several of those first downs we're going backwards a couple times. It's second-and-12, it's second-and-14, it's second-and-16. And that's tough now. That's tough sledding in this conference, particularly when guys are going to be lined up in a drop-eight configuration. I mean it's hard. There's not many windows out there."
It wasn't quite as bad as Beaty portrayed it, but the Jayhawks definitely didn't help themselves on first downs when they needed a spark.
KU received the ball to open the second half and on the first snap of the third quarter Khalil Herbert rushed for no gain. The series lasted just six plays and concluded with a punt.
After the Kansas defense secured its first of two turnovers on downs in the third quarter, the offense again lacked a counterpunch to open a drive. Dom Williams' first-down run, that time, went for no gain. Though the Jayhawks overcame the uninspiring start to move down the field, their first play in the red zone went the wrong direction, with Taylor Martin bought down for a two-yard loss. Three plays later Rui kicked a 32-yard field goal.
Next, the KU defense once again stymied a Texas series with a fourth-down stop.
On the ensuing play from scrimmage, Kansas lost two yards on a Martin rush, leading to the Jayhawks' first of two three-and-outs before Texas finally reached the end zone again with 5:34 left in the fourth quarter.
Following Rui's field goal, the next four Kansas drives went five yards or fewer.
Redshirt sophomore quarterback Carter Stanley, who threw for 268 yards, with three touchdowns and three first-half interceptions, felt the offense could've done much more than score 10 points and gain 172 yards in the second half.
"Yeah, we liked what we saw from the defense. There was a lot of stuff we prepared for," Stanley explained. "And we just have to execute better."
Onside explanation
Before the game, Kansas won the coin toss and elected to defer. But as soon as play went live the Jayhawks tried to steal a possession, attempting an onside kick with 60 minutes of football ahead of them.
"We came out, we said we were going to be aggressive this game," Beaty said of the decision.
"We started with an onside kick and we felt like we had a great opportunity with a big gap that they had left there. You know, we talk about fortune favoring the bold and we are going to go after things when we see it," KU's coach said. "You know, from our standpoint right there, that was a great way to start the game. But the thing is, they scored on the very next play."
Home finale set
The Big 12 announced this weekend KU's upcoming Saturday matchup against first-place Oklahoma (9-1, 6-1) will kickoff at 2:30 p.m. and air on ESPN.
It's the Jayhawks' final home game of the 2017 slate.
The Sooners are 34-14-3 all-time in Lawrence.
---
More news and notes from Kansas vs. Texas
More like this story on KUsports.com